BOL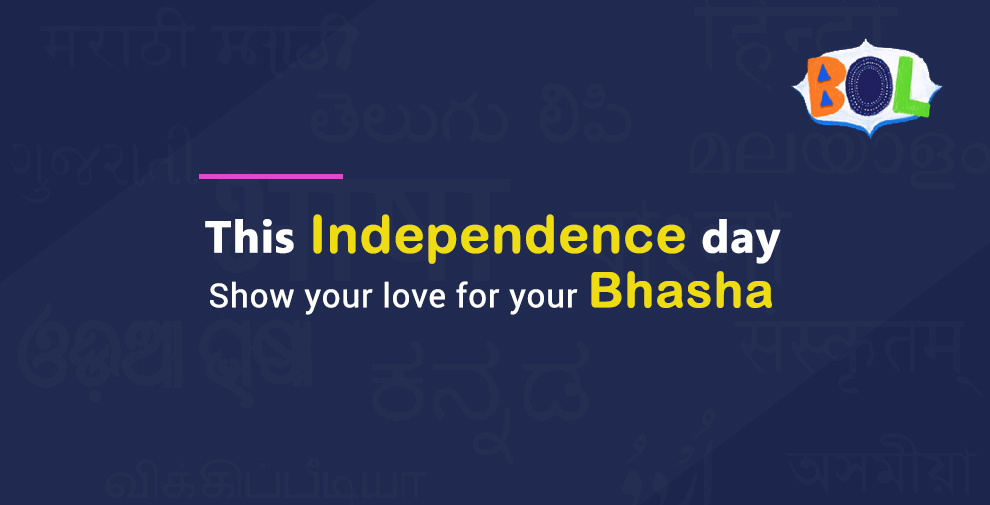 BOL
Home

From Punjabi and Maithili to Telugu and Tamil. From Canada and the UAE to Dharavi in Mumbai, the sheer number of pieces received for Bol have been overwhelming. 's Bol campaign has been a great success, and it was only possible because of you - our readers and our contributors. A big thanks to you for teaching us something different about India's great languages. As a final...

Bol

''Kem Cho? Majama?'' I can guarantee you this is what you'll hear from anyone when you tell them you're a Gujarati. It's a stereotype we deal with! But I'm not complaining. I'm proud that my language builds an easy connect with my fellow Indians, irrespective of the geographical area they belong to. Moreover, even when it comes to...

Bol

The first word I heard was in Konkani. It was music to my ears and I have been speaking the Konkani language since. It's but obvious that when I get hurt, the first word that is rushes out of my mouth is 'Ye Maayn' (Oh mother) in Konkani. There is a slight difference in Goan and Mangalorean Konkani languages. I am from Mangalore. We say 'Dev Borem Korum' (Thank You). Probably, this...

Home

I'm Abdullah Al Kandari aka (Darya), a documentary photographer from Kuwait. My mother is an Indian, and she is from Mysore, Karnataka. While I was growing up, I was taught Hindi. I was also fortunate enough to learn Tamil and Kannada. I am originally from Kuwait, but Hindi stuck to me and soon became my best friend. As I grew older, I learnt that understanding Hindi means getting to know India, her...

Home

Every time our Prime Minister unfurls the Tricolour on Independence Day and the national anthem follows, there is a sense of pride that fills us all. But there is a different side that Navaldeep Singh's poetry explores and talks about the various instance of violence in the country and the lost sense of peace. This poetry from our Tricolour's perspective will surely touch...

Home

Isn't it an irony that my language Nepali instigated the very Gorkhaland movement today? Needless to say, how much the Gorkhali Nepali bhasha means to us Gorkhalis in India. There's a reason why we use Gorkhali when we can simply say that we're a Nepali speaking community. The same reason why we don't want to be merged with Nepal, or dislike being asked if we are...

Home

Language is neither the mere titillation of the tongue, nor the clamouring cacophony desperate to find unsuspecting ears to assault. It is a request that opens doors to vent out and articulate emotions - of sheer ecstasy, irrepressible ire, belly shaking humour, heart-wrenching grief or just rendering a statement of fact. The boneless tongue might seem to be an ignoble mass of flesh that...

Home

Grandmother's Radio Narrate me the stories from the un-partitioned lands, of neighbours' offering Namaz and people going to Gurudwaras. Of friendships between people Outgrowing the margins of religions. Of neighbours celebrating Ramzan and Gurupurab and Diwali. Of kind men standing together in cemeteries and graveyards. The light teaches us to live and gift happiness. The...

Home

Bengal, a place of utmost historical relevance to every Indian. The British Raj etched itself on the food, culture and art of Bengal! But Bengali, the language that we speak, remained one of the world's sweetest languages. Untouched, unparalleled, virgin! The language got its recognition with the great writers crafting their magic with it. To name a few - Rabindranath Tagore, Bankim...

Home

I love my languages - Hindi and Punjabi. The main reason why I love Punjabi is because of our religion Sikhism, which teaches us to serve humanity. When we go to a Gurdwara, we volunteer for Sewa. This is one of the best ways one can contribute to the society and give back to its people. Punjabi bhasha mein ek mithas hai! I live in Chandigarh, and despite that, Hindi has been the language...
Loading...