Removal of Symbol from EVM will be 10 major benefits, BJP leader files petition in Supreme Court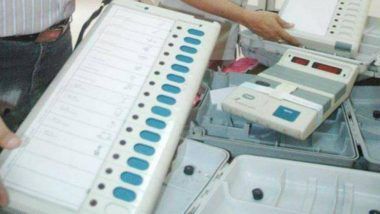 EVM (Photo Credits: PTI)
Removing the election symbol of the parties from EVMs will give a new direction to democratic politics. This will not only open the way for people of clean image in politics but they will also be able to win elections on their own. Bharatiya Janata Party leader and noted lawyer Ashwani Upadhyay has created a stir by filing a petition in the Supreme Court. He has listed ten important reasons behind the demand of political parties to remove election symbol from EVM from Supreme Court. Ashwani Upadhyay says that when a candidate with a clean image fights an independent election and on the other hand a tainted candidate contests the symbol of a big party, then there is no contest. This is a violation of the right to equality. Due to the symbol, tainted candidates get a large number of people who are not aware of its character. In such a situation, people will vote by seeing the person rather than seeing the election symbol removed.
BJP leader Ashwani Upadhyay has said in the petition that when he came to know from the report of ADR that 43 percent of the MPs are currently from criminal background, they investigated the reasons for such people winning. It turned out that the tainted candidates won with the outright vote of their supporters due to the big parties taking the tickets. Ashwani Upadhyay told IANS that India's democracy is facing seven kinds of crises. Corruption, criminalization, casteism, communalism, linguism, regionalism and nepotism will be liberated only when politics improves. For this it is necessary to remove election symbol from EVM.
Ten benefits of removal of symbol from EVM
1- This will help voters to choose intelligent and honest public representatives.
2- Without election symbol EVM and ballot will not only eliminate the problem of casteism and communalism on elections, but the use of black money in democracy will also stop.
3- This will stop the dictatorship of the parties. Ticket sharing will not take place. Party chiefs will be forced to give tickets to those candidates, who will have a good identity in the region.
4. The business of election symbol will be banned. This will not make the country's democracy a personal fief of the heads of political parties.
5. The criminalization of politics will stop due to ballot and EVM symbol. Brokers of power will be controlled to get tickets.
6- With the symbol system ineffective, it will be easy for social workers and honest people to enter politics.
7- Good, diligent and honest representatives of the public will go to the Parliament and Legislative Assembly, making good laws in the public interest will be possible.
8- Honest MPs, when they reach Parliament, will use their funds properly.
9- It will also curb linguism and regionalism. Which are the biggest threats to democratic politics.
10- If the right people choose to reach the house, then long-pending elections, judicial, education, administrative, etc. reforms will be possible at the earliest.
Dailyhunt
Disclaimer: This story is auto-aggregated by a computer program and has not been created or edited by Dailyhunt. Publisher: Ampinity News