National
Coronavirus news live updates: India reports 56,480 Covid-19 recoveries in 24 hours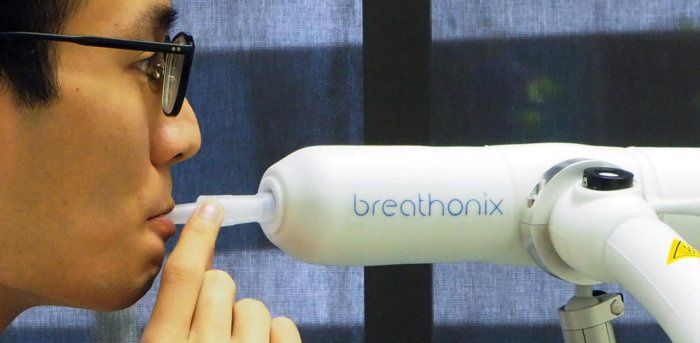 India's Covid-19 death toll soared past 1.2 lakh as the country reports 517 deaths in the past 24 hours. With 49,881 fresh cases, the country's tally crossed 80 lakh. Active cases are hovering around six lakh, with less than eight per cent of the total positive cases.
15:44

Singapore firm invents coronavirus breathalyser with results in seconds

Breathonix, a startup firm from the National University of Singapore, says its test achieved more than 90 per centaccuracy in a pilot clinical trial of 180 people in the city-state and hopes to get regulatory approval early next year.



15:43

India, UK strike new Covid-19 research tie-ups

India and the UK have clinched new partnerships to boost bilateral cooperation on combating the coronavirus pandemic as part of the 10th UK-India Economic and Financial Dialogue (EFD), held virtually following the Covid-19 lockdown and travel constraints.



15:15

India's average daily Covid-19 tests in past six weeks at about 11 lakh: Health Ministry

"With10,75,760 tests conducted in the last 24 hours, the cumulative tests have crossed 10.65 crore (10,65,63,440). Nearly 11 lakh tests have been conducted daily on an average during the past six weeks," it added.



15:14

Sanofi raises 2020 outlook as speciality care and vaccines lift sales

Governments across the world have been calling for increased influenza vaccination, especially among most at risk populations, to avoid additional pressure on healthcare and hospital systems already strained by the coronavirus crisis.



15:12

Govt changed strategy, going for aggressive Covid-19 contact tracing, testing: Jain

Amid a spike in cases of Covid-19 here, Delhi Health Minister Satyendar Jain on Thursday said the city government has changed its strategy and is now going for "aggressive tracing and testing" of people who came in contact with those found positive for the infection.



15:10

40% of Srinagar residents have Covid-19 antibodies, sero-survey shows

Over 40 per cent people living in Srinagar district have developed Covid-19 antibodies, according to a latest sero-prevalence study which suggests a large fraction of the population in the summer capital of Jammu and Kashmir may have been infected by the novel coronavirus.



14:51

Adar Poonawalla believes India could have a Covid-19 vaccine by December

The potential coronavirus vaccine developed by Oxford University and produced by Serum Institute of India (SII) could be ready as early as December and the first batch of 100 million doses per month can be made available by the second or third quarter of 2021, Adar Poonawalla, Chief Executive Officer of SII told NDTV in an interview.

14:16

WB govt asks medical establishments to send list of workers to be given Covid-19 vaccine

The West Bengal government has asked all state-run and private medical establishments to send details of frontline health care workers (HCWs) and other staff who would be administered Covid-19 vaccine on a priority basis, an official said on Thursday.

14:15

Regeneron Covid-19 therapy reduces viral load, need for medical care

Regeneron Pharmaceuticals Inc. said data from a late-stage clinical trial suggest that its antibody cocktail therapy for Covid-19 significantly reduces virus levels and the need for further medical care.

14:14

Cities reboot: Will adapting to Covid-19 change urban life for good?

Downtowns are deserted and happy hour is history as a second coronavirus wave hits cities from London to Kuala Lumpur, leaving futurologists predicting which changes to urban living are here to stay in a post-viral world.

14:14

Dr Reddy's partners with Dept of Biotechnology for Sputnik V vaccine clinical trials in India

Dr Reddy's Laboratories Ltd on Thursday announced its partnership with Biotechnology Industry Research Assistance Council (BIRAC), Department of Biotechnology (DBT), for advisory support on clinical trials of Sputnik V vaccine in India.

14:13

Puri promises action after passenger alleges Covid-19 protocol violation at Srinagar airport

Civil Aviation Minister Hardeep Singh Puri on Thursday promised to take immediate action after a passenger alleged violation of Covid-19 social distancing protocol at the Srinagar airport.

14:12

People wait at a street outside a temple to get free food in New Delhi. Credit: AFP Photo

14:12

Indonesia reports 3,565 new coronavirus infections, 89 deaths

14:11

Khloe Kardashian says she battled coronavirus early this year

14:11

Two out of five Srinagar residents have Covid-19 antibodies, sero-survey shows

Over 40 per cent people living in Srinagar district have developed Covid-19 antibodies, according to a latest seroprevalence study which suggests a large fraction of the population in the summer capital of Jammu and Kashmir may have been infected by the novel coronavirus.

14:10

Merkel warns against 'lies, disinformation' in virus fight

German Chancellor Angela Merkel on Thursday defended tough new shutdown measures her government has announced against the coronavirus, warning that propaganda and conspiracy theories undermine the fight against the pandemic.

"Let me be clear: lies and disinformation, conspiracy and hate damage not only democratic debate but also the fight against the coronavirus," she told the lower house of parliament.

13:49

Mizoram's Covid-19 tally rises to 2,656 as 49 more people, including 20 school students, test positive

13:32

We have changed strategy, going for aggressive contact tracing and testing for Covid-19: Delhi Health Minister Satyendar Jain

"Entire family, close contacts even asymptomatic ones of Covid-19 positive cases being tested, so rise showing. Figures projected by experts on surge in daily Covid-19 cases may not reach that level, but we want to be prepared. Too early to say if there is a 'third wave' due to rise in Covid-19 cases: Delhi Health Minister on over 5 thousand cases in a day," he told PTI.

13:09

UK doing everything it can to avoid national lockdown, minister says

The British government will do everything it can to avoid putting the country into a second national lockdown and believes it can control the virus with tough local measures, housing minister Robert Jenrick said on Thursday.

13:09

UK Covid-19 researcher says any lockdown should come sooner not later

Britain should act sooner rather than later if it is going to follow Germany and France and take nationwide steps to slow a second wave of the coronavirus, said Steven Riley, author of an Imperial College study into the spread of the disease.

13:02

Supreme Court issues notice to the Centre on a plea seeking registration of an FIR by CBI against ten Indian pharmaceutical firms for manufacturing and selling Remdesivir and Favipiravir allegedly as medicines that treat Covid-19 patients without valid li

12:44

95 police personnel tested positive for Covid-19 in the last 24 hours, taking total cases to 26,395 in the force, including 1,517 active cases, 24,595 recoveries, and 283 deaths till date: Maharashtra Police

12:30

Over 6,700 prisoners, who were released either on interim bail or parole in view of Covid-19 pandemic, will have to surrender in a phased manner at a temporary jail set up near Mandoli after Delhi High Court decides to put an end to bail extensions granted to them.

12:20

Antibody response in most people strong, does not decline rapidly, study says

A vast majority of individuals infected with mild-to-moderate Covid-19 mount a "robust" defence via antibodies that is relatively stable for "at least five months", according to a new study which says this immune response significantly reduces the risk of re-infection with the novel coronavirus.

The research, published in the journal Science, found that this antibody response correlates with the body's ability to neutralise the SARS-CoV-2 virus that causes Covid-19.

12:19

Czech Republic reports 12,977 new coronavirus cases, 128 deaths

The Czech Republic reported 12,977 new coronavirus cases for October 28, health ministry data showed on Thursday.

Total cases rose to 297,013 while deaths climbed by 128 to 2,675. The country has been struggling with one of Europe's fastest-growing infection rates.

12:12

Myanmar's Suu Kyi casts early vote in poll hit by Covid-19 curbs

Myanmar leader Aung San Suu Kyi cast a ballot on Thursday in the capital Naypyitaw ahead of November's election after being unable to travel to her registered township near Yangon due to restrictions aimed at containing a spike in coronavirus cases.

12:00

1,617 new Covid-19 cases, 13 deaths & 2,015 recoveries reported in Odisha in last 24 hours

Total positive cases in the state now stand at 2,87,099, with 2,70,130 recoveries and 15,619 active cases. The death toll mounts to 1,297.

11:54

It is too early to say that Delhi is experiencing the 3rd wave of #COVID19 cases. We must wait for another week in order to definitively say that, but it possible that we're already in that phase: Satyendar Jain, Delhi Health Minister on the spike in COVID cases pic.twitter.com/yxxEyzNsZ6

— ANI (@ANI) October 29, 2020

11:44
11:19

People are seen at a crowded market amidst the spread of the coronavirus disease in Mumbai. Credit: Reuters Photo

11:18

France, Germany impose drastic curbs as virus surges in Europe

France was preparing to begin a new month-long national lockdown as Germany imposed drastic new curbs, with European leaders set to meet Thursday to discuss the explosive spikes in coronavirus infections on the continent.

The pandemic is surging worldwide, with hundreds of thousands of new daily infections taking the known global caseload past 44 million, with nearly 1.2 million deaths.

11:17

108 new cases push Arunachal's Covid-19 tally to 14,580

Arunachal Pradesh's Covid-19 tally rose to 14,580 on Thursday as 108 more people, including three security personnel, tested positive for the infection, a senior health official said.

10:43

No information about creation of Aarogya Setu app: MeitY; CIC issues show cause notice

The Union government's Ministry of Electronics and Information Technology has told the Central Information Commission that it has no clue who has created 'Aarogya Setu', being promoted during Covid-19 pandemic to fight the coronavirus.

10:42

As Covid-19 persists and US election nears, China growth lifts Asia

Asia is starting to see signs of economic recovery as it rides on the back of an upturn in China, which is entering a new expansion phase less than a year after it recorded the world's first cases of Covid-19.

10:07

Covid-19 vaccine developers take more traditional route

The handful of drugmakers dominating the global coronavirus vaccine race are pushing the boundaries of vaccine technology. The next crop under development feature more conventional, proven designs.

09:45

Telangana recorded 1,504 Covid-19 new cases, 1,436 recoveries and 5 deaths on 28th October, taking total cases to 2,35,656 including 2,16,353 recoveries, 1,324 deaths and 17,979 active cases

09:28

Total 10,65,63,440 samples tested for Covid-19 up to 28th October. Of these 10,75,760 samples were tested yesterday: Indian Council of Medical Research (ICMR)

09:24

Total active cases are 6,03,687 after a decrease of 7116 in last 24 hours

09:17

A total of 56,480 recovered from the novel coronavirus in the last 24 hours taking the total recoveries past 73 lakh

09:17

India's Covid-19 death toll stands at 1,20,527 with 517 new fatalities

09:16

India sees 49,881 new Covid-19 cases; tally breaches 80-lakh mark

09:07

The curious case of coronavirus numbers in Bihar

Is there a special immunity for people living in Bihar? How credible are the Covid-19 numbers of Bihar - a state with nearly 10 crore population? Why does every district in Bihar follow exactly the same pattern in its epidemic curve?

09:06

Battered by Covid-19 pandemic and 737 Max crisis, Boeing cutting 30,000 jobs in two years

Pressured by a prolonged commercial travel downturn and the hit from the 737 MAX crisis, Boeing on Wednesday announced an additional 7,000 job cuts that will lower headcount by 30,000 positions over two years.

09:05

Japan's Shionogi readying Covid-19 vaccine for December trial: CEO Isao Teshirogi

Shionogi & Co is planning clinical trials by year-end for what may be one of Japan's first domestically produced Covid-19 vaccines to reach the market, as the globe races to secure enough doses to battle the pandemic.

08:27

49 new Covid-19 cases reported in Mizoram, taking the total number of positive cases to 2,656 till date. The number of active cases is at 417 while 2,238 people have been discharged so far. Till date, one death has been reported in the state.

08:08

No magic switch to end Covid-19: Joe Biden

Democrat Joe Biden insisted Wednesday he will tackle coronavirus from Day 1 if he is elected president but warned there is no magic "switch" that ends the pandemic, as Donald Trump campaigned across America seemingly unfazed by Covid-19's dangers.

07:48

Poorest nations face lost decade post-coronavirus: IFC

The Covid-19 pandemic has drained the resources of the world's poorest countries, which now face 10 years eroding economic growth and job creation, a top development finance official warned.

07:02

Mask fines: BBMP distances itself from daily target notice to marshals

The BBMP has distanced itself from a notification that introduced daily targets for marshals to book those who don't wear masks and maintain social distancing.

07:01

Never said Covid-19 vaccine will come in January: K Sudhakar

Health and Medical Education Minister K Sudhakar clarified to DH on Wednesday that he had never said the vaccine will be out in January, as reported by a section of the media.

07:00

Cipla launches antibody detection kit for Covid-19 in India

Drug firm Cipla on Wednesday announced the launch of antibody detection kits for Covid-19 in India under the brand name 'ELIFast' in partnership with KARWA Ltd, under the technology transfer from the Indian Council of Medical Research (ICMR).



07:00

Rising recovery rate, falling active Covid-19 cases prove success of containment strategy: Harsh Vardhan

The continuously rising national recovery rate and progressively falling active cases of coronavirus infection have proven the success of Covid-19 containment strategy, Union Health Minister Harsh Vardhan said on Wednesday.



07:00

Childless for years, Covid-19 patient delivers twins in Tamil Nadu

A 44-year-old pregnant woman, who was undergoing treatment for Covid-19, successfully delivered twins at a government hospital here.



07:00

Good morning readers, welcome to DH's live coverage of the coronavirus outbreak.
Dailyhunt
Disclaimer: This story is auto-aggregated by a computer program and has not been created or edited by Dailyhunt. Publisher: Deccan Herald