Home
Bharat Bachao Rally: Rahul roars,"I am Rahul Gandhi, not Savarkar; won't apologise for speaking truth"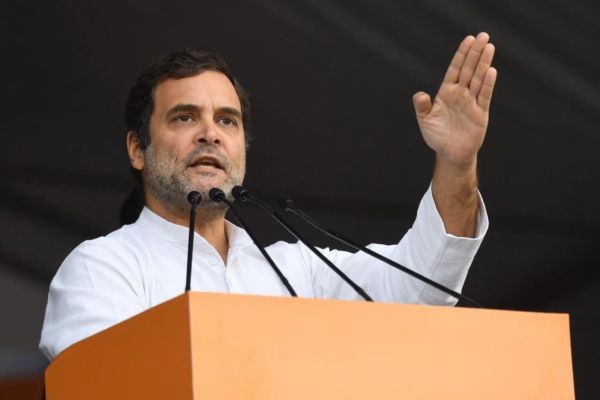 In a direct message to the rank and file of the Congress party as well as the ruling party, a combative Rahul Gandhi launched a sharp attack against the ideological parent of the BJP at historic Ramlila Maidan in Delhi on Saturday, 14 December 2019.
Addressing a huge gathering, a day after winter session ended, Rahul - in a reference to the demand for an apology by the BJP leaders in Parliament over a remark on women's safety made by him at a rally in Jharkhand - roared at the rally, "My name is Rahul Gandhi, not Rahul Savarkar. I will never apologise for speaking truth and nor will any Congressman do so".
He launched a scathing attack on PM Narendra Modi and Home Minister Amit Shah for 'destroying Indian economy'.
"It is Narendra Modi and his assistant Amit Shah who has to apologise to the country for destroying India's economy," said Rahul in the rally.
Training his guns on Modi, Rahul accused PM for singlehandedly "destroying" the economy. "It is Prime Minister himself, and not India's enemies, who has destroyed our economy and (he) still calls himself a patriot," said Rahul amid applause.
Reiterating what he said during the Lok Sabha campaign again and again, the former Congress president alleged that the Modi government had awarded 50 contracts to businessman Gautam Adani within an year.
Taking a jibe at Modi for his round the clock promotion, Rahul appealed to the media to show the truth.
Commenting on the tumultuous situation in North East over the Citizenship Amendment Act, Rahul said the BJP divides people for political gains.
"They work to create divides - between religions - in J&K, in the northeast. Go to Assam, Mizoram, Manipur, Nagaland, Arunachal Pradesh. Go and see what Narendra Modi did there , he has set ablaze entire NE regions," he said.
Dailyhunt
Disclaimer: This story is auto-aggregated by a computer program and has not been created or edited by Dailyhunt. Publisher: National Herald India