Home
Citing Anurag Thakur's case, activist seeks Delhi police permission for peaceful protest with same slogan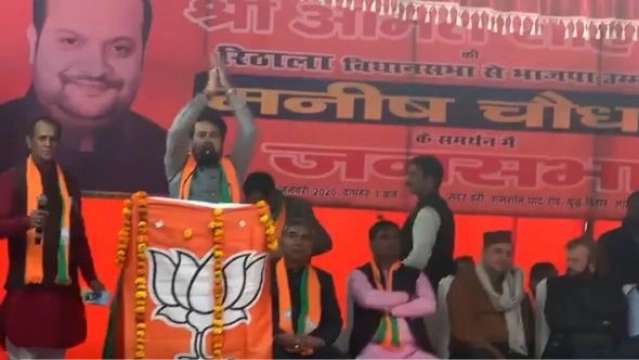 As Minister of state for finance Anurag Thakur walks freely even after chanting the provocative slogan 'Goli maro ... ko' (shoot the ...traitors) on Monday from a public platform, well-known Maharashtra-based activist Saket Gokhale has sought permission from Delhi police to hold a peaceful protest demanding strict action against people who spread communal hatred using the same slogan.
The incident came to light when a video surfaced on social media, in which Anurag Thakur was seen chanting 'desh ke gaddaron ko' from the stage after which the audience was shouted 'golli maaro..ko' during an election rally in Delhi.
Saket Gokhale, an activist and journalist, posted a copy of the letter to Delhi police seeking permission for a protest in Delhi on Twitter. The letter written by Maharashtra-based activist states that the protesters "specifically seek permission to raise the slogan, 'desh ke gaddaron ko, goli maaro saalon ko' as part of this peaceful demand for justice".
Sent a letter to @DelhiPolice asking permission for a peaceful protest chanting the slogan "Desh ke gaddaron ko, goli maaro saalon ko" against communal forces on Sunday 2nd Feb.

Your call, Delhi Police - grant it or refuse it.

Either way #HumDekhenge pic.twitter.com/WKmDQGHHqL

— Saket Gokhale (@SaketGokhale) January 28, 2020
Gokhale added that these protesters do not have any connection with political parties and would not violate the Election Commission's Model Code of Conduct.
The peaceful protest would be held at Jantar Mantar by on February 2 (Sunday), he informed.
On his Twitter post, Gokhale added, "Your call, Delhi Police - grant it or refuse it".
In his tweet, Gokhale explains that Delhi police will be caught in the horns of a dilemma with this letter; "If they grant me permission, they're going to have to do a lot of answering in court for allowing this slogan. If they refuse, they need to arrest Union Minister Anurag Thakur and BJP candidate Kapil Mishra for raising this slogan at their rallies".
Dailyhunt
Disclaimer: This story is auto-aggregated by a computer program and has not been created or edited by Dailyhunt. Publisher: National Herald India