Home
Delhi's Sunday Bazaar gets new address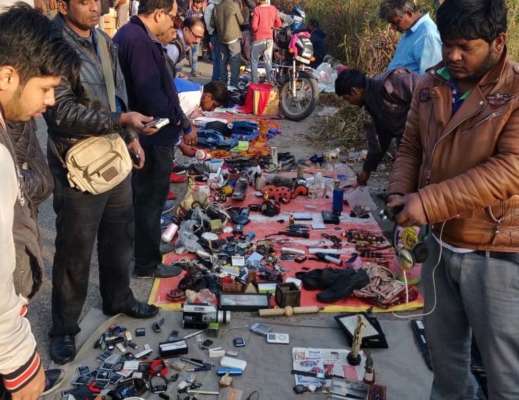 The historic Sunday Bazaar aka Kabari Bazaar gets yet another new address at Salimgarh after a long pitched battle. Oscillating precariously between the government and the Market Association, the bazaar, which had remained in no man's land for many months, finally gets a nod from the authorities now. How long it runs is the question to ponder upon.
Lately, the market after a meeting chaired by Minister (Urban and Development) for the relocation of Kabari Bazar, was given a presentation of the proposed bazaar on the existing service road of Ring Road Bypass (Yamuna Side) connecting Geeta Colony after due deliberations with Delhi Police, Traffic Police, SEWA NGO and PWD officials. It was declared that the bazaar may be started on a trial basis from December 22, 2019, to March 8, 2020, for 12 Sundays.
If the market functions well without any hindrance then only will the bazaar be allowed to continue. The vendors will be seated on the basis of permission by MCDs. Facilities for mobile toilets will be provided at the site as long as the market goes on. In addition, no parking or vehicular spill will be allowed on the main carriageway that may hamper the movement of traffic as discussed in the meeting convened in December last year.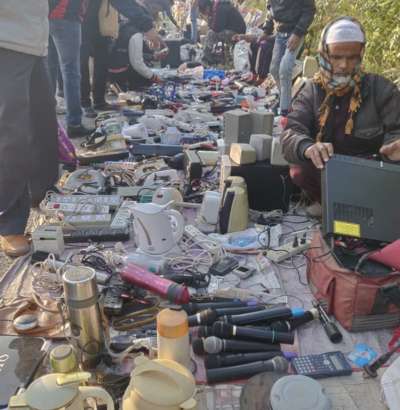 At the wee hours, many hardcore shopaholics even from the adjoining states come shopping to Delhi's flea market. This weekly Sunday bazaar with a long history sells everything that caters to the need of all age groups. The place, unlike quiet Sunday morning, remains abuzz with activities for hours starting at dawn.
This Sunday weekly make-shift market with more than 2000 shops is reputed to have been selling from pin to plane. The market has a real long history dating back to the decade of the 40s. The bazaar started with a few shopkeepers; now the figure has swollen to the whopping figure of 2000. The history of this market opposite the Red Fort Delhi, popularly known as Kabari Bazaar, carries innumerable stories within.
In over 60 years, this market has changed a number of addresses; from Shaaz ka Talab to Chawri Bazaar to Red Fort to Jama Masjid to Subhash Park to Delhi Secretariat and now to this place.
In 1942, it began from Ajmeri Gate with a few shops selling scrap and worn-out clothes.
A few years later staggering through the walled city's mazes and labyrinths, it moved to Chawri Bazaar in the neighbourhood. Surviving many storms of lodging and dislodging, in 1955 it spent some good years in the surroundings of the historic Jama Masjid before it was shoved away to Subhash Park, Kasturba Hospital with shopkeepers numbering around 250 then. In 1982, it found a new place on the stretch of Ring Road behind the Red Fort. Years later, it moved to Subhash Park, Darya Ganj. This turbulent journey continued with yet another new address at Indira Gandhi Stadium (Rajghat) close to Delhi Government Secretariat with around 1800 stalls, out of which around 1400 were sanctioned permission on Sundays.
As Delhi hosted Common Wealth Games with IG stadium its one of the venues, this forced the market to pack off and the bazaar returned to the same old place, Subhash Park. For more than a year, the market has been removed with no assurance.
In this widely popular market with varieties of sports equipment, shoes, antique artefacts, carpets etcetera you can get stuff at throwaway prices only if you are good at the art of haggling.
Many bazaar addicts do not miss it out, "It's my second generation. I have been coming every Sunday despite my poor health. I, in fact, do not visit here intending to buy anything, in particular, it's just the chance what you may end up coming across." Anurag (name changed) said on the condition of anonymity.
The market serves the best to those living on a shoestring budget; mostly students and sports freak go shopping in the early hours for the best catch before the crowd thickens. Even families can be spotted making purchases for their kitchens or before a festival. "I often used to come alone before marriage but now we, my two sons, all come together and buy stuff for the household. It's fun browsing the market." Sangeeta (name changed) spoke briefly of her weekly ritual.
Most foreign brands from sneakers and trainers to loafers to trekking boots to flip-flops to sandals are well crowded up here in the market.
"Why doesn't the government allot these vendors a proper place where they can sit and sell so that the customers do not face hassles." Madhuri Balodi, an entrepreneur wonders.
"There are 1167 shopkeepers whom Delhi High Court permitted will be seated here. In case, the number exceeds they must seek consent from the MCD before pitching in here. This figure comprises of 400 Gujarati, 150 scrap dealers and the rest goes to shoes and clothes vendors. We will cooperate as per instructions put forth by MCD and TVC (Town Vending Committee)." Ashwani Sharma, General Secretary Old Edward Park Bazaar Association.
"There is a provision of 200 metres demarcated for the parking lot to be authorized by MCD that can accommodate as many as hundreds of cars and two-wheelers. This can be extended if the need be. We expect cooperation from the police under Central district as they have facilitated in the past as well." Devender Singh (Bunty) General Secretary Kabadi Bazaar Welfare Association.
"The government in Delhi had promised to regularise the market if they came to power. I sincerely hope that the market will run smoothly with the cooperation of Mahila Mandal, Sewa Dal Union, Kabadi Bazaar Association, MCD and police. The market did not find a particular place for more than one and a half years once it was dislodged from Subhash Park, Jama Masjid. Lata, Vice President Sewa Dal Union revealed.
Dailyhunt
Disclaimer: This story is auto-aggregated by a computer program and has not been created or edited by Dailyhunt. Publisher: National Herald India