Home
India is now Donald Trump's spiritual home, writes Pankaj Mishra in NY Times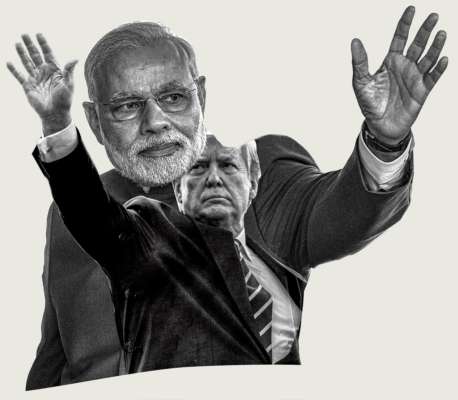 India is the American President's Spiritual Home
India today with its groveling political and cultural elite is Mr. Trump's deepest fantasy, flawlessly realized. A democracy once identified with great names such as Mohandas Gandhi has degenerated into Trumpland - an inferno of systemic brutishness, imbecility and mendacity.
Much guff will be broadcast in the coming days about the "shared values" of the world's largest democracies. But the most significant values that India and the United States share today are those of Mr. Trump and Mr. Modi - charlatans who succeed, initially, but then, failing abjectly at everything, retreat into resentful lies and bellicose bluster. The New India, much more than the United States, is now Mr. Trump's spiritual home, and the president would, for once, attest to a genuine emotion when, imagining himself cheered by 10 million Hindus, he tells himself that he really loves Hindu.
: Pankaj Mishra (Author of Age of Anger: A History of the Present) in The New York Times
So young and so talented!! #TrumpIndiaVisit https://t.co/zz2KulRPnP

— Abhaya Srivastava (@abhaya_sri) February 22, 2020
Poor domestic policies can derail Indo-US relations
India and the United States are far from becoming formal allies. They are dogged by persistent trade disagreements, which India shows no inclination to settle. But given Trump's record with other U.S. allies, his administration has been surprisingly lenient when it comes to India's uncompetitive trade practices. It has also kept mum about India's feared drift toward illiberalism, enabling both countries to push ahead on strategic, especially defense, cooperation, which has always been the lodestar that guides U.S.-Indian relations.
More than anything else, however, the future of the U.S.-Indian defense relationship hinges on India's ability to maintain prosperity, stability, and social cohesion at home. An India that is distracted by internal strife, domestic cleavages, and corrosive ideological confrontations will be unable to either grow rapidly or modernize its military fast enough to project power beyond the Indian subcontinent. On this score, the recent record of Modi's government has been dispiriting. It would be tragic if India's hitherto upward trajectory were to be derailed by bad domestic policies.
: Ashley Tellis (Senior Fellow at Carnegie Endowment for International Peace)in Foreign Affairs
Made in India! #TrumpIndiaVisit @sifydotcom cartoon pic.twitter.com/OhNrbLCjkI

— Satish Acharya (@satishacharya) February 20, 2020
Unequal but robust maritime interests
In the Trump worldview, India has been a difficult trade interlocutor and he has, in the past, accused Delhi of being the world's "tariff king", and the Harley Davidson motorbike episode has become the symbol of presidential ire. According to the United States Trade Representative data, in 2018, the US trade deficit with India was $25.2 billion, of which the goods trade deficit was $20.8 billion. Hence Trump asserted, "We are not treated very well by India but I happen to like prime minister Modi a lot." This puts Modi in a special category, for there are not too many global leaders who have received such positive endorsement from Trump, despite differences, and a reflection of deft Indian diplomacy.
But as expected, while the trade relationship is in the doldrums over tariff issues and dismay in Delhi about the US removing India from the list of "developing" countries, the military supplies' relationship remains robust and points to a shared albeit unequal strategic partnership in the maritime domain.
: C. Uday Bhaskar (Director of Society for Policy Studies, in Hindustan Times)
Modi and trump have one thing in common.

Both love "Walls" #TrumpIndiaVisit #TrustNaMo pic.twitter.com/7FlEDtwJF0

— Rakshith Shivaram/ರಕ್ಷಿತ್ ಶಿವರಾಂ (@bkrs100) February 18, 2020
Indo-US convergence on Afghanistan
India and the US converge on the need for stable & prosperous Afghanistan without the scourge of terrorism. But there is divergence on how. The US wants to sign a deal with the Taliban and leave the country. This has security implications for India, which has invested billions of dollars in Afghanistan, and supports the democratic government in Kabul. It is not in India's interest to have the Taliban, which enjoys Pakistan's support, back in Kabul. It is difficult for India to have its own boots on the ground independently.
Although, there have been reports claiming Afghanistan's request for the presence of Indian troops, and even Trump would like the same. But as India gets more clarity from Trump on his deal with the Taliban, it can discuss with the US the possibility of having a UN peacekeeping force in Afghanistan. It will be easier for India to have troops in Afghanistan under the UN flag. The Narendra Modi government will be able to sell that to the people of India where popular opinion is against sending Indian troops in Afghanistan. This will make sure that there is no return of the Taliban in Kabul and Pakistan is denied the strategic depth it seeks.
: YUSUF T. UNJHAWALA , editor, Defence Forum India, in The Print
https://t.co/z0wFiwlBJq pic.twitter.com/MWOvnJzjZf

— Sushant Singh (@SushantSin) February 21, 2020
Brief & Busy
US President Donald Trump's visit to India on February 24-25 will be a brief and busy one.....That said, the visit will also provide a stage for Trump and Prime Minister Narendra Modi to bolster each other in different ways.

Even without the resolution making headlines, Trump may privately raise questions about Kashmir. He wants to have both India and Pakistan in his corner. In his mind, he has solved the Israel-Palestine problem. With the Afghanistan peace process once again showing signs of life, he may plead Pakistan's case.

As for Modi, it helps to have the US president standing beside him in the safe zone of Gujarat at a rally of supporters - '.[Modi] thinks we will have 5-7 million people just from the airport to the new stadium,' Trump told reporters at the White House on Monday - even as protests continue elsewhere in India, and both Republicans and Democrats continue to raise questions about India's domestic policies, some quietly and others a little more loudly.

In just the past three years, the Trump Administration has offered India armed drones and integrated air and missile defence technology, both of which were denied by the Barack Obama regime on grounds they would alter the balance with Pakistan.
: Seema Sirohi, Senior Washington based commentator in The Economic Times
Dailyhunt
Disclaimer: This story is auto-aggregated by a computer program and has not been created or edited by Dailyhunt. Publisher: National Herald India