Home
LIVE News Updates: Delhi records 1,257 fresh COVID-19 cases,1,47,391 total cases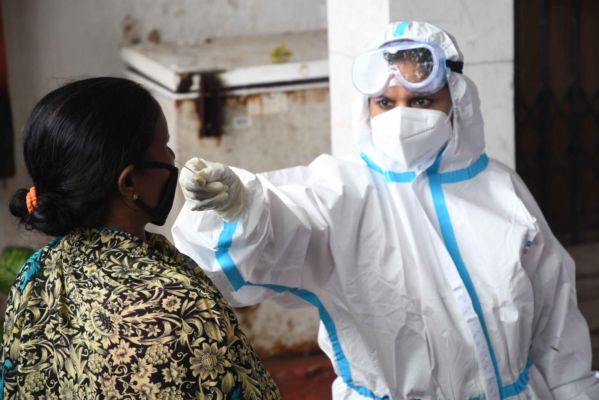 9,024 new COVID-19 cases in Andhra Pradesh, 2,44,549 total cases
9,024 new COVID-19 cases detected in Andhra Pradesh, tally rises to 2,44,549; 87 more fatalities push death toll to 2,203: Officials.
1,417 more people test positive for COVID-19 in Kerala; five fresh fatalities take death toll to 120: Officials
Delhi records 1,257 fresh COVID-19 cases,1,47,391 total cases
Delhi records 1,257 fresh COVID-19 cases, 8 deaths in last 24 hours; infection tally stands at 1,47,391: Authorities.
Pranab Mukherjee's health has not shown any improvement, he remains on ventilator support: Army hospita
Rahul Gandhi pays tribute to poet Rahat Indori, who passed away due to COVID-19
"Ab na mein hun, na baaki hai zamane mere,
Phir bhi mashahoor hain shehron mein fasane mere..."
Farewell, Rahat Indori saheb, tweeted Rahul Gandhi
"अब ना मैं हूँ ना बाक़ी हैं ज़माने मेरे,
फिर भी मशहूर हैं शहरों में फ़साने मेरे..."

अलविदा, राहत इंदौरी साहब।

— Rahul Gandhi (@RahulGandhi) August 11, 2020
564 new COVID-19 cases in Jammu and Kashmir, 25,931 total cases
564 COVID-19 cases, 604 recoveries, and 12 deaths reported in Jammu and Kashmir today. Total number of cases in the Union Territory is now at 25,931 including 17,979 recovered/discharged, 7,462 active cases, and 490 deaths: UT Government.
India's tests per day per million population stands at 506: Health Ministry
Industrial production declines by 16.6 per cent in June: Govt data
COVID-19 tally in Mumbai's slum colony Dharavi rises to 2,634 with addition of 8 new cases: BMC
Famous poet Rahat Indori passes away due to COVID-19
Renowned poet Rahat Indori has passed away due to COVID-19. He had tested positive for COVID-19 on Tuesday and was admitted to Aurobindo hospital, Madhya Pradesh, reports Free Press Journal.
Centre should clear outstanding dues of ₹53000 crore to West Bengal: Mamata Banerjee
BJP names Jai Prakash Nishad as a candidate for by-election to a Rajya Sabha seat from UP
BJP names Jai Prakash Nishad as its candidate for by-election to a Rajya Sabha seat from Uttar Pradesh. The by-election, scheduled to be held on August 24, was necessitated following the demise of Samajwadi Party MP Beni Prasad Verma.
Percentage of active coronavirus cases is reducing, says PM Narendra Modi.
Bihar government tells SC no FIR has been lodged in Mumbai yet with regard to Rajput's death; Patna FIR is legal and valid
Post surgery, Pranab Mukherjee continues to remain critical; he is on ventilator support: Hospital
Russia has developed first COVID vaccine, says Vladimir Putin
Russia has developed the first vaccine offering "sustainable immunity" against the coronavirus, President Vladimir Putin announced Tuesday, reports NDTV.
There should be zero tolerance for crimes of any kind against women, says Priyanka
The Bulandshahr incident shows that there is absence of fear from law and order agencies and a feeling of insecurity among women.
It seems the state administration doesn't take the incidents if eve teasing seriously.
A thorough reshuffle is required for this. There should be zero tolerance for crimes of any kind against women, tweeted Priyanka Gandhi
बुलंदशहर की घटना यूपी में कानून के डर के खात्मे और महिलाओं के लिए फैले असुरक्षा के माहौल को दिखाती है।

ऐसा प्रतीत होता है कि प्रशासन छेड़खानी की घटनाओं को गंभीरता से नहीं लेता।

इसके लिए व्यापक फेरबदल की जरूरत है। महिलाओं पर होने वाले हर तरह के अपराध पर जीरो टॉलरेंस होना चाहिए।

— Priyanka Gandhi Vadra (@priyankagandhi) August 11, 2020
Coronavirus recovery rate is improving, says PM Modi
We are able to work as a team in fight against COVID-19: PM tells chief ministers
SC asks Allahabad High Court to consider Dr Kafeel Khan's matter on merits in 15 days
Supreme Court asks Allahabad High Court to hear & expeditiously consider the matter on merits & to consider in 15 days time, whether Dr Kafeel Khan can be released or not
Ex-prof Saibaba seeks parole, HC issues notice to Maha govt
The Nagpur Bench of Bombay High Court on Tuesday issued notice to the Maharashtra government on an application filed by Delhi University's former professor G N Saibaba for emergency parole to attend the post funeral rituals of his late mother.
Saibaba, who is serving life term in the Nagpur Central Prison for links with Maoists, lost his ailing mother on August 1 even as his lawyers were seeking to arrange a video conference between the two.
Last week, the prison authorities rejected Saibaba's application seeking parole for attending the last rites of his 74-year-old mother, who died in Hyderabad.
He had earlier also sought parole from the prison authorities to meet his mother in Hyderabad, but it was rejected.
A daughter is entitled to equal property rights, says Supreme Court
Supreme Court in its order says that a daughter is entitled to equal property rights under the amended Hindu Succession Act.
Poet Rahat Indori tests positive for coronavirus
Celebrated poet and lyricist Rahat Indori has tested positive for the novel coronavirus. He was admitted to the Aurobindo Hospital in Indore, Madhya Pradesh. His son Satlaj said that he is stable, reports India Today
PM Narendra Modi holds consultations with chief ministers of around 10 states on COVID-19 situation
Nepal extends suspension of domestic, intentional flights
The Nepal government has decided to extend the suspension of domestic and international flights as well as public transport until August 31 amid the COVID-19 pandemic.
Monday's decision came amid a resurgence of new COVID-19 cases in the Himalayan nation since the nearly four-month long lockdown was lifted on July 22, reports Xinhua news agency.
On July 20, the Nepal's cabinet had decided to resume domestic and international flights which have remained suspended since March 22, from August 17 along with the decision of lifting the lockdown.
76 more people test positive for COVID-19 in Arunachal Pradesh, 2,231 total tally
76 more people, including 36 security personnel, test positive for COVID-19 in Arunachal Pradesh, bringing tally to 2,231; active case count 636: Health dept official.
Death toll in Rajamala landslide rises to 50 after a body was recovered: District Authorities, Idukki
Typhoon Mekkhala makes landfall in China
Mekkhala, the sixth typhoon of this year, made landfall in China's Fujian province on Tuesday, bringing with it strong winds and torrential rain.
The typhoon has disrupted traffic, while some trains have been ordered to stop services in the province, reports Xinhua news agency.
Gaoqi airport in the coastal city of Xiamen cancelled 51 outbound flights on Monday and 38 on Tuesday morning.
The Xiamen flood control office said that more than 5,600 fishing ships had returned to ports and over 3,200 people were evacuated.
NZ reports new COVID-19 case after 102 days
New Zealand reported one new COVID-19 case on Tuesday, after a period of 102 days, taking the total number of active cases in the country to 22, all in managed isolation or quarantine facilities, according to the Ministry of Health.
Tuesday's case was a man in his 20s who arrived in New Zealand on July 30 from Melbourne, Xinhua news agency quoted Director-General of Health Ashley Bloomfield as saying at a press conference.
He was in managed isolation at the Grand Millennium and tested negative for COVID-19 around day three of his stay, but turned positive some nine days later and has now been transferred to the Auckland quarantine facility, Bloomfield said.
This case brought New Zealand's total number of confirmed cases of COVID-19 to 1,220.
US student killed in UP accident
A teenage student of Babson College in Massachusetts, US, has been killed in a road accident in Uttar Pradesh.
The victim, Sudiksha Bhati, was in India for vacations and was supposed to return to the US on August 20. The 19-year-old was on her way to Bulandshahr on a two-wheeler when the accident took place.
Her family members claimed she was with her uncle on a scooty from Dadri on Monday evening, when two men on a motorcycle started following them.
"The men were passing comments on Sudiksha and were trying to overtake her vehicle performing stunts to impress her. Suddenly, their Bullet hit Sudeeksha's scooty and she lost balance. Sudiksha died on the spot," said Satyendra Bhati, the uncle.
Center to allow 4G restoration in J&K after August 15 in 2 districts
The Center today submitted to the Supreme Court that a Committee is considering as to whether allowing 4G internet access on a trial basis in one district in Jammu and one in Kashmir or not. Easing will come into effect after 15 August, the Centre said.
Additional affidavit filled in the 4G internet restoration matter, says AG KK Venugopal
Attorney General (AG) KK Venugopal, representing the Govt of India, submitted to the Supreme Court today that an additional affidavit has been filed in the 4G internet restoration connectivity matter.
PM To Discuss COVID Situation With Chief Ministers Of 10 States Shortly
PM Narendra Modi to hold a video conference with Chief Ministers of Andhra Pradesh, Karnataka, Tamil Nadu, West Bengal, Maharashtra, Punjab, Bihar, Gujarat, Telangana, Uttar Pradesh today, to discuss corona related situation, reports ANI
Three suspected militants apprehended in J-K's Kupwara
The Army has apprehended three suspected militants during a search operation in Kupwara district of Jammu and Kashmir, officials said on Tuesday.
A joint search operation was launched by the security forces on the inputs of Jammu and Kashmir Police in Lalpora area of Kupwara on Monday, an army official said.
He said three suspects were apprehended and some arms and ammunition recovered during the operation.
"One AK assault rifle, two pistols and some ammunition were recovered," the official said, adding the operation is in progress.
Rupee surges 7 paise to 74.83 against US dollar in early trade
Google launches new global COVID-19 map for journalists
Google in collaboration with Stanford University has launched a global COVID-19 map that makes it possible for journalists to embed up-to-date visualisations of the pandemic on their sites for readers.
Unlike other coronavirus case maps, the 'COVID-19 Global Case Mapper' allows local reporters to embed a map of their area or even a national case map.
The map shows cases in relation to population.
191 UP jail inmates test COVID-19 positive
At least 191 inmates at the Basti district jail in Uttar Pradesh have tested positive for the novel coronavirus.
The latest figure took the overall tally of COVID-19 infected inmates in jails across the state to 1,379.
The Basti inmates were found positive after the health department teams conducted tests on August 9.
There are around 1,400 inmates currently lodged at Basti district jail.
Gujarat reports 1,056 new COVID cases, tally at 72,120
Gujarat reported 1,056 new COVID-19 cases on Monday, taking the state's tally to 72,120, while the death toll reached 2,674 with 20 fresh fatalities, health officials said.
As many as 1,138 patients were discharged on Monday, taking the total number of recoveries to 55,276.
Surat reported the maximum 236 cases, followed by Ahmedabad 144, Vadodara 108, Rajkot 96, Bhavnagar 48, Amreli 42, Kutch 32, Jamnagar 31, Gir-Somnath 29, Gandhinagar 26, Morbi and Porbandar 25 each, Bharuch and Surendranagar 20 each, Mahesana 19, Junagadh, Panchmahals and Valsad 18 each, Kheda 15, Dahod 14, Patan 13, Narmada 11, Mahisagar and Navsari 9 each, Banaskantha and Sabarkantha 8 each, Devbhumi Dwarka 5, Botad 3, Chhota Udepur 2 and Aravalli and Tapi one positive case each.
5,914 new COVID cases push TN's tally to 302,815
Tamil Nadu reported 5,914 new COVID-19 cases on Monday, pushing the tally to 302,815, health officials said.
As many as 6,037 patients were discharged from various healthcare facilities in the state, taking the total recoveries to 244,675, the officials added.
The state's death toll has reached 5,041 with 114 more fatalities.
DGCA suspends two senior executives of AirAsia India for three months
Aviation regulator DGCA suspends two senior executives of AirAsia India for three months over 'safety violations', say officials
Single-day spike of 53,601 cases and 871 deaths reported in India in 24 hours
Single-day spike of 53,601 cases and 871 deaths reported in India, in the last 24 hours. The COVID-19 tally rises to 22,68,676 including 6,39,929 active cases, 15,83,490 cured/discharged/migrated & 45,257 deaths: Ministry of Health
WIll Modi government understand the pain of the poor, asks Rahul Gandhi
A scheme like MGNREGA for the people hit due to unemployment in the city and implementation of NYAY for the poor is important. It will also be very beneficial for the economy. Will the suit-boot- government understand the pain of the poor?
शहर में बेरोज़गारी की मार से पीड़ितों के लिए MGNREGA जैसी योजना और देशभर के ग़रीब वर्ग के लिए NYAY लागू करना आवश्यक हैं। ये अर्थव्यवस्था के लिए भी बहुत फ़ायदेमंद होगा।

क्या सूट-बूट-लूट की सरकार ग़रीबों का दर्द समझ पाएगी? pic.twitter.com/jR6mqI96S7

— Rahul Gandhi (@RahulGandhi) August 11, 2020
Global COVID-19 cases surpass 20mn: Johns Hopkins
The overall number of global coronavirus cases has surpassed the 20 million mark, while the deaths have increased to over 734,000, according to the Johns Hopkins University.
As of Tuesday morning, the total number of cases stood at 20,011,186 and the fatalities rose to 734,664, the University's Center for Systems Science and Engineering (CSSE) revealed in its latest update.
The US accounted for the world's highest number of infections and fatalities at 5,089,416 and 163,425, respectively, according to the CSSE.
Brazil came in the second place with 3,057,470 infections and 101,752 deaths.
In terms of cases, India ranks third (2,215,074), and is followed by Russia (890,799), South Africa (563,598), Mexico (485,836), Peru (478,024), Colombia (387,481), Chile (375,044), Iran (328,844), Spain (322,980), the UK (313,392), Saudi Arabia (289,947), Pakistan (284,660), Bangladesh (260,507), Argentina (253,868), Italy (250,825), Turkey (241,997), France (239,306), Germany (218,508), Iraq (153,599), Philippines (136,638), Indonesia (127,083), Canada (122,053) and Qatar (113,262), the CSSE figures showed.
The other countries with over 10,000 deaths are the Mexico (53,003), UK (46,611), India (44,386), Italy (35,209), France (30,327), Spain (28,576), Peru (21,072), Iran (18,616), Russia (14,973), Colombia (12,842), South Africa (10,621) and Chile (10,139).
Dailyhunt
Disclaimer: This story is auto-aggregated by a computer program and has not been created or edited by Dailyhunt. Publisher: National Herald India