Home
No funds for Delhi under NCAP, even as experts warn pollution levels are lethal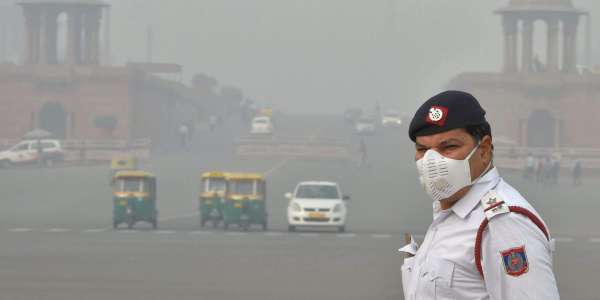 In what may come as a shock to many, the national Capital, which has been grappling with severe air pollution, has not received any funds from the Centre under the 'National Clean Air Programme' despite being among the 102 non-attainment cities, the Rajya Sabha was informed on Monday.
The National Clean Air Programme (NCAP) was launched by the Ministry of Environment, Forest and Climate Change (MoEFC) in January 2019, citing air pollution as one of the biggest global environmental challenges.
In a reply to a question raised by Rajya Sabha Member from Madhya Pradesh, Prabhat Jha, the MoEFC informed the House that 102 non-attainment cities have been identified under the NCAP based on the ambient air quality data for the period 2011-2015 and WHO report 2014/2018. Out of 102 'non-attainment cities' identified under NCAP, for the cities with million-plus population and (air quality of) PM10>90µg/m³, the MoEFC is funding Rs 10 crore in the current year for 28 such priority cities.
"For the remaining non-attainment cities, funding of Rs 10 lakh per city for cities with population less than five lakhs and Rs 20 lakh per city, for cities with a population of five to 10 lakhs have been sanctioned," the reply said.
The reply also said that funds have been released to 90 cities, including the 28 cities, under the scheme, with no mention of Delhi.
The funds were released for various components, which include installation and commissioning of Continuous Ambient Air Quality Monitoring Stations (CAAQMS), creating green buffer zone along the roads, procuring mechanical street sweeper, creating mobile enforcement units, spreading public awareness, to augment capacity building activities and installing water sprinklers.
Dr Sagnik Dey, Associate Professor at the Centre for Atmospheric Sciences and coordinator of the Centre of Excellence for Research on Clean Air at Indian Institute of Technology, Delhi, confirmed the development. Speaking to National Herald, he said, "Delhi is very much in the list of non-attainment cities, but no funds have been allocated to it."
The National Capital has been witnessing severe air pollution for the last one month, with the air quality touching the 'emergency' mark. The air pollution in the Capital was so toxic after Diwali that the Environmental Pollution (Prevention and Control) Authority (EPCA) had declared a public health emergency in Delhi-NCR and had advised people, especially children and the aged, to limit outdoor exposure.
The Delhi government has urged the Centre many times to take steps to deal with air pollution as it has blamed stubble burning in the neighbouring states for the deteriorating air quality here. It also implemented an 'Odd-Even scheme' for vehicles from November 4 to 15.
According to medical experts, the severe air pollution was impacting the health of Delhi NCR's residents, especially the children and elderly, in an exceedingly alarming manner.
According to Dr Naveen Prakash Gupta, Senior Paediatrician at Madhukar Rainbow Children's Hospital, there has been an uptick of almost 20-30 per cent in the number of children being brought to him for treatment for pollution-related ailments like cold, asthma, etc.
Talking to National Herald, he said school going children, more exposed to the pollution, were the most affected. But he added that even indoor air was not much better.
The severity of the ailments was also a matter of concern. "Not only is the degree of ailments more severe, children are taking far longer to recover due to the sheer toxicity in the air," Dr Gupta told National Herald.
Asked if the pollution could cause any long-term health issues like cognitive problems in affected children, he said, "That's difficult to say, but yes, even a child has to be given strong medication for a prolonged period of time to, say, control, asthma, these would certainly have their own side effects and compromise their normal growth. More research is needed on this, but this may even have some detrimental effect on the mental health of the child."
"It is high time find the root cause of why Delhi NCR is affected by such severe pollution time and again. One reason is of course the stubble burning in neighbouring states, but other causes such as industrial effluents, vehicular pollution, dust from construction sites etc are equally responsible, and the concerned authorities need to do something about the situation as soon as possible," Dr Gupta opined.
He also felt that the Odd-Even scheme didn't have much significant effect on the ambient air quality.
The adults, especially the elderly, are not much better off. According to Dr Rommel Tickoo, Associate Director, Department of Internal Medicine at Max Hospital, there were a host of medical studies available which clearly point at a direct link between air pollution and severe, life-threatening diseases.
"Prolonged exposure to hazardous air can lead to severe cardiac problems and even brain strokes," he told National Herald. "While this may be in the public domain, you'd be surprised to hear that air pollution has even been linked to clinical depression," he added.
Considering these alarming statements by practising physicians, it is indeed strange that Delhi has been given a total go-by by the NCAP, which was launched as a "long-term, time-bound, national-level strategy to tackle air pollution problem across the country with targets to achieve 20 per cent to 30 per cent reduction in PM10 and PM2.5 concentrations by 2024, keeping 2017 as the base year for the comparison of concentration."
Dailyhunt
Disclaimer: This story is auto-aggregated by a computer program and has not been created or edited by Dailyhunt. Publisher: National Herald India