Home
No takers for cow protection scheme in UP; just 10,000 adopt cow so far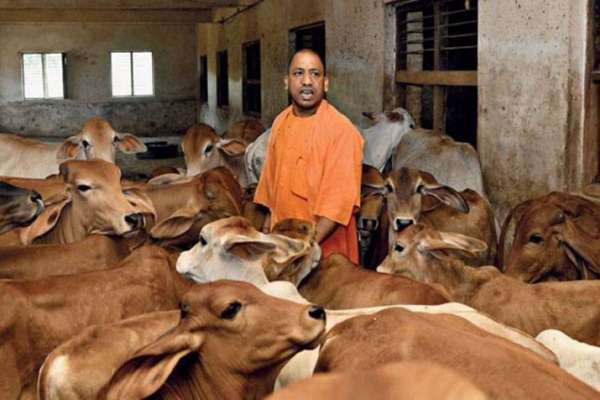 The Yogi government's efforts to tackle stray animal menace has fallen flat as much-hyped cow adoption project finds no takers forcing the government to revise its strategy. In August Chief Minister had announced that 1 lakh stray animals, mainly cow, will be adopted across the state in three months but the government figures suggest that in two and a half months not even 10,000 cow have been adopted.
"The response of people is very poor. Not even 10,000 cows have been adopted so far. This despite large scale advertisement in the villages and government support in form of Rs 900 per month as fodder which is sent directly to the bank account of the beneficiary," a senior official told this reporter on condition of anonymity for obvious reasons.
The scheme was launched after wide spread protest over the menace of stray cattle across the state. The farmers complained about stray cattle damaging crops forcing them to keep these stray cattle in the school or hospital compound. Pictures of students studying in open and hundreds of stray cattle resting in school ground were flashed in the national and international media.
Facing criticism Chief Minister Yogi Adityanath ordered that Gau Sewa Ayog should ensure protection of animal. The Gau Sewa Aayog has thrown up its hands in despair that it cannot ensure maintenance of cow at paltry sum of Rs 30 per day. A senior official in Gau Sewa Aayog said that it could emerge as another 'chara ghotala'. We need to verify the claims of lower level officials that actually there are such a number of animals. This is a gigantic process and we do not have enough staff," he said.
With no option left the Yogi Government had offered people to adopt cow which are kept in temporary shelters. The local level officers were asked to go door to door counting cow which are not of any commercial use now. The government proposed to give the farmer Rs 30 per day ( Rs 900 per month) for every cow's fodder. As per Government figure there are around 4 lakh abandoned cattle in temporary shelters across Uttar Pradesh.
Principal secretary, Department of Animal Husbandry, B.L. Meena said that people have so far adopted anything between 9000-10,000 animals from various adoption centres across the state. The government is trying to motivate people to adopt animals so that they can get a permanent shelter, he said.
Cow has been a big political issue for the Bharatiya Janata Party. Incidents of lynching have been reported on the name of cow trafficking. Muslims in Uttar Pradesh have stopped rearing cow and the cattle fair where farmers used to sell their animals are no longer being held in Uttar Pradesh.
Dailyhunt
Disclaimer: This story is auto-aggregated by a computer program and has not been created or edited by Dailyhunt. Publisher: National Herald India