Home
PM calls for a 'Janata Curfew' on Sunday, asks people to prepare to cope with COVID-19 crisis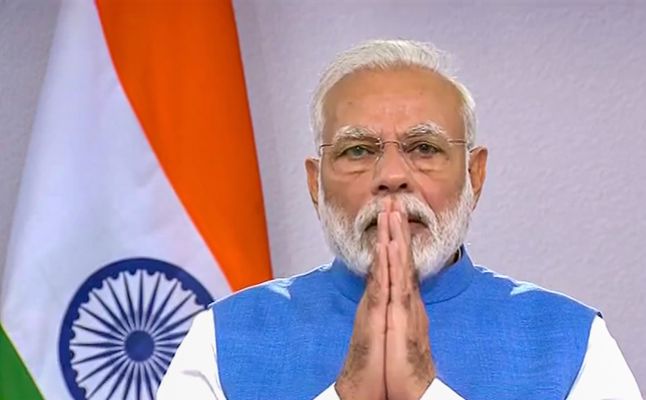 Prime Minister Narendra Modi on Thursday appealed to the people to enforce a 'Janta Curfew' in the country from Sunday, March 22 between 8 am and 9 pm. Nobody should leave home during this curfew. Essential services, however, should continue.
The PM also called upon people to stay indoors in the next few weeks and not leave home unless it is absolutely necessary. People should work from home.
In what was largely a Public Relations exercise, the Prime Minister called upon the people to clap or beat utensils for five minutes at 5 pm on Sunday to thank people including medical professionals, delivery boys etc. who are serving people without caring for their own comfort and safety.
In an address which lasted 30 minutes, the Prime Minister asked people to refrain from crowding hospitals for routine check up.
A COVID-19 Task Force headed by the Finance Minister has been set up to suggest ways to overcome the economic impact of the pandemic. The pandemic will impact business and the poor. He asked industrialists, the middle classes and the rich not to cut wages of people who are unable to report for work.
He reassured the country that steps are being taken to ensure steady supply of essential goods and called upon them not to hoard medicine and essential goods.
Throughout Thursday, there was speculation that the PM would announce a lockdown in cities. But while stopping short of doing that, the PM seemed to be covering the back of his government, informing people of the tough times ahead and suggesting that the nation would unitedly fight the menace posed by the pandemic.
Questions were raised during the day on why the PM chose 1 24-hour window to build the suspense and allow rumours and panic to grow. Derek O'Brien, Rajya Sabha MP, wondered why the PM could not have delivered the address in Parliament, which is in session. Others asked why the PM did not address a press conference and field questions like the US President and the British Prime Minister have been doing.
Mr Prime Minister, Sir,#Parliament is in session.

May I ask you the same question? Again. #COVID19india pic.twitter.com/MpL7zW56Pg

— Citizen Derek | নাগরিক ডেরেক (@derekobrienmp) March 19, 2020
Say what you will, but Covid-19 doesn't scare PM Modi.

What really puts the fear of God in him is the idea of answering questions about Covid-19 in a press conference.

‍♂️

— Saket Gokhale (@SaketGokhale) March 19, 2020
The PR exercise was backed by several Hindi TV channels which ran headlines like the following
· PM ne thana hai, corona ko harana hai.
· Darwaze par mahamari.... sarkar ki puri tayari.
· Corona ke virudh Modi ka yuddh
· Corona se jeetna mumkin/ Modi ko poora yakin.
· PM ka corona par prahar
Reactions on Twitter were fast and furious !
In 30 mins address to the nation, our honorable PM had so much to ask of the citizens - stay put under 'janta curfew' and play plates and spoons at 5 pm. What is the govt doing? Are we escalating the testing infrastructure?? And what is the govt doing for the poor??

— Vimlendu Jha (@vimlendu) March 19, 2020
What was that @narendramodi address?! He's famous for reducing everything to an event. But in reducing covid 19 to a one-day "Janata Curfew" he has taken his event manager credentials to a new high. Lining up in our doorways and beating utensils is hardly going to solve covid 19!

— Ajai Shukla (@ajaishukla) March 19, 2020
Pluses: don't cut wages of domestic workers, don't hoard supplies. Essential messages, might also stave off panic.

Minuses: no clarity on a comprehensive health plan, availability of testing kits, support for frontline medical personnel, responsibility is mostly on citizens.

— Nilanjana Roy (@nilanjanaroy) March 19, 2020
What people expected from Modi's address:

1. How will India fight Coronavirus?
2. What is Govt's preparedness to fight Coronavirus?
3. How will Govt fix economy?

What people got:

* Sham 5 baje 5 minute ke liye thali Yan ghanti bajaye.

— Nirmala Tai (@Vishj05) March 19, 2020
Dailyhunt
Disclaimer: This story is auto-aggregated by a computer program and has not been created or edited by Dailyhunt. Publisher: National Herald India