Home
Thumbs up for Justice Mishra for hailing the'genius' of Prime Minister Narendra Modi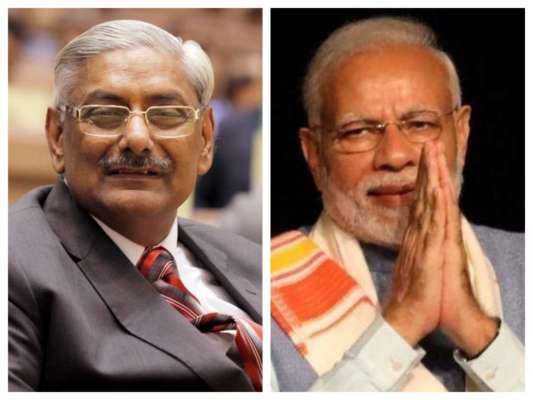 Prime Minister Narendrabhai Damodardas Modi is indeed a genius and I commend Honourable Justice Arun Mishra of the Supreme Court for having recognised the genius of the PM when virtually everyone was blind and ignorant to this extraordinary quality of our beloved Prime Minister.
The PM's genius was actually evident very early. He did manage to sell tea at Vadnagar station in Gujarat to the army jawans going to fight against Pakistan in the 1971 war, when the railway station came up two years later in 1973. This was around the time Modi Ji claims he had become an ascetic and wandered off to the Himalayas. Where exactly in that vast mountain range is a detail he has kept to himself, lest someone goes there to make unnecessary and uncalled for inquiries.
Only a genius could have successfully qualified for an MA in 'Entire Political Science' which no other student in India or abroad has been able to do. Nor is there a teacher anywhere who admits to have taught 'Entire Political Science'. Uncharitable comments that he doesn't seem to have had anyone else who studied the same course as he are unwarranted. He is a genius after all.
He also seems to be the only one to have passed a BA from Delhi university, because Delhi University, in an extraordinary act, printed The Prime Minister's Degree on a computer in 1978 when the university didn't have one and the format did not exist. Others who passed around the same time have Degrees written exquisitely by hand in an artistic style.
The Prime Minister's stroke of genius was again evident when he demonetized most of the currency in circulation. Never mind if it was like shooting at the tyres of a speeding vehicle, as some economists described it. His genius has been responsible for steering our economy from 8 per cent growth per annum to somewhere around 3.5 per cent or even less as a one-time Modi bhakt like Dr Subramanian Swamy tells us.
Who can deny his genius for having spent Rs 3000 Crore on a statue, and 1,600 Crore and engaging 52,000 government employees to complete the process of identifying Bangladeshi 'ghuspathias' (infilitrators) in Assam. I feel bad that Justice Mishra left out the former CJI Ranjan Gogoi, whose genius also aided and abetted the PM's.
Again it must be the genius of the internationally acclaimed visionary, who Justice Mishra said, 'thinks globally and acts locally', to have allowed scores of industrialists to fly out of India after defrauding nationalised banks of 10 trillion rupees.
It was again Narendrabhai's genius that without ever flying a plane he could guide the Air Force to strike Balakot in Pakistan under the cover of clouds and hoodwink the Pakistanis.
It required his genius to cock a snook at the Constitution to scrap Article 370 ( and declare that Article 371, which provides similar guarantees to states other than J &K will never be diluted), place one-time allies Mehbooba Mufti and Omar Abdullah in prison and turn a state into two Union territories to bypass the pesky state assembly.
The Citizenship Amendment Act of 2019 is also an example of his genius at work. And perhaps Justice Mishra had this also in mind, though the Supreme Court is still to adjudicate on the issue.
Justice Mishra has done a singular service by publicly acknowledging the versatility and genius of the Prime Minister. It takes a genius to recognize another. We now know why the apex court has been so indifferent and no nonchalant to Habeas Corpus petitions, to muzzling of democracy in Kashmir and shutting down of the Internet for over six months. They all must be strokes of genius.
The nation must be thankful to Justice Mishra for pointing out the PM's singular genius. A grateful nation will certainly reward him suitably.
(Disclaimer: Views expressed are the author's own)
Dailyhunt
Disclaimer: This story is auto-aggregated by a computer program and has not been created or edited by Dailyhunt. Publisher: National Herald India