Home
Why were Kamlesh Tiwari's killers so keen to get caught?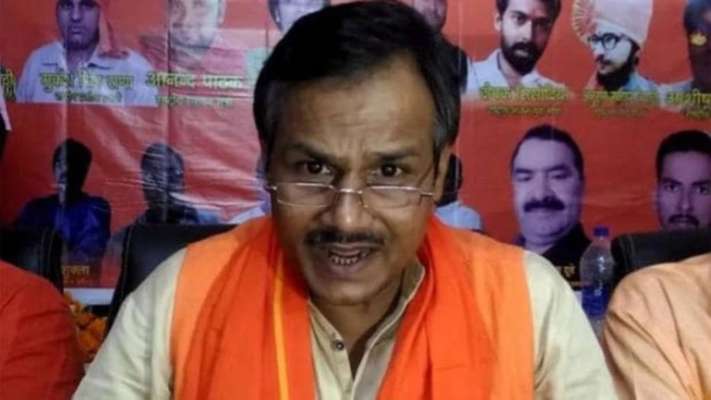 The alacrity with which the entire police force around the country from UP to Gujarat to Maharashtra and we know not where else, came into action over the murder of Hindu Samaj Party founder Kamlesh Tiwari on October 18, has been truly remarkable.
But what is also extraordinary is that it left the deceased's 70-year old mother totally unconvinced. Even if one does discount her rant blaming BJP leaders to be behind the murder (Tiwari himself had posted a video several weeks ago hinting that BJP leaders wanted to eliminate him), there are too many questions to be answered and loose ends.
The day after Tiwari was killed, UP Police, the Anti-Terror Squad (ATS) of Gujarat police and the Crime branch of Surat police swooped upon the alleged assailants and arrested three persons.
Rashid Ahmad Pathan, 21 was working in Dubai for the last two years and had returned home only last month to participate in his brother's marriage scheduled for November 3.
Faizan Shaikh(21), who did odd jobs and Maulana Mohsin Shaikh (24) teaching in a madrasa in Surat were the other two picked up. Immediately the three men confessed, according to Gujarat ATS Deputy SP K K Patel. Meanwhile Mahashtra ATS chief Deven Bharti announced from Mumbai that they too had nabbed a likely conspirator in Nagpur who was being interrogated.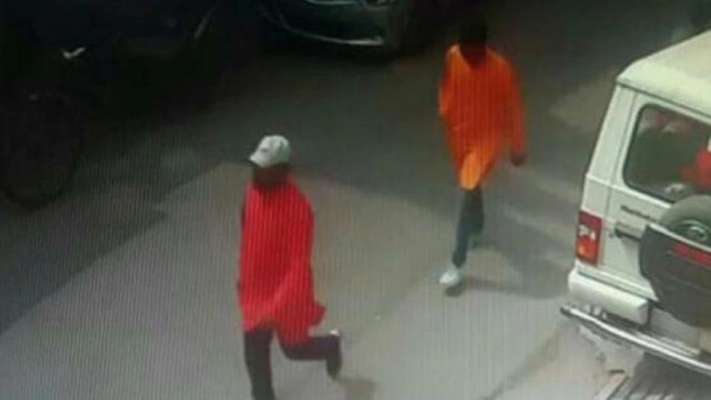 A CCTV grab of Kamlesh Tiwari's alleged killers outside his Khurshed Bagh residence in Lucknow.
However, Pathan's father Khurshid, making preparations for his other son's wedding, expressed shock at the arrest and said "My children are innocent. We don't know who this Kamlesh Tiwari is, what he does and who killed him."
Biswajeet Banerjee adds from Lucknow:
The alleged culprits never tried to conceal their identity while committing the crime. They appear to have built a rapport with the victim over a period of time, reached his residence, had Dahi-Vada and tea and then knifed him to death when the victim's associate went out to fetch cigarattes and pan masa for the killers.
Normally killers try to conceal their identity. They take every precaution to ensure they should not get caught in CCTVs or when they escape, no one should see them. This, however, did not happen in this case. The killers left the pistol, the box of sweets, and more importantly the bill at the scene of the crime before leaving.
The sweet box that was used to carry weapons including a pistol and a knife, were bought from a shop in Surat's Udhna area, claim the police. The Gujarat police arrested three including one Faizan, who allegedly bought sweets from that shop and appeared to have made no attempt to avoid the CCTV installed at the shop.
He could have easily hidden his face from the cameras or even purchased the 'mithai' from any other small shop without a CCTV - but he did not do it. Why?
More importantly after committing the crime, the criminals went back to the hotel they had checked in. They slipped into fresh clothes, leaving blood stained clothes behind. They then went to the reception and deposited the key, saying they would be back within an hour.
Instead of taking such risks, they could have fled immediately after the crime but apparently they were in no hurry to leave.)
From all appearances the two assailants did everything possible to help the police catch them and yet they have so far succeeded in eluding the Police.
Kamlesh Tiwari's mother has dismissed the police version and blamed by name Chief Minister Yogi Adityanath and his administration for having "betrayed" their family by withdrawing security provided by his predecessor Akhilesh Yadav, despite repeated requests.
She in fact told a TV channel on record, that "The police will parade some innocent persons and say these are the ones who killed my son, while giving protection to the mafia. What will the administration do when they are the ones who betrayed us."
She said "Under the previous government, my son had a security cover of around 17 policemen. When Yogi Adityanath became CM, it was first reduced to eight-nine and then to four. Two of them followed my son wherever he went while two would be stationed at his office. But on the day my son was murdered, surprisingly none of the four security guards was with him," she said.
This was also corroborated by none other than Tiwari's party leader and virtual second in command Swarashtra Deep Singh in charge of Khushinagar district who was present in the room when the two assailants arrived.
According to him Tiwari received a phone call in the forenoon and asked his wife to clean and spruce up his office on the first floor of the house which she did promptly and then asked her to prepare tea for the visitors.
They came an hour later and went straight up to the first floor room, as if they were familiar with the topography of the place. They sat and chatted with Tiwari for nearly half an hour and had tea in the presence of Deep Singh. Then one of them asked Singh to go and fetch cigarettes for him from the market upon which Singh promptly left the scene, leaving Tiwari alone with the two.
When he returned, he saw Tiwari lying on the floor with his throat slit and blood oozing. He raised an alarm and Tiwari's wife Kiran rushed upstairs. They called the ambulance but at the hospital he was declared dead.
The initial reaction of SSP Kalanidhi Nathwani was, "Prima facie it appears the two attacked Tiwari due to personal animosity. It was likely that the victim was known to the assailants."
Initially the doctor said the death appeared to have been caused by the slitting of his throat, according to reports in the media. But subsequently after the police recovered a pistol, the police appear to have had second thoughts and Additional SP Vikas Tripathi said that the post-mortem report also said there was a bullet wound in the neck.
It defies logic though. If they were carrying a pistol, no one at home heard any pistol because presumably they used a silencer, where was the need to carry a knife in a box of sweets along with the bill all the way from Surat ?
It is widely known that Tiwari was a kind of thorn in Yogi's flesh by acting more radical than Yogi, who claims proprietary rights over the title of Hindu Hriday Samrat in UP. Tiwari, for his provocative utterances surely faced threats also presumably from hot headed extremist elements among Muslim youth. Despite this Yogi progressively reduced his security to virtual Zero.
Dailyhunt
Disclaimer: This story is auto-aggregated by a computer program and has not been created or edited by Dailyhunt. Publisher: National Herald India