News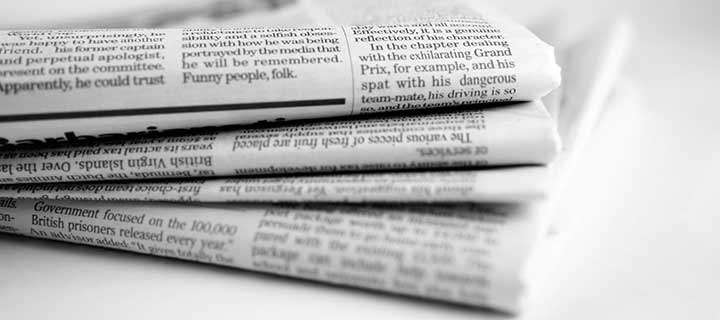 News
Home

Image Source : SAMSUNG Samsung gets US FDA nod for ECG app on Galaxy es. Samsung on Thursday said it has received the clearance from the US Food and Drug Administration (FDA) for its electrocardiogram (ECG) monitoring app on Galaxy 3 and Galaxy Active2. South Korea was the only country to date where Samsung's ECG monitoring function had been approved. "People in the US will have access...

Home

Image Source : PTI Allahabad High Court turns down plea to rename itself The Allahabad High Court has dismissed a plea to rename itself either as the Prayagraj High Court or the Uttar Pradesh High Court. A Lucknow bench of the high court dismissed the lawsuit, filed in the form a Public Interest Litigation (PIL), terming it as a 'publicity stunt litigation'. The petition, filed by advocate...

Home

Image Source : TWITTER/@KANGANA_TEAM High Court asks Sanjay Raut to reply to Kangana Ranaut's plea on bungalow demolition The Bombay High Court on Thursday directed Shiv Sena chief spokesperson Sanjay Raut to file his reply to actor Kangana Ranaut''s petition against the demolition of a part of her bungalow in Mumbai by the BMC. A bench of Justices S J...

Home

Image Source : PTI 10 dead in landslide incident in Nepal's Syangja district (Representational image) At least 10 dead in a landslide incident in Syangja district following incessant rainfall on Thursday. 'We have recovered 10 bodies out of which 9 are from the same family. One injured has been sent to the hospital,' said Ganga Bahadur Chettri, Chief District Officer, Syangja. ...

Home

Image Source : PTI IL&FS' offshore arms file for bankruptcy in Dubai Two offshore companies of IL&FS Group, ITNL Infrastructure Developer LLC, ITNL International DMCC have filed for bankruptcy in Dubai. The two companies are subsidiaries of ITNL International Pte. Limited, (IIPL) Singapore, which is a step-down subsidiary of IL&FS Transportation Networks Ltd (ITNL). The IL&FS...

Home

Image Source : LAVA Currently, the brand offers smartphones only in the lower range segment, under Rs 8,000. Home-grown mobile handset brand Lava is planning to launch four to five devices in the beginning of November, boosting its portfolio with fresh products in the festive season. The new portfolio of products could include one device above Rs 10,000, marking the entry of the brand in a new...

Home

Image Source : FILE PHOTO India Ratings maintains negative outlook on NBFCs, HFCs for H2 FY21 Domestic rating agency India Ratings and Research on Thursday said it has maintained a negative outlook on non-banking financial companies (NBFCs) and housing finance companies (HFCs) for the second half of 2020-21. It said growth in assets under management would be flattish for NBFCs...

Home

Image Source : INSTAGRAM/RAKULPREETSINGH Rakul Preet Singh has acknowledged summons, says NCB The Narcotics Control Bureau (NCB) on Thursday said actor Rakul Preet Singh has acknowledged the summons sent to her to join the probe being conducted by the agency into an alleged Bollywood-drugs nexus. Earlier in the day, the actor in her official statement said she has "not received the...

Home

Image Source : PTI/FILE Jan Adhikar Party President Rajesh Ranjan alias Pappu Yadav The Jan Adhikar Party headed by Rajesh Ranjan alias Pappu Yadav on Thursday claimed that voters will not allow Gujarati CM in Bihar any longer. Playing the regional pride card, Yadav targeted the coalition government of the JDU and the BJP, alleging that the Gujarati leaders in the BJP are exerting...

Home

Image Source : GETTY IMAGES Chelsea sign goalkeeper Edouard Mendy after Kepa's costly mistakes Chelsea have signed goalkeeper Edouard Mendy to take its summer transfer window spending over $280 million, putting the future starting position of Kepa Arrizabalaga in doubt. The 28-year-old Mendy has joined from French side Rennes, the club said Thursday, for a reported fee of 22...
Loading...