News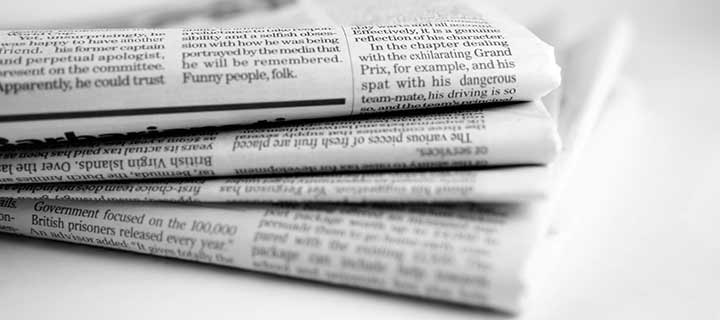 News
News

Upset over being denied an agricultural power connection in his fields since 1980, a farmer recently attempted to commit suicide by consuming poison in the presence of the Maharashtra Energy Minister Madan Yerawar .Speaking to mediapersons here on Tuesday, the farmer, Ishwar Kharate, who tried to take his own life on Saturday (June 15), said that he had warned the...

International

Ever since its announcement, Christie's upcoming auction-"Maharajas and Mughal Magnificence"-of Indian jewels, gemstones and decorative objects that span over 500 years, has been the talk of the art world and is expected to set some new records on Wednesday.The "unprecedented group" of objects is from The Al Thani Collection of the royal...

India

PIL filed against Nitish Kumar as AES death toll reaches 109 in BiharPIL has been filed against Bihar CM Nitish Kumar over death of 109 children in Muzaffarpur due to Acute Encephalitis Syndrome. Union Health Min Dr Harsh Vardhan,Bihar Health Min Mangal Pandey, MoS Health&Family Welfare,Ashwini Choubey also named in PIL. Case to be heard on 26 JunPIL has...

Home

Afghanistan 66/2 after 15 oversAfghanistan 66/2 after 15 oversAfghanistan loses 2nd wicket at 52 runs while chasing England's 397Afghanistan lost its second wicket at 52 runs as Gulbadin was caught out on 37 off MArk wood in 12th over. It had lost first wicket at 4 runs in the second over while chasing England's 397Afghanistan 48/1 after 10...

Home

Eight Rohingya girls, suspected to be victims of human trafficking, were rescued from a village near the Mizoram-Myanmar border in Champai district, Deputy Inspector General (DIG) of Police of Northern Range Lalbiakthanga Khiangte said here Tuesday.The girls, all of them minors, were rescued from Dungtkang village on Monday, the DIG said, adding that they were being taken to Myanmar from...

News

Nainital High court has imposed restrictions on plying of helicopters to ferry guests for the high profile wedding ceremonies of the two sons of famous South African businessmen, the Gupta brothers at the famous skiing resort of Auli in Chamoli district.Hearing a Public Interest Litigation (PIL) filed by a Kashipur resident Rakshit Joshi,...

Home

The Congress government in Madhya Pradesh appears set to order an investigation into the alleged snooping of politicians, bureaucrats and other officials during the erstwhile Shivraj Singh Chauhan government.Rajya Sabha MP Vivek Tankha has written to Chief Minister Kamal Nath, claiming that a probe ordered into the case by the Supreme Court, has been pending for...

Home

Afghanistan bowlers were smashed to all corners of Old Trafford as England captain Eoin Morgan's whirlwind innings of 148 helped his side post a mammoth 397/6 in their World Cup clash on Tuesday. Morgan's knock came off just 71 deliveries as he hit four fours and a record 17 sixes. The 32-year-old's century came off just 57 balls, thus making it the fourth fastest World Cup ton of...

Home

"Bihar Police planted Electronic Detonators and guillotine in my husband, Rupesh's car in order to prove him a Naxal activist whereas he is a freelance journalist and researcher who writes in favor of Adivasis and marginalised communities. He is being framed for exposing the unholy nexus between some corporate houses and the state government,"...

News

India "is the land of Gandhi and Buddha: we believe in peace, non-violence and upholding human dignity", India's Attorney General Mukul Rohatgi had stated in the United Nations in 2017. "As such, the concept of torture is completely alien to our culture and it has no place in the governance of the nation."Fine words, indeed. However,...
Loading...