Home
Stem borers damage paddy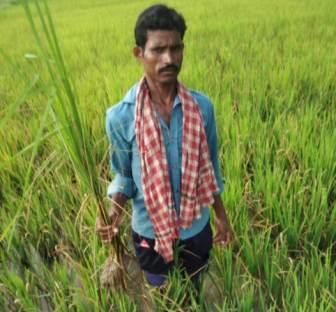 Manamunda: COVID-induced difficulties had delayed farming activities during khariff season in Boudh district while erratic rainfall affected the agriculture sector in this western Odisha district. On top of them, floods washed away crops in some areas.
Now, the latest problem that has come up as a great cause of worry for farmers in Kantamal and Manamunda blocks is pest attack - stem borers and leaf blighting have been spreading in various pockets of the district. Farmers alleged that they have been applying pesticides on plants, but they are not effective.
'If pest onslaught is not curbed, our last hopes of paddy harvest will vanish,' farmers pointed out.
Reports said pest onslaught on paddy has been playing havoc in Semilipadar, Gobajora, Khatakhatia, Ratakhandi, Kantamal, Jogindrapur, Manamunda, Nurpa, Bhaliapadar and Jogipadar.
Farmers from other parts like Mahulabahali, Khairamala, Jamupalli, Gudvelipadar and Kukuramunda panchayats are worried over the spread of pest attack.
Farmers in these areas alleged that the agriculture department was not coming out to help nor giving them pesticides effective for the attack.
'Just a few days are left for the paddy to shoot, but pests are spoiling the plants. In some cases, leaves are burning,' lamented Sadhab Bhoi of Mahulabahali.
Shibratra Singh of Kaltapalli and Krushna Chandra Mahala of Nurpa complained of the same problem in their areas.
'We have to buy pesticides at high prices, but there are no results. We are hopeless about paddy harvest this khariff season,' they bemoaned.
They demanded that the agriculture department come out with effective solution for the growing pest attack.
It is said that small and marginal farmers who have taken loans for paddy farming will be the worst affected by the unrestrained pest attack.
Babulal Mahakud, a farmer of Bhaliapadar, said, 'We have cultivated paddy in acres. Pest attack on the plants has been a major concern. I had applied pesticide on the farmland, but it is uncontrollable.'
'If pest attack is not checked, all our efforts and money invested in the paddy cultivation will go down the drain,' lamented many farmers.
Manamunda block agriculture officer Desbashish Deshinayak, said, 'Gram Sevaks are visiting villages and providing necessary assistance to the farmers.'
PNN
Suggest A Correction
Enter your email to get our daily news in your inbox.
Leave this field empty if you're human:
Dailyhunt
Disclaimer: This story is auto-aggregated by a computer program and has not been created or edited by Dailyhunt. Publisher: Orissa Post