Life Style
Facial with these easy steps at home, natural glow will come on face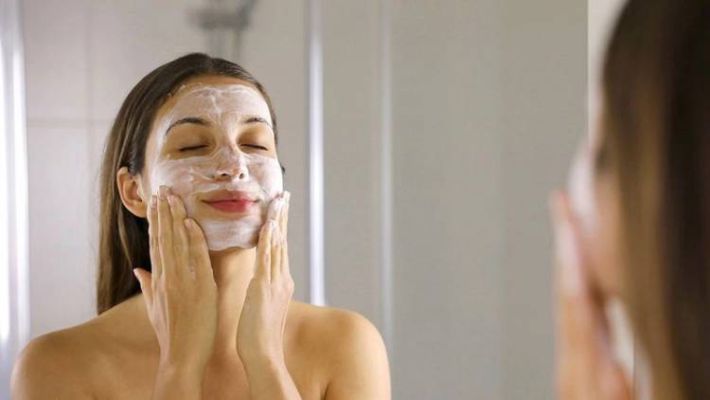 To maintain the glow on the face, one has to take good care of it. For this, along with using things like cleansing, toner and serum in your daily routine, facials should also be done once a month. This helps to remove dead skin cells and help in creating new skin. Having a facial massage improves blood circulation. In this case, the skin glows better and healthily glows. But in the parlor, chemicals products are used. But such products are especially prone to side effects on sensitive skin. In such a situation, if you are thinking of facials, then you can easily make fruits facials at home. So let us teach you step boy step fruit facials today…
Step - 1 Cleansing
The first step of facial cleansing can be done with raw milk. This makes the skin deeply clean and nourished. For this, take 2 spoons of milk in a bowl. Then apply it on face and neck with the help of light hands or cotton. Then massage the milk till it dissolves in the skin. 4
Step 2 - Scrubbing
Scrubbing helps cleanse dead skin cells and help in getting new skin. Pimples, spots, wrinkles and wrinkles are troublesome, the face glows naturally. To make a scrub, mix a pinch of baking soda and a few drops of rose water in a bowl with 1 tsp lemon peel powder. Scrub the prepared scrub on the face and throat with light hands for 2 to 5 minutes. You can also use coffee powder instead of rose water.
Step 3- Massage
Honey can be used in the third step. Honey rich in medicinal properties will add moisture to the skin and also bleach. To apply it, apply a little honey on the face and neck while massaging it. Then leave it for about 10 minutes. Later wash it with fresh water.
Step 4- Steam
Taking steam opens the skin pores. In such a situation, natural glow comes on the face. Fill a pan with boiled water to take steam. Then placing the face on top of the pan, the pan and face are covered with towels in such a way that all the steam falls on the face. Indulge for about 3-5 minutes.
Step 5- Facepack
You can make a natural facepack by mashing different fruits. This will make your face look soft and glowing. To make fruit facepack, add banana, cucumber, neem leaves, multani mitti, curd, honey etc. to the mixi and prepare a smooth paste. Keep the prepared mixture in the fridge for a while to cool down. After the fixed time, remove the facepack from the refrigerator and apply it for 15 minutes or until it dries. Later clean the face with fresh water.
Benefits of facials
1. Skin deeply cleanses.
2. Dead skin cells are clean and helps in getting new skin.
3. There is no wrinkling on the face due to skin tightness.
4. Face glows naturally.
5. off trouble dull and dry skin to retain moisture in the skin
6. All things are not prone to side effects than natural.
Dailyhunt
Disclaimer: This story is auto-aggregated by a computer program and has not been created or edited by Dailyhunt. Publisher: The Indian Print