National News
Badnore Unveils 'Lutyens' Maverick' Authored By Baijayant "Jay" Panda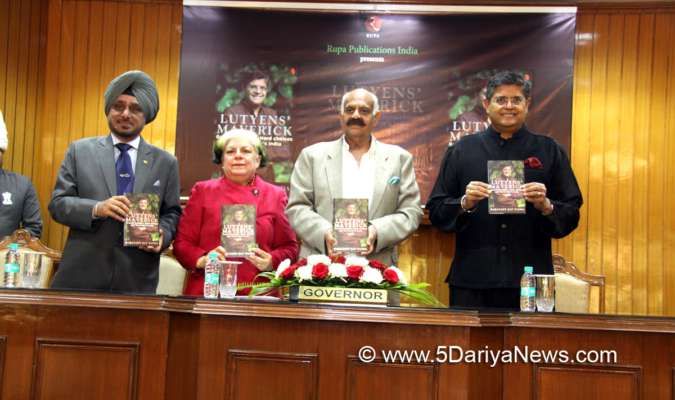 The Punjab Governor and Administrator UT Chandigarh today unveiled the maiden Book Lutyens' Maverick authored by the former MP, Baijayant "Jay" Panda published by the Rupa Publications here at Punjab Raj Bhawan, Chandigarh.Talking about the book, the Governor said that there were many key questions that have been addressed to in the book by the author. It is indeed an exhaustive and well researched work, he said.According to Mr. Panda, the contentious questions talked about in the book are just a few of the myriad political, economic and social issues which have been scrutinized thoroughly in his maiden book.Written in impeccable prose, Panda presents a scholarly survey of various events, tracing their origins and offering answers to them.Later a lively question answer session was also conducted by Prof. Deepti Gupta, head of the department of English in Panjab University Chandigarh.Prominent amongst others who were present on the occasion included Gen V.P. Mallik, Gen. K.J. Singh, Mr. Satya Pal Jain, Lt. Gen. Tej Sapru, Justice K.S. Garewal, Mr. Manoj Parida, Adviser to Administrator, Mr. J.M. Balamurugan, Principal Secretary to Governor, Prof. B.S.Ghuman, Vice Chancellor, Panjabi University, Patiala, Mr. Sanjay Tandon, Mr. R.I. Singh, former Chief Secretary Punjab and many senior army and civil officers.
Book: Author Bio
Baijayant "Jay" Panda is an Indian politician elected twice each to the Rajya Sabha (from Odisha) and Lok Sabha (from Kendrapada, Odisha), serving 18 years in parliament.From a private sector background, he was involved with the foundation of the regional party Biju Janata Dal in 1997 and was its parliamentary party leader in the Rajya Sabha for seven years. He came to be known as the face of the party nationally until his resignation from it (and from parliament) in 2018. Panda has built a reputation as one of India's few thinking politicians, who is a familiar face on TV debates and newspaper OpEd pages as a rational, centrist voice. He is one of the most popular politicians in Odisha, with a large following among youth. A licensed pilot since his 20s, he has often flown relief and rescue missions in the aftermath of natural disasters in Odisha.
Dailyhunt
Disclaimer: This story is auto-aggregated by a computer program and has not been created or edited by Dailyhunt. Publisher: 5 Dariya News English