91mobiles
All Dimensity series chipsets will offer dual-SIM 5G support: MediaTek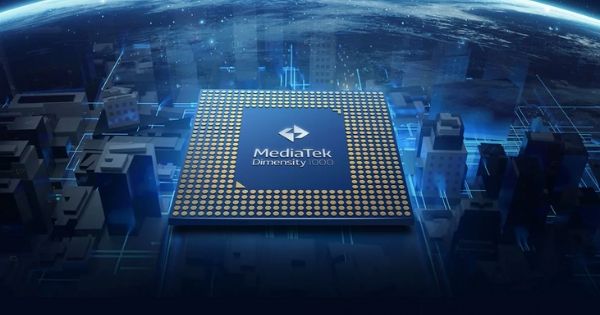 "Early 4G-enabled chipsets had offered 4G support on only SIM, but MediaTek says it will ensure both SIM cards will deliver 5G speeds on its Dimensity lineup"
MediaTek plans to provide support for 5G on both SIM cards on all Dimensity series chipsets. Kuldeep Malik, MediaTek's Corporate Sales and Business Development for the Indian market, told 91mobiles that the company aims to take the lead in the development of 5G. While it somewhat missed the bus with 4G as early chipsets offered 4G on only one SIM card, the Taiwanese company wants to ensure it is able to deliver dual-SIM 5G at all the price points - Malik said the company will launch a number of Dimensity chipsets, aimed at low-end to flagship-class smartphones, and all of these will provide 5G support on both SIM cards simultaneously.
Dimensity is the new 5G-ready smartphone chip series from MediaTek. The first chipset in the lineup, named Dimensity 1000, was announced last month and we already know OPPO's upcoming Reno 3 smartphone will be powered by the Dimensity 1000L chip. It is clear Dimensity will be at the centre of MediaTek's plans for 2020 as 5G gains popularity worldwide - the company had already confirmed the Dimensity 1000 chip will offer dual 5G support, but not for the entire series. The company will have to cater to not only the top end of the spectrum but also the entry-level models as 5G becomes commonplace.
Dimensity 1000 chipset detailed
Dimensity 1000 is a single-chip solution with the 5G modem integrated and is manufactured on the 7nm fabrication process. We can expect the first Dimensity 1000-powered smartphones to arrive in the first quarter of 2020.
As per MediaTek, the new 5G modem on the Dimensity series will provide improved battery life compared to the competition. Dimensity 1000 comes with dual 5G carrier aggregation. It also offers one of the fastest data transfer speeds on sub-6GHz networks with 4.7Gbps of download and 2.5Gbps of upload speeds. The chipset can support both Stand Alone (SA) and Non-Stand Alone (NSA) sub-6GHz networks. This means that the smartphones equipped with the Dimensity 1000 chipset will be able to connect to all generations of cellular network, from 2G to 5G.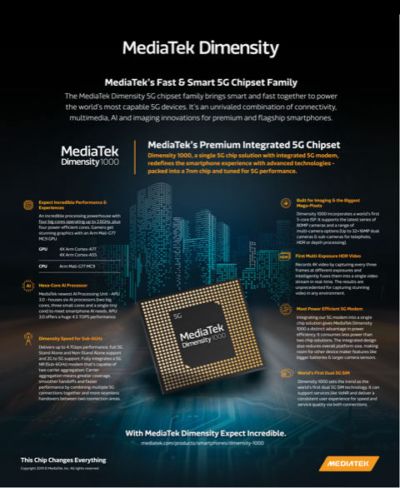 Apart from super-fast 5G connectivity, the MediaTek Dimensity SoC also comes with Wi-Fi 6 and Bluetooth 5.1+ support. The chipset features four ARM Cortex-A77 cores clocked at 2.6GHz and another four ARM Cortex-A55 cores clocked at 2.0GHz. It also happens to be the first chipset to feature the ARM Mali-G77 GPU. MediaTek has included a brand AI processing unit on the chipset and offers up to 4.5 TOPS of performance.
MediaTek states that due to the compact design of the chipset and having an integrated 5G modem, phone manufacturers can offer bigger batteries, larger camera sensors, and more. Talking about camera sensors, the new five-core image signal processor technology allows up to 80-megapixel camera sensors at 24fps and up to 32-megapixel + 16-megapixel dual-cameras. The new APU can enhance the camera experience with features such as auto exposure, auto WB, noise reduction, HDR, facial recognition and multi-frame HDR for video. The chipset also supports displays with 120Hz refresh rate (FHD+) and 90Hz (2K+). It is the first mobile SoC to support the Google AV1 format that can record 4K at 60fps.
With inputs from Mukesh Kumar Singh
Dailyhunt
Disclaimer: This story is auto-aggregated by a computer program and has not been created or edited by Dailyhunt. Publisher: 91mobiles