Home
Students rediscover joy of schooling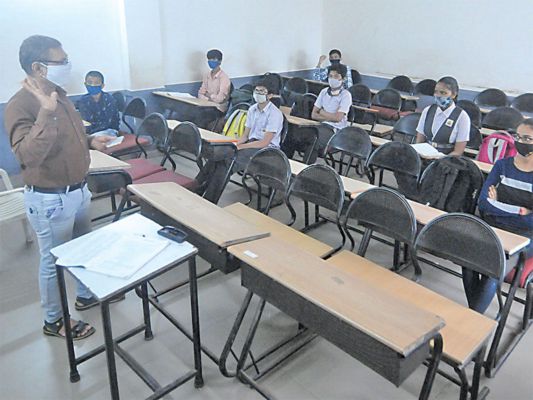 Class 9-11 students enter school after a long hiatus; express satisfaction of meeting classmates and teachers after almost 15 months; schools register slim presence following fear of third Covid wave
Excitement was palpable and smiles visible on faces of class 9-11 students as they entered the classrooms on Monday after a long gap. For teachers, however, it was mixed bag as they had to conduct online as well as offline classes due to state government directive.
Few students turned up on the first day owing to rains and fear of Covid. Most said they felt good to be in classrooms after studying from the confines of home, all alone, for 15 months. Students said online education, while it was the need of hour and did not waste their academic year, robbed the joy out of learning.
Take the case of Jodhpur-based Kameshwar School. Out of 700 students in class 9-12, about 100 turned up on the first day. In-charge Principal Jignesh Pandya said they took utmost care and as there were few students present, there was no concern of Covid protocols not being followed.
Vama Kothari, a class 10 student of Shiv Ashish school, said it was great to meet her friends after a long time. "Also, going to a newly developed campus has its own excitement. The last two years have been spent learning online. Going back to school brought back all the memories and joy of learning too," she said.
For Raot Payal, a class 9 student, it was lack of access to cellphone that got her to the classroom. She has two siblings and they compete to attend online classes.
"My younger sister and I had one phone for online education. My brother is in class 12 and so he has his own phone. When my sister and my classes clashed, one of us missed attending online class and mostly it was me. Now, as schools have reopened, it is nice to be back to a lively classroom, interact with students, teachers and learn face-to-face," she said.
When Mirror visited schools to gauge the mood, only slim attendance was seen. Many schools are yet to start class 9-11 owing to weather conditions and the ongoing process of seeking consent from parents to allow their wards to attend school.
Officials at most schools said parents were still reluctant to send their children to school fearing the third wave of Covid and lack of vaccination for those below 18 years of age.
Nirman High School in Vastrapur has 700 students in class 9-11 but only about 50 students turned up on Monday.
Principal Kalpana Bakshi said the school has continued with both online and offline education, however the majority chose online option. "It will be good to reopen schools now as online education for an extended period can be monotonous," she said.
Diya Shah, a class 10 student, said there were two reasons she chose offline classes.
"Online classes seemed perfect initially from the comfort of home. But its long-time impact is adverse as I couldn't be as attentive at home as in a classroom. This affected my understanding of subjects. Offline classes are live, one can meet and discuss so many things with friends. The joy of classroom learning is altogether different," she said.
Anjali Kwatra, Principal of the New Tulip International School, said they have started only class 12 classes so far. The school will start class 9-11 from Thursday, after the administration speaks to parents and gets their consent.
Asha Nair, Principal of Shiv Ashish Bopal, said around 40% students remained present on Monday.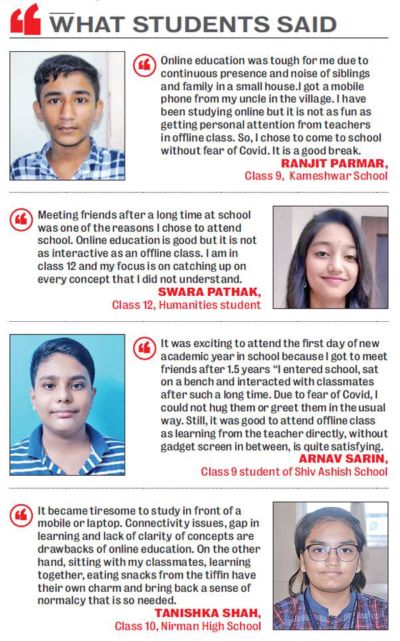 what students said
Dailyhunt
Disclaimer: This story is auto-aggregated by a computer program and has not been created or edited by Dailyhunt. Publisher: Ahmedabad Mirror