Home
Farmers Protest: In Rajasthan, farmers scuffle with BJP leader Kailash Meghwal, also tore clothes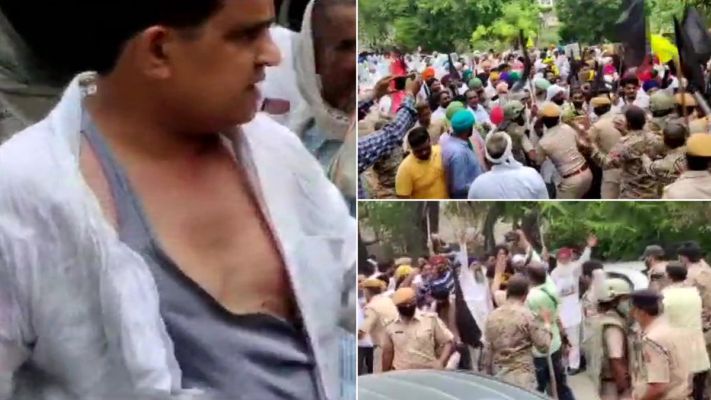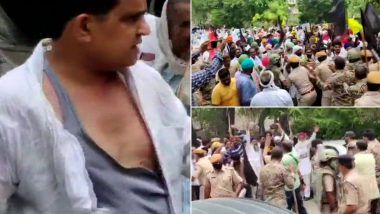 BJP leader Kailash Meghwal (Photo Credits ANI)
Jaipur: On Friday, farmers scuffled with a Bharatiya Janata Party leader and tore his clothes at the Ganganagar district headquarters in Rajasthan. The BJP has condemned the incident and called it unfortunate. The incident took place at Gangasingh Chowk in Ganganagar district, where some agitating farmers scuffled with Kailash Meghwal, the state president of the BJP Scheduled Caste Morcha, who was passing by, Meghwal's kurta was also torn. The video of this incident went viral on social media.
According to an eyewitness to the incident, Meghwal was rescued by the police and some other farmer leaders. According to an eyewitness, the police also used mild force to disperse the farmers. In fact, the BJP had organized a sit-in on the demand for irrigation water of the farmers and the deteriorating law and order situation in the state. At the same time, the United Kisan Morcha, which is agitating against the central agricultural laws, has announced to oppose any BJP program in the area. Also read: Farmers Protest: BJP MP Meenakshi Lekhi, furious over the farmers' agitation, said- she is not a farmer but a Mawali
Rajasthan: Farmers protesting in Sri Ganganagar against the Central Government&dhapos;s three farm laws, tore the clothes of BJP leader Kailash Meghwal. The leader had arrived to participate in a BJP protest over inflation and irrigation when the incident took place. pic.twitter.com/GERDBpoqB2

— ANI (@ANI) July 30, 2021
Deputy Leader of Opposition Rajendra Rathod, who was present at the BJP program, tweeted, 'The law and order situation in the state is extremely worrying. The BJP's program in Sriganganagar was predetermined, but despite this, the failure of the police administration was that anti-social elements attacked Dalit leader Kailash Meghwal with a deadly attack and the police remained a mute spectator. He said, 'The state government should ensure prevention of such incidents happening with the people's representatives of BJP and take strictest action against the culprits.
On the other hand, BJP state president Satish Poonia said in a statement that the incident with Meghwal is unfortunate and condemnable, violence has no place in democracy. On the other hand, National Vice President of Kisan Sabha and former MLA Amraram tweeted without naming anyone, 'If you use objectionable to farmers, then the farmer will not welcome you.
(This is an unedited and auto-generated story from a syndicated news feed, likely not modified or edited by the latest staff)
Related Topics:
Up Next
Himachal Pradesh: 3 trekkers who went for trekking at Ghepan Peak missing!
Don't Miss

UP Shocking: In Amroha, the father went out to sell the son for Rs 3 lakh, the child died if the buyer was not found

Continue Reading
You may like
Click to comment
BJP leader Kailash Meghwal (Photo Credits ANI)
Dailyhunt
Disclaimer: This story is auto-aggregated by a computer program and has not been created or edited by Dailyhunt. Publisher: Ampinity News