Home
Judge Uttam Anand, posted in Jharkhand, was deliberately hit by an auto, administration swung into action after the order of the Supreme Court, SIT formed for investigation, ADG reached Dhanbad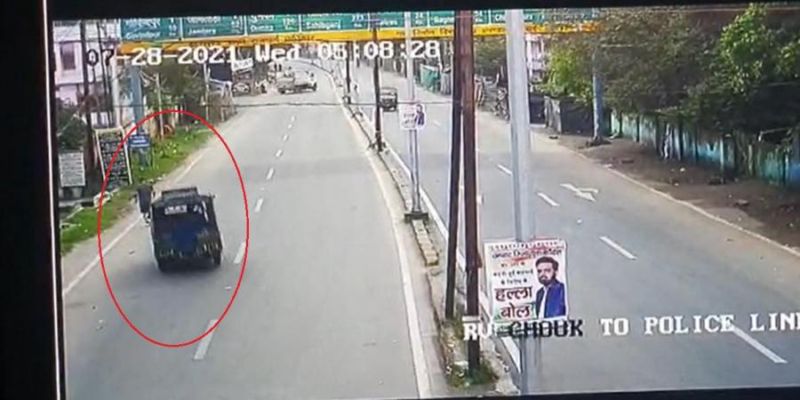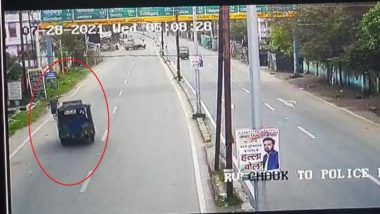 Screengrab, CCTV footage.
Dhanbad Judge Uttam Anand Murder Case: District Judge Uttam Anand of Dhanbad district of Jharkhand, who was out on a walk on Wednesday morning, was hit by an auto from behind. He was rushed to the hospital but he died during treatment. When the Supreme Court took cognizance in this matter, the whole of Jharkhand was shaken. In this case, now SIT has been formed under the leadership of ADG Abhiyan Sanjay Latkar to solve the murder of Judge Uttam Anand.
In this episode, the ADG reached Dhanbad on Friday and here he along with other top police officers involved in the SIT including SSP Sanjeev Kumar, IG Priya Dubey of the district. In this, there was a churn on solving the mystery of the murder of Judge Uttam Anand.
The Supreme Court has taken suo motu cognizance in the case of District Judge Uttam Anand Death Case in Dhanbad, Jharkhand. A bench of Chief Justice of India NV Ramana and Justice Surya Kant has ordered the Chief Secretary and the DGP to report the entire development within a week. The Supreme Court has said that there have been many incidents of attacks on judicial officers across the country. We will hear on the wider subject of their security.
Anand Uttam, Additional District Judge of Dhanbad district, died after being hit by a vehicle on Wednesday. Dhanbad Additional District Judge Anand Uttam had left for the morning service near the magistrate colony of coal city Dhanbad. But an auto hit him. Justice Anand Uttam was rushed to the hospital but he died during treatment.
At the same time, according to media reports, during the investigation, a CCTV footage revealed that an auto-rickshaw had deliberately hit the judge. Two people, including auto rickshaw driver Lakhan Verma and his associate Rahul Verma, have been arrested in this case. The driver has reportedly admitted that he hit the judge with the vehicle.
The auto was recovered from Giridih district on Wednesday night itself. During investigation, it was found that the auto was stolen on Tuesday and the judge was hit by the same at 5.08 am on Wednesday. At the same time, at around 9.30 am, Judge Anand Uttam died in the hospital. Please tell that Anand Uttam was hearing more than 15 criminal cases including high profile murder cases in his court.
It is noteworthy that ADJ Uttam Anand was hearing 15 big high profile cases. One of the most high profile cases among them was the Ranjay Singh murder case. Ranjay Singh was close to Jharia MLA Sanjeev Singh. According to media reports, Ranjay Singh's wire used to connect till Munna Bajrangi and Ranjay used to look after Munna Bajrangi's coal business in Jharkhand.
Related Topics:
Up Next
Maharashtra: Anil Deshmukh did not get relief from the Supreme Court, the petition will be heard on August 3
Don't Miss

Jharkhand JAC 12th Result 2021 Declared: Jharkhand 12th Board Result Declared, Check Here in One Click

Continue Reading
You may like
Click to comment
Screengrab, CCTV footage.
Dailyhunt
Disclaimer: This story is auto-aggregated by a computer program and has not been created or edited by Dailyhunt. Publisher: Ampinity News