Life Style
A classical act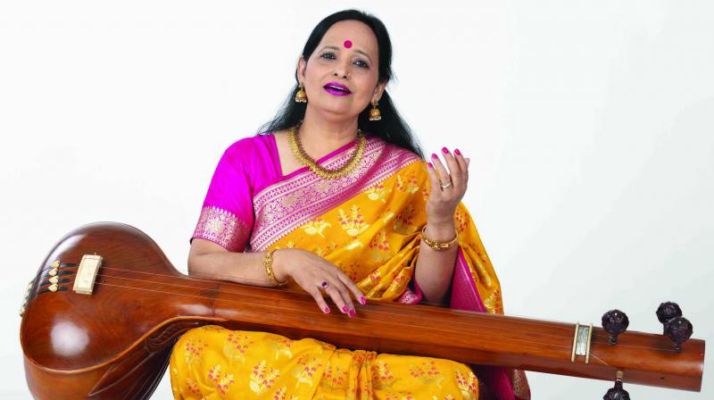 Music comes to Sharma like her mother tongue - and just like a language, she is always looking to express herself through her music.
"The best thing about Hindustani music," Vidushi Sunanda Sharma observes, "is its ability to spread happiness and devotion." A torchbearer of the Benarasi gharana in India, Sharma is a leading classical music vocalist, specialising in khayal, tappa, thumri, dadra and chaiti. A classical music artist is often a disciple first, artist later. Sunanda's first guru was her father Pt. Sudarshan Sharma, who taught her in Himachal Pradesh, where she was born. At nine years old, Padma-Bhushan-awardee Vidushi Girija Devi took Sharma under her wing and, today, the musical maestro owes her journey to her guru.
Sharma is a veteran of classical and semi-classical music. "Semi-classical music is more about improvising - where specific styles are used to express an emotion through music." It doesn't come as a surprise that, for her, Hindustani music goes far beyond a medium of expression. Sharma sees it as a selfless, empowering art that allows her to connect with the world. Her music has taken the vocalist across the globe, to perform and also to teach. In fact, it is the enthusiasm associated with Indian classical music expressed by her international students that holds a special place in her heart. "I love sharing our music with students outside India. They are so keen and dedicated that they often come back to the country to study Hindustani music further."
Music comes to Sharma like her mother tongue - and just like a language, she is always looking to express herself through her music. The musician is excited for her upcoming event, 'Samyog-Viyog'. Organised by the Living Music Society for Arts and Asavari, this event is a Hindustani music and dance collaboration with Vidushi Shovana Narayan that explores the Shringar Ras. She explains, "Shringar Ras is the king of all Rasas. Through our music and dance performances, we explore the themes of 'sukh, dukh and bhakti' as expressed between Radha and Krishna." Though the master vocalist has a number of national performances under her belt, this one stands out for its subtle association with the lives we live. "The concept of union (samyog) and separation (viyog) is not about the Gods - this is the cycle of life. To express it through chaiti, kajari and khayal will be a rewarding experience."'
- The event will take place from 7pm onwards on Wednesday, November 13, at Stein Auditorium, India Habitat Centre, New Delhi
Dailyhunt
Disclaimer: This story is auto-aggregated by a computer program and has not been created or edited by Dailyhunt. Publisher: Asian Age