Just in
India Music Summit, to be held in Jaipur, will blend multiple genres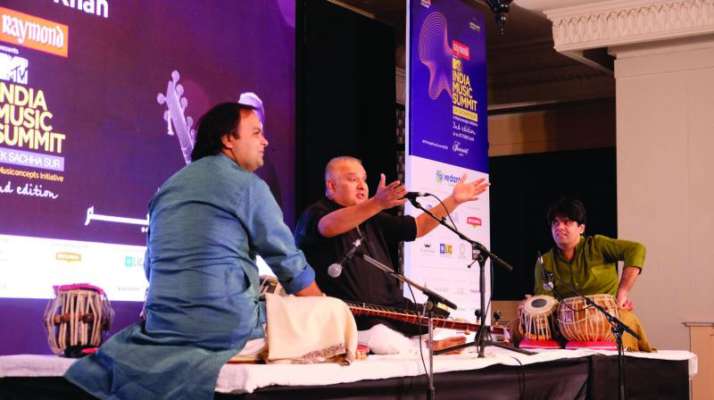 The lineup of artistes is staggering - literally the who's who of the world of music.
Now in its third edition, the India Music Summit will be held in Jaipur between October 4-6. As usual, the weekend promises to be packed with 40 music-related sessions, including concerts, interactions with artists, screening of films and impromptu jamming sessions. An eclectic blend of genres - from North Indian and Carnatic classical, to rap, quawalli, Bollywood, ghazals, folk - the summit has it all. With concurrent sessions, starting from 7 am and continuing well past midnight, it will be physically impossible to catch each session.
The brainchild of three dynamic women linked in their own different way with the arts (Mala Sekhri, Ambica Sahay and Aparna Joshi), the India Music Summit aims to create "Kansens", or informed listeners. Demystifying classical music, presenting music through a non-Bollywood prism and creating a getaway through music are the other avowed aims. In the words of Mala Sekhri, "Taking a break for three days and being in a musical retreat is unique. You hear, see and breathe music in every nook and cranny of the Fairmont (the venue of the summit) - in the corridors, the halls, the gardens. You see hear and interact with musicians - no other musical experience comes close".
On being questioned about the venue, Aparna Joshi explained, "Jaipur has always been a centre of the arts with its own gharana of gayaki (Jaipur/Attrauli gharana), its own Jaipur Senia instrumental "baaj", miniature painting school and a rich handicrafts tradition. It's a logical choice as a venue for an arts related experience".
This edition will include workshops conducted by greats like Vidushi Aruna Sairam, and Ustad Shujaat Khan. The lineup of artistes is staggering - literally the who's who of the world of music. From the world of Bollywood, there will be none other than Asha Bhosle, who will be talking to Prasoon Joshi in an unmissable interaction. Javed Ali, and cousins Soumil and Sidharth Mahadevan are other stars. Sunidhi Chauhan is another singer to look out for.
From the world of Carnatic music there will be Aruna Sairam, Shashank Subramaniam and Grammy awardee, master of percussion Vikku Vinayakram. Another amazing percussionist will be Taufiq Qureshi, who has deftly combined his Punjab gharana techniques on the djembe, and literally revolutionised the concept of percussion in music.
North Indian classical artistes include Pandit Shiv Kumar Sharma and son Rahul, Pandit Rajan Sajan Mishra, Ustad Shujaat Khan, vocalist Pandit Venkatesh Kumar, Ajay Prasanna on the flute, the darling of the younger generation - vocalist Kaushiki Chakravorty, sitarist Purbayan Chatterji, Jawad and Mazhar Khan, Jaipur's own young Mohammed Aman and dhrupad exponent Uday Bhawalkar. Ustad Rashid Khan was upbeat as always about his concert at the summit, "We have a variety of things on offer as artistes, yet each concert is like an examination, as one doesn't know what the audience wants. So if you can please them; offer them various musical options, like a bit of standard khayal gayaki, then maybe something lighter, and you are appreciated - it's a great feeling. I have sung before for the India Music Summit and am looking forward to singing again in Jaipur."
Rajasthan's unique folk tradition represented by the "manganiyars" is included as well with the highly acclaimed Mame Khan and party. Highly innovative, this 15th generation practitioner represents a unique musical tradition combining classical with folk that is traditionally rendered at each major life event, from birth, to marriage, to death. Mame Khan has composed and sung for films as well.
Termed "hip hop's warrior princess", California-based Raja Kumari is ready to set her stage on fire at the India Music Summit. Film buffs may recall her cameo in the recent hit "Gully Boy". Another not to miss attraction is child prodigy, 12-year-old pianist Lydian Nadaswaram, who has been making waves in the world of music. Punjabi rapper Prabh Deep is bound to be another huge draw.
Ghazals are always popular, and the Summit has two excellent performers - Radhika Chopra and Gayatri Asokan. Aslam Sabri quawal will also be singing with his group.
The combination of concerts, talks, workshops and informal interactions is bound to be highly stimulating, not only pleasurable. Tickets can be booked on bookmyshow.com.
Shailaja Khanna writes on music, musicians and matters of music
Dailyhunt
Disclaimer: This story is auto-aggregated by a computer program and has not been created or edited by Dailyhunt. Publisher: Asian Age