Home
State says not easy to clean Bellandur Lake and gets earful from NGT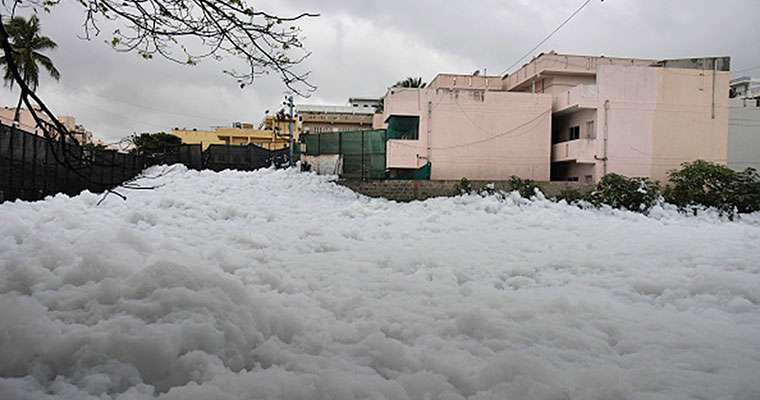 The State government has been slammed by National Green Tribunal (NGT) yet again for stating that it was not easy to drain out water from 900 acres wide Bellandur Lake to clean it. The NGT said if Dal Lake in Srinagar, can be cleaned without draining, why not at Bellandur Lake. There are technologies available, said the NGT and posted the next hearing to October 4, reports Kannada Prabha .
At the previous hearing held on Aug 22, the tribunal had instructed the State government to submit an Action Plan regarding cleaning of lake within 10 days. The government had submitted the same. However, the Namma Bengaluru Foundation, who is a participant in the inquiry said the report had reached them only on Thursday and they needed time to study it. Hence the NGT gave one week's time for the Namma Bengaluru Foundation and complainant Kupendra Reddy to study the report and submit objections if there were any. It also gave another week's time to the State government to provide additional information and other documents on the the same.
Earlier, advocate general Adithya Sondhi argued that the State government had submitted a detailed Action Plan and is also striving to clean up the lake. Responding to that the Tribunal asked how many apartments were issued notices to install and maintenance of effluent treatment plants. When the state government did not provide the details, the NGT said, it looks like the government had not done anything. The advocate for State said the grass has been removed and the water is being cleaned. He also submitted to the court that it was not easy to drain out water from 900 acres of lake. Chief Justice Svatantrakumar said the Dal Lake in Srinagar was cleaned without draining the water, technology is available to clean lake without draining.
The NGT has appointed a committee to investigate into encroachment of lake area by Mantri Tech Zone. The Namma Bengaluru Foundation had informed the NGT that a team had gone to inspect the site but Mantri Tech Zone had not permitted them to enter the premises. Hence it had petitioned that a local commissioner should be appointed to visit and inspect the place.
Justice Svatantra Kumar inquired into this petition and appointed a committee to inspect and submit a report by October 5 to the NGT. The committee consists of the Executive Officer of Karnataka Lake Development and Conservation Authority, Additional Director of Urban and Rural planning, BBMP officer, chief of State Expert Evaluation Committee, secretary of Karnataka State Pollution Control Board (KSPCB) and IISc scientist Dr TV Ramachandra.
Dailyhunt