Curated story list
[BREAKING] Pass directions for extradition of daughter who joined ISIS from Afghanistan: Father moves Supreme Court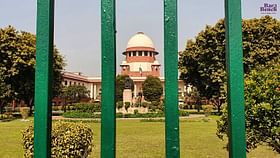 Supreme Court
A man from Kerala has approached the Supreme Court seeking extradition of his daughter who was detained in Afghanistan after she had left India to join terrorist group Islamic State of Iraq and Syria (ISIS).
The plea by VJ Sebastian Francis from Kerala said that his daughter, Sonia Sebastian @ Ayisha and her 7-year old daughter, are detained in Afghanistan after ISIS forces of which she was a part, surrendered to US-backed Afghan forces.
The Indian government not facilitating repatriation/extradition of the detenues is illegal and unconstitutional as it violates fundamental rights guaranteed under Articles 14, 19 and 21 of the Constitution of India, the petitioner contended.
"Internationally a lenient approach has been taken against the women Foreign Terrorist Fighters, this is owing to the stand taken by the countries that women only played ancillary roles and therefore could not pose any significant threat to national security," the plea said.
Ayisha has cases against her under the Unlawful Activities Prevention Act (UAP) registered after she left India and Interpol has also issued a Red Corner notice against her.
Ayisha, who was born to Catholic Christian parents, entered into a relationship with one Abdulla Abdul Rashid @ Rashi while she was studying for engineering.
She became influenced by Islamic discourses and teachings when she moved to Bangalore for pursuing MBA. She subsequently converted to Islam, but the same was hidden from her parents.
The relationship with Abdul Rashid and the conversion did not come to light until 2010 when the parents discovered her performing the daily Namaz associated with Islam.
When her parents opposed the same, she eloped with Rashid and married him. Subsequently, she and Rashid had come under the influence of ISIS and left India to join the terror outfit. They came to be stationed at Afghanistan's Nangrahar province.
In 2019, Rashid died during military operations undertaken by Afghan security forces and the NATO-led Resolute Support Mission.
The petitioner has submitted that the government ought to consider Ayisha's child, who is under 10 years of age, as a victim rather than a perpetrator or a potential terrorist. Hence, the government ought to have proactively sought to bring the child back home, along with her mother.
The plea also pointed out that India had entered into an extradition treaty with Afghanistan in the year 2016 and that the instruments of ratification of the said treaty were exchanged at Kabul on November 24, 2019.
"By virtue of the extradition treaty each contacting state has agreed to extradite any person convicted or accused of an offence committed with in the territory of one State but is found in the territory of another State," the petition stated.
Since India has not taken steps for requesting an extradition, the two detenues are stuck in a foreign territory, it was submitted.
Further, owing to the existence of the Interpol Red Corner Notice, the Indian government has an obligation to request for extraditing the two detenues, it was contended.
The plea has been filed by Advocates Renjith B Marar and Lakshmi N Kaimal.
[BREAKING] Pass directions for extradition of daughter who joined ISIS from Afghanistan: Father moves Supreme Court#SupremeCourt #ISIS #extradition@legaljournalist reports

Read full story: https://t.co/AW7oJ4abdK

— Bar & Bench (@barandbench) August 2, 2021
Dailyhunt
Disclaimer: This story is auto-aggregated by a computer program and has not been created or edited by Dailyhunt. Publisher: Bar and Bench