All latest stories
Brides Who Got Their Love Story Uniquely Stitched On Wedding Lehenga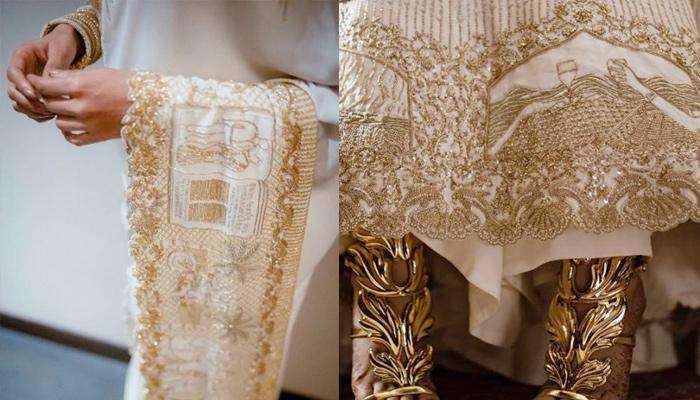 Until now, lehengas were just outfits. But now, it goes far beyond just style. Your wedding couture is now the piece of artwork that unfolds not just your persona, but your memories, relationship and meaningful experiences. The proposal scene, the jab-we-met story, the initials, couple's common interest and the love story; these are all what a lehenga archives these days.
ed Fashion Blogger Masoom Minawala's Outfits For Her Wedding Celebrations Are Every Girl's Dream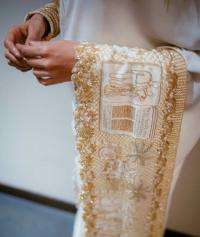 Confused? We are talking about the next big Indian wedding trend where the brides give a personal touch to their garment and are getting their love story uniquely stitched on them.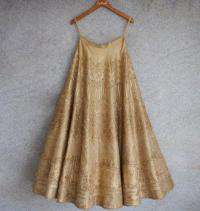 Through advanced embroidery techniques, thread and material the trained craftsmen weave magic into the bride's outfit. They sew designs and patterns on the garments depicting romance, the venue scene, their memories and what not and create a fairytale lehenga that can be preserved like a snapshot. Let's delve a little more into this crazy idea that has left us completely awestruck.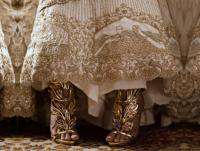 It all began when designer Kresha took everybody by surprise by creating her own wedding outfit. As if her extravagant Udaipur wedding with Vanraj Zaveri wasn't enough to catch the attention; she came up with her news-making couture. Her sentimental ivory and gold lehenga narrating her entire world of love took the internet by storm.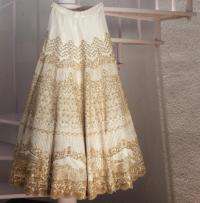 The designer she is, the bride had her lehenga tailor-made with a record of her special moments and 'past feelings' sewed up on the garment.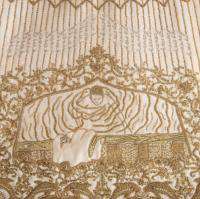 Her relationship, courtship, the scene of her first meeting, the venue (Udaipur palace) and the memories with her better half; each and every story was beautifully depicted through different kalis (panel) of the lehenga. And today her lehenga not just sits in her closet, but stands as a special piece of artwork and beautiful memoir.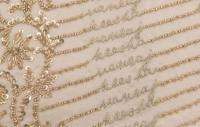 Her genius outfit depicts a lot many things. For instance, the newlyweds' names in a repeated format done in zari, the image of clinking glasses etc. But, the most special was the hem with jumping dolphins which represented the couple's project on dolphins' captivity.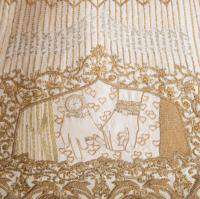 This is what the cool bride Bajaj has to say about the inspiring work:
"I thought it was a cool idea. Vanraj loves art, and I don't because I get bored of looking at the same thing on my wall. But I didn't want to get sick of looking at my wedding outfit. The nicest thing we'd never get bored of looking at was our love story. And that's what I decided to put into my lehenga."
Must Our Top 10 Picks From Sabyasachi's Spring Couture 2017 Collection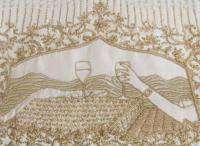 About the clinking glasses image, she said:
"The image of two people clinking their glasses is inspired by Vanraj's first Instagram post after proposing to me in the Maldives. We had just popped a bottle of champagne, and he clicked a picture of me with the glass of champagne and the ring."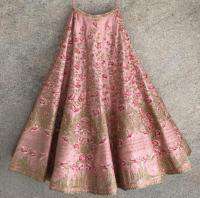 Now there was this bride, Sonam Nanwani who got inspired and wanted to go down the memory lane the same way as Kresha. She contacted her and requested her to turn her wedding trousseau into an artefact of the life she has lived with her fiancé. Kresha helped her get the outfit symbolically linked to her personal history. The lehenga reflected the different monuments and moments Sonam had experienced in her relationship.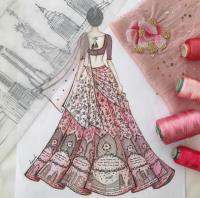 Sonam also got the Satsang -her first meeting place with her would-be hemmed on her outfit through two joining hands- like in a prayer and diyas around. She also got one of the many letters written to her by her hubby transposed on the entire length of dupatta. The name of the couple weaved vertically through the lehenga also created a sense of intimacy.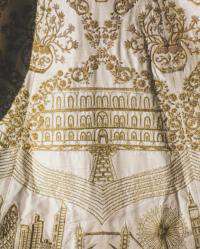 Here's another remarkable cross-cultural lehenga that tells the story of a quintessential bride, Riddhi Ved. While she is from Mumbai and her groom-to-be is from London, she got the cities' elements beautifully skilled on her lehenga.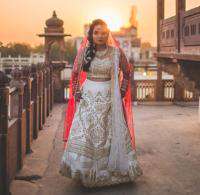 The London Eye, Sea Link, the proposal that happened at Venice were all etched forever as memories on the hem. She also had the ice-skating scene recreated on the lehenga by designer Kresha.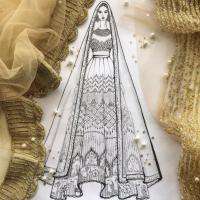 Talking about her sessions with the brides, Kresha said:
"Translating someone's personal story on to a garment is quite sensitive. When I consult with the bride on her likes and dislikes, it almost feels like a therapy session."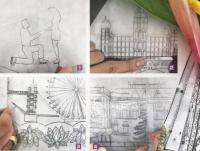 So, we see how marvellously these brides added their love story to their fashion couture and made them a lot more than just the outfits. Specific details stitched on the fabric sound extraordinary and exciting. The brides chose to keep it fun by recreating the bits and pieces of their love story on their wedding attires. We are truly loving this new thing in the world of fashion and wedding.
ed 8 Different Types Of Jhumkas That Every Girl Who Loves Earrings Should Have
So, did you know that clothes can speak louder than words? If you too want to illustrate a dramatic moment in your life and want your love story to be told in the craziest way possible; look no further than your very own wedding couture. Just go for the exceptional embroidered technique and turn your lehenga into a storyteller. Have a picture of both of you stitched, get his name written or have an image depicting your first-meeting story and make memories out of your outfit.
Dailyhunt
Disclaimer: This story is auto-aggregated by a computer program and has not been created or edited by Dailyhunt. Publisher: Bollywoodshaadis