Home
Movie Review: Officer Arjun Singh Ips Batch 2000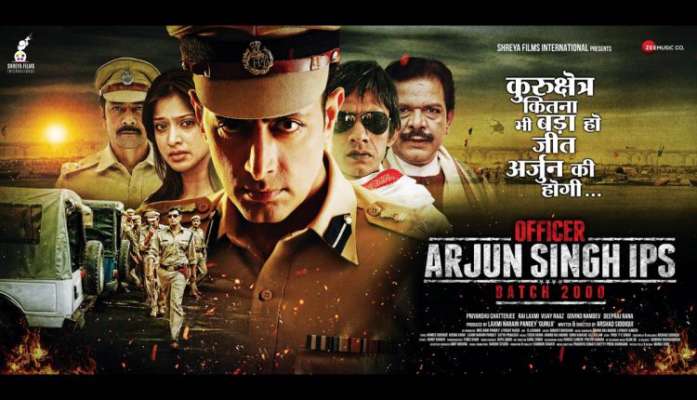 Producer-Lakshmi Narayan Pandey
Director- Arshad Siddiqui
Star Cast- Priyanshu Chatterjee, Raai Laxmi, Govind Namdev, Deepraj Rana,Vijay Raaz and Sonalee Kulkarni
Genre- Social
Rating- **
Trite & Obsolete!
Jyothi Venkatesh
The film revolves around the trials and tribulations of an honest police officer Arjun Pratap Singh (Priyanshu Chatterjee) who has to eradicate the corruption in the system with an iron hand when all his efforts to punish the rapist leave him frustrated and he has no other alternative but to take the law literally in his own hands and mete out justice. The plot conveniently makes him fall in love with Durga Dayal Singh (Raai Laxmi) who is the sister of the girl who has been raped by the Minister Balaknath Chaudhary (Govind Namdev). How Arjun joins hands with Durga to expose the Minister and his son Kundan (Vijay Raaz) and eradicate evil in the town is the crux of the story.
The story is trite and what's more obsolete and reminds you of the films of the good old 90's and makes you wish the screenplay as more tight and zest added to the story in good measure. As far as performances go, Priyanshu Chatterjee reminds you of the Amitabh Bachchan of the 70's a the angry young man who is helpless in front of corruption in the police department while Raai Laxmi is not at all great shakes as she is just required to romance the hero and does not have any scope at all to emote.
Mention ought to be made of Govind Namdev who seems to be there in every film that we watch of late. He has done a commendable performance. So does Deepraj Rana, who shines in a small but substantial role with grey shades with aplomb, while all that Vijay Raaz does is to ham and go overboard with his performance. The director sets out to execute a herculean task of salvaging an obsolete story with his meticulous direction and deserves kudos for his efforts to come up with his film which has taken a long period of time to release and lacks face value and is at times even tacky. While the music by Anand Raj Anand and Liyaqat Ajmeri is good, the dialogues are weak and the characterizations very faulty.
On the whole, the film may find acceptance in the single screens in small centers where even today action and over the top performances are appreciated.
Dailyhunt
Disclaimer: This story is auto-aggregated by a computer program and has not been created or edited by Dailyhunt. Publisher: Bollyy