Photos Of Cancer Patient Shared As Minor Addicted To PUBG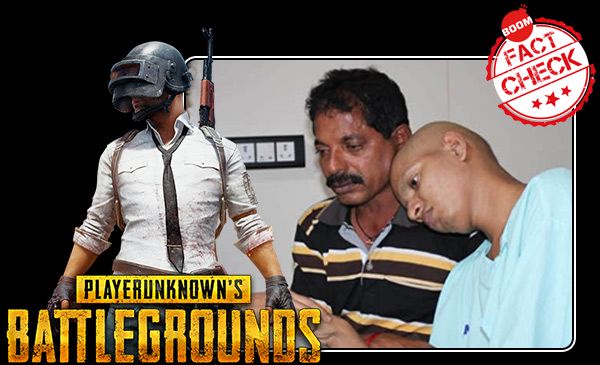 A set of photos of a teenager diagnosed with cancer and an unrelated video is being shared on social media with a fake claim that it shows a patient whose addiction to playing popular game, PlayerUnknown's Battlegrounds (PUBG) led to mental health problems in the young boy.
The photos show a young boy with a shaved head with his parents who are visibly distraught. The viral posts also include a video where a patient is on an operating table is seen playing a game with an imaginary phone, following which the doctors place an actual phone in his hand.
The photos and video are being shared with a caption in Hindi that translates to, "Playing PUBG had led to mental illness, please don't let your children play such games on mobile phones."
WordPress Carousel Plugin
(Original text in Hindi: पप्जी गेम में पागल हो गया कृपया अपने बच्चो को मोबाईल पर ऐसे गेम नही खेलने दे।)
पप्जी गेम में पागल हो गया कृपया अपने बच्चो को मोबाईल पर ऐसे गेम नही खेलने दे। pic.twitter.com/hYySv67rAk

- अनुराग ताम्रकार (@anuragtamrakar6) November 16, 2019

Fact Check
BOOM ran a reverse image search with one of the photos and found an article carrying the same pictures published on Milaap - a crowdfunding organisation Milaap.
The photos were published by Milaap on October 25, 2019 in an article titled, "My Son Gave Me Life Again After My Accident, Now He's Dying Of Cancer And I'm Helpless" where they identified the boy as Sujan, a resident of Karnataka suffering from blood cancer.
Screenshot of the article on Milaap
The story which includes quotes from his father Sanjeev says, "9 days. That's the number of days Sujan attended college before he was diagnosed with blood cancer." The article which looks at raising funds for Sujan's treatment for Acute Myeloid Leukemia also includes details from his hospital - Majumdar Shaw Cancer Centre in Bangalore.
Estimation letter from the hospital to gather money for Sujan (photo via Milaap)
While doing a keyword search on Facebook, BOOM also found a post in Kannada, where a donor can be seen handing over money to Sujan's father. The Kannada post talks about how many people came forward to help Sujan after hearing of his cancer diagnosis.
BOOM was unable to find any verifiable source for the video accompanying the photos in the viral post. We found that video is being shared on YouTube and Malaysian blogs with claims that it shows 'additction to phones among youngsters'.
While there have been no news reports about players suffereing from mental health problems after playing PUBG, there have been reported cases of players behaving in an extreme manner when stopped from playing online mobile games.
We are glad to bring you this fact check. If you are happy with our mission to keep the internet safe of disinformation, do support us by clicking on the link
(BOOM is now available across social media platforms. For quality fact check stories, subscribe to our Telegram and WhatsApp channels. You can also follow us on Twitter, Facebook, Instagram and Linkedin .)
Dailyhunt
Disclaimer: This story is auto-aggregated by a computer program and has not been created or edited by Dailyhunt. Publisher: Boom FactCheck