News
Panga has spoilt me because it was such an amazing set, says Megha Burman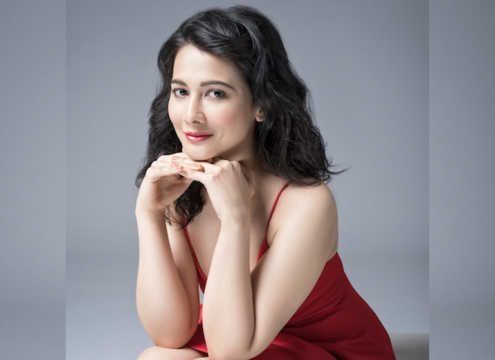 To audition for Ashwiny Iyer Tiwari's Panga (2020), actress Megha Burman dressed for the part. The actress had received a call from the offices of casting director Mukesh Chhabra's office for an audition and was told she would be playing a kabaddi player.
Burman went to a local sports shop and bought an India jersey and shorts to wear to the audition where she was given her introductory scene in the film to prepare.
"Half the job is done when you look the part," Burman said of her Panga audition. "I was very hopeful. Sometimes you give an audition and you feel you did a good job, you feel something should happen. But I did not hear back for like two months."
Since rejection is part and parcel of an artiste's life, Burman put it at the back of her mind. A few months later, she was called in to see how she would fare at kabaddi.
She recalled, "It was so intimidating because there were these young kabaddi players who play for the Nationals, in their jerseys and shorts, [along with] production people, direction team, kabaddi trainer and [a] coach. The whole mat was set up."
Even though Burman was nervous, she did the warmups and began playing. But she realized that this professional form has a lot more rules. "What we played in school was a different kind of kabaddi, [the sport] has also evolved since," she said.
Burman joined actresses Richa Chadha and Smita Tambe in auditioning over the next three days. On the last day, she was invited to the office for a final narration. The actress remembers being unsure if she was chosen or not, and checking with Chadha to find out.
In Panga, Burman plays Nisha Das, a fresh young player on the team which Kangana Ranaut's character Jaya Nigam joins. The two strike up an easy friendship sans rivalry. The actress said Nisha really respected and looked up to the veteran Jaya.
"Any sportsperson, the biggest thing for them is to represent their country, and for a young player, they have the same ambitions. She feels for her country, and she looks at Jaya with those same eyes," she said.
"For me, I didn't have to do much work, because I do look up to Kangana as an actor who has been around for so long. When she used to come and we used to talk before a scene, with our preparations, I was just there like a sponge, trying to take in as much as I could because I was in awe of her," she continued.
Burman's character Nisha shows another side of Jaya in the film and the actress said her part was to support the story.
"I'm here in service of the film, in service of this character's [Jaya Nigam's] journey of coming back to the sport," she explained. "In the first half, you see a different side of [Kangana Ranaut] as a mother, and here you see her as a [sportsperson]. My character's role is to bring this aspect of Jaya to the screen. We have different sides to ourselves and those different sides come out when we are interacting with different people."
To get into shape and look the part of a kabaddi player, Burman put in the hours at the gym every single day working with a trainer on leg exercises before practising in the evenings. She enjoyed the workouts as she was a horse rider when she grew up in Kolkata, West Bengal, taking part in local army races competitively.
Eventually, she lost touch with the sport as she moved away from the city and later took up dancing and martial arts.
"I was always connected with something," Burman explained. "I thought I will join Shiamak Davar's dance company, then I got a couple of ads and [started enjoying them]. It was constantly relieving and trying to recreate emotions. There is so much high energy on set that once I did a couple of ads, I just started pursuing acting."
Burman had accompanied a friend to an audition one day and she booked a coffee advertisement through it. After that, the calls just kept coming in. She has also worked in Telugu films like Ankit Pallavi And Friends (2008) and Dam 999 (2011), and the Tamil film Oru Modhal Oru Kadhal (2014).
"I feel like [Panga] has spoilt me because it was such an amazing set to be on because there were so many empowered, strong women," she said of working with Iyer Tiwari. "I'm a big fan of Ashwiny ma'am after seeing both her films. It was something that I wanted to do, a) work with a female director and b) work with Ashwiny ma'am. If you had asked me who are the directors you want to work with, she is definitely one of them."
She described Iyer Tiwari as very jovial and fun-loving, up for playing kabaddi with the cast. At the end of the shoot, they bonded so much that they all wrote handwritten letters to one other.
Dailyhunt
Disclaimer: This story is auto-aggregated by a computer program and has not been created or edited by Dailyhunt. Publisher: Cinestaan