Ram Temple Bhoomi Pujan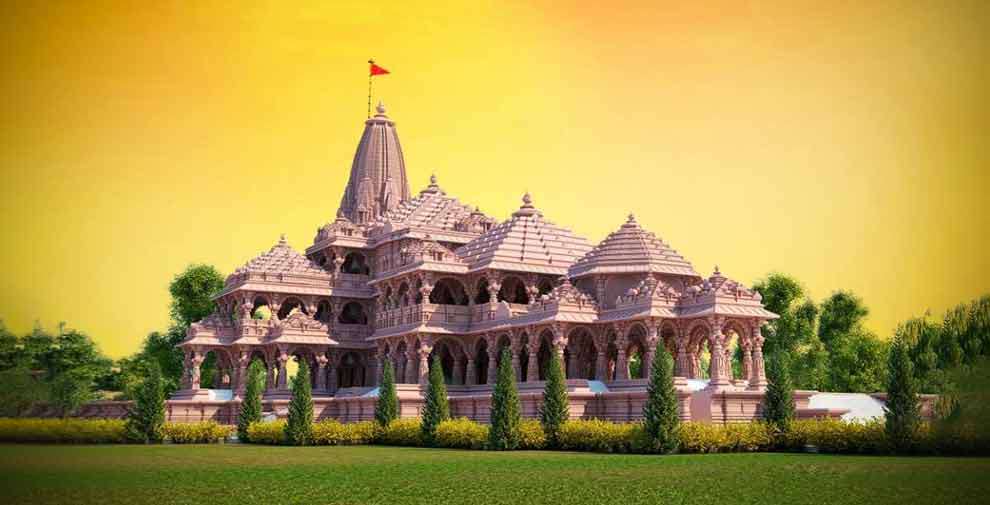 Ram Temple Bhoomi Pujan
Home

Even as the discomfort in Indo-Nepal relations, created by its new map continues, the KP Sharma Oli government is steadily opening newer fronts of friction. Now, the birthplaces of revered Gods have become the bone of contention. Nepal recently objected to External Affairs Minister S Jaishankar's statement that, 'Who are the two greatest Indians...

Home

Kolkata: Hasin Jahan, the estranged wife of India cricketer Mohammed Shami, has received death as well as rape threats from unknown people for sharing a congralutory messages on Ram temple Bhoomi Pujan in Ayodhya on her social networking sites, a police officer of Kolkata Police said on Monday. Jahan has lodged a complaint...

After India witnessed the grand Bhumi Pujan of Ram Mandir on 5th August as PM Narendra Modi laid the foundation stone, social media is flooded with fake news in connection with the Babri Masjid construction. A photograph of a large building with a signboard stating "Babri Hospital" is being circulated on Twitter, Facebook...

The Uttar Pradesh Sunni Central Waqf Board says it would like to invite Prime Minister Narendra Modi and chief minister Yogi Adityanath to lay the foundation stone for a hospital, school, library and other public facilities it plans to build on a five-acre plot the government has allocated to the Muslim community for an alternative mosque in lieu of the Babri masjid in Ayodhya. HT...

Featured Stories

It is a matter of great relief for everyone that a controversial chapter in the history of the country ... It is a matter of great relief for everyone that a controversial chapter in the history of the country has come to an end. Prime Minister Narendra Modi has performed bhoomipujan of Ram temple in Ayodhya and soon it will be built too. The construction of the mosque in Ayodhya itself will start...

To mark the 78th anniversary of the Quit India movement,Vice President M Venkaiah Naidu on Sunday called for an intensified campaign for Knit India to enable a strong and emotionally integrated nation. The vice president also urged people to pledge to drive out poverty, illiteracy, inequality, gender discrimination, corruption and all kinds of social...

Headlines

On August 5, Prime Minister (PM) Narendra Modi set the process of the construction of a Ram temple at Ayodhya in motion. This is a moment of political triumph for Hindutva politics. And the euphoria in the Hindutva camp, especially the Rashtriya Swayamsevak Sangh (RSS) and its political affiliate, the Bharatiya Janata Party (BJP), is not surprising. What is disappointing, however, is the reaction of the...

Uttar Pradesh chief minister Yogi Adityanath's office has refused to respond to reports that the Indo Islamic Cultural Foundation, the Trust constituted by the Sunni Waqf Board for the construction of an alternative mosque in Ayodhya instead of Babri Masjid, has decided to invite the chief minister for the inauguration of a hospital, school,...

Prime Minister KP Sharma Oli this week attempted to ignite a fresh row over Lord Ram's birthplace, telling a delegation that he was convinced that Lord Ram was born in south Nepal's Ayodhyapuri and not Uttar Pradesh's Ayodhya. PM Oli's remark on Ayodhya, the second in a month, comes against the backdrop of an acrimonious power struggle within the ruling Nepal...

Home

Image Source : PTI Artisans in Etah make 2,100kg bell for Ram temple A team of artisans at Jalesar town in Etah district of Uttar Pradesh have forged a bell weighing a whopping 2,100 kg for the new Ram temple in Ayodhya and are preparing to give it final touches before sending it to the holy town. While Dau Dayal, 50, was primarily responsible for making the 'ashtadhatu' bell, Iqbal Mistri, 56,...
Loading...