Corona in Haryana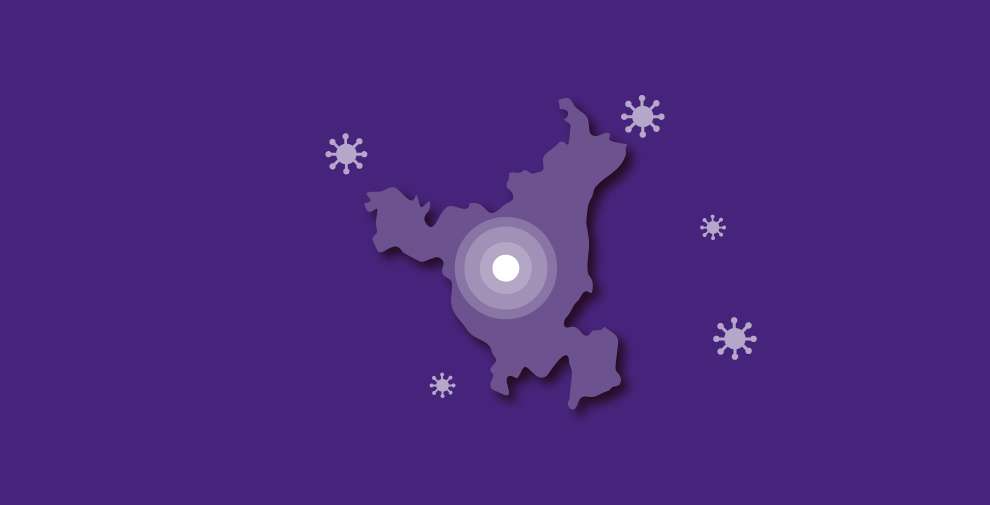 Corona in Haryana
Chandigarh

A day after two policemen on patrol duty were killed near Butana checkpost in Gohana, Sonepat superintendent of police (SP) Jashandeep Randhawa on Wednesday said the accused attacked the cops for not allowing them to consume liquor. Randhawa said constable Ravinder Kumar and special police officer Kaptan Singh were attacked with sharp-edged weapons by Amit Kumar, Sandeep...

Chandigarh

The bail plea of self-styled godman Rampal was dismissed by a high court bench, while another bench sought affidavit from a senior police officer on security arrangements. Rampal had sought bail to attend the marriage ceremony of his granddaughter on July 22. The Satlok Ashram head has been convicted for life imprisonment without 'remission' by a Hisar trial court in murder...

Chandigarh

The high court has directed continued restricted functioning of the trial courts in Punjab, Haryana and Chandigarh. A communication from the high court administration said that courts can allow filing of all types of cases, as ordered on June 10. However, a decision regarding which categories are to be allowed will be taken by the district and sessions judge concerned, taking...

Chandigarh

Schools in Haryana will reopen from July 27 for the teaching and non-teaching staff, the state government said on Wednesday. However, students will not attend schools, education minister Kanwar Pal said. His statement came after the directorate of school education's previous order caused confusion among the students and their parents. 'The schools will reopen on 27 July, 2020...

Chandigarh

Two men were beaten to death in separate cases in the last 24 hours, police said. In the first incident, a 40-year-old man, Udaibhan of Uttar Pradesh, was bludgeoned to death by his colleague Nazir at a dhaba following a heated argument in Rohtak's Sampla on Tuesday night, police said. A case of murder has been registered against Nazir, who is at large. In the second incident, a 32-year-old man was found...

Chandigarh

A week after a 40-year-old man was found hacked to death in Valtoha village of Bhikhiwind sub-division, police on Wednesday arrested five people, including the victim's wife and minor daughter. Santokh Singh of Mutheyanwala village under Patti sub-division was hacked to death by some unidentified people in his sleep at his in-laws' house in Valtoha village on June 24 where he...

Corona Chandigarh

With the number of coronavirus cases reaching 325 in Karnal, all private hospitals in the district have been told not to admit the patients exhibiting Covid-19 symptoms. All such patients should be sent to the civil hospital, directed Karnal deputy commissioner Nishant Yadav. The orders mentioned that strict action will be taken against the hospitals found admitting...

Corona Chandigarh

The Punjab Agricultural University (PAU) claims to have developed a new variety of genetically modified Bt cotton seed which it says is pest-resistant besides having a better shelf life as it can be used in the subsequent sowing seasons. The variety is in final stages of getting notified by the central sub-committee on crop standards, notification and release of...

Corona Chandigarh

Post Graduate Institute of Medical Sciences (PGIMS) in Haryana's Rohtak is all set to conduct the clinical trials of the country's 'first' indigenous Covid-19 vaccine, Covaxin, developed by Bharat Biotech in collaboration with Indian Council of Medical Research (ICMR) and National Institute of Virology. Professors at PGIMS' pharmacology department Dr Ramesh Verma, Dr Savita Verma, and Haryana's nodal...

Corona Chandigarh

A delegation of Sikh intellectuals led-by Kendri Sri Guru Singh Sabha, Chandigarh, on Wednesday met Akal Takht's acting jathedar Giani Harpreet Singh and pressed upon him to support the ongoing campaign against the caste practices among Sikhs. The Jathedar held an interaction with the delegation members who asserted that prevalence of casteism was against the...
Loading...