Offbeat
Former Mercedes Employee Damages Cars Worth $6 Million By Stealing JCB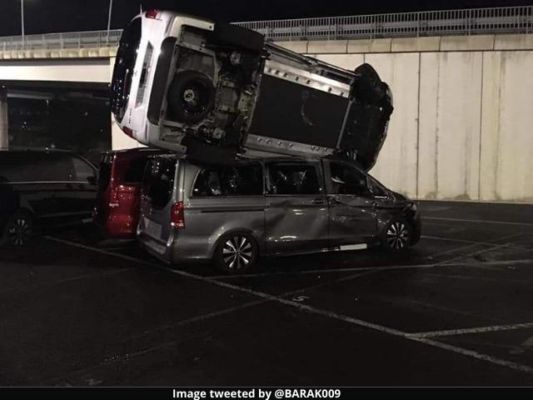 Spain Based Man Aged 38 Year Damaged $6 Million Worth Of Cars
New Delhi: Spain based man aged 38 year damaged $6 million worth of cars at a Mercedes factory last week using a JCB truck that he stole from somewhere.
According to Ladbible, the unknown and unnamed man Spain based stole a JCB and with it went to Mercedes factory located in the Basque capital Vitoria. Firstly he broke the gates of the site and then crushed at least 60 vehicles with the demolition vehicle JCB.
#Killdozer Part2?
Revenge is a dish served cold - a former worker went on a wrecking spree in a stolen JCB at a Mercedes-Benz factory in Spain, delivering damage in millions of euros, four years after leaving the company. pic.twitter.com/Nbqw14LdUd

- BARAK29 (@BARAK009) January 3, 2021
According to reports, He stole the JCB truck from a construction site and alone drove for 28 kilometres to reach the Mercedes factory. The local police in a statement said that the man also caused other damages on his way while driving the JCB to the Mercedes facility. The man has been arrested by the police and charged for property damage and theft.
This incident took place in the early hours of December 31. According to the report, the man had worked at the Mercedes factory between 2016 and 2017. The motive behind the destructive act is unknown, but the police suspect it to be a long time revenge.
Dailyhunt
Disclaimer: This story is auto-aggregated by a computer program and has not been created or edited by Dailyhunt. Publisher: DailyAddaa