Top Stories
Congress in top gear ahead of Huzurnagar bypoll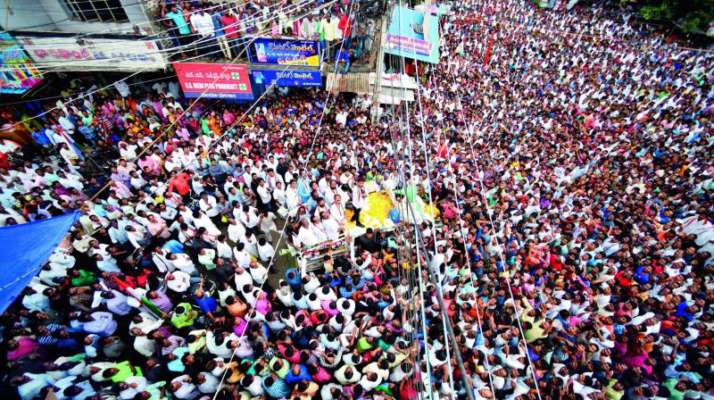 Hyderabad: With just a day left for the end of the campaign for the Huzurnagar byelection, senior Congress leaders, including TPCC president, N. Uttam Kumar Reddy, working president, A. Revanth Reddy, and former minister, Mohammed Ali Shabbir, stormed the streets of Huzurnagar with road shows.
They launched the road show from Jana Pahad, after offering special prayers at the dargah there. Addressing road corner meetings, Mr Uttam Kumar Reddy said that he was seeking votes for the Congress candidate and his wife Ms Padmavathi on the basis of his performance and achievements as MLA in Huzurnagar.
He said that every bit of development in Huzurnagar had been due to his efforts as MLA since 2009. The TRS was trying to lure voters with money, liquor and other incentives, he said, and asked people to be cautious for the next three days to foil the attempts by the ruling party to tamper with and manipulate the election process.
He said he has full faith in the people of Huzurnagar and they would ensure the victory of Uttam Padmavathi with a huge majority.
TRS leaders were shamelessly seeking votes despite not fulfilling a single major promise they made to the people in the previous two elections, he claimed. TPCC working president, A. Revanth Reddy, too launched a scathing attack on the TRS government, especially Chief Minister K. Chandrasekhar Rao.
He ridiculed the claims of TRS leaders that development would come if the ruling party wins Huzurnagar. He asked why there was no development in constituencies being represented by TRS MLAs. He said the development brought by Mr Uttam Kumar Reddy in Huzurnagar was unmatched and incomparable. He asked people to reject TRS propaganda. He said Mr Rao had had targeted senior leaders like Jana Reddy, Komatireddy Venkata Reddy, Dr Gita Reddy, Damodar Rajanarasimha and others, promising development in their constituencies if the TRS wins the elections. People fell prey to these misleading tactics and voted for the TRS in the last elections in those constituencies. But development has come to a standstill in those constituencies, he said. Therefore, people should not make the mistake of trusting the TRS again.
...
Dailyhunt
Disclaimer: This story is auto-aggregated by a computer program and has not been created or edited by Dailyhunt. Publisher: Deccan Chronicle