Tamilnadu
Stranded Tamil netizens vent ire at Centre, State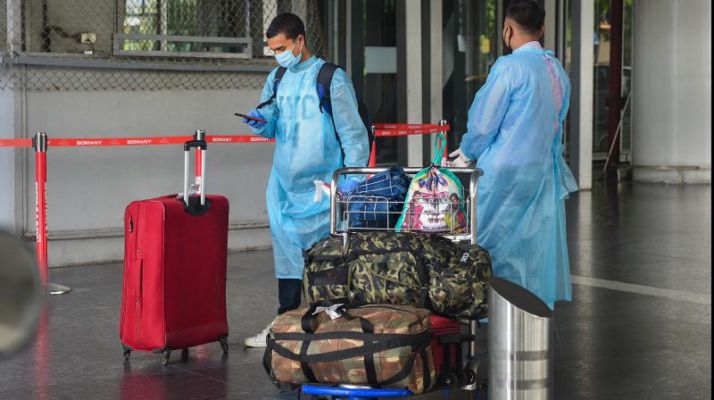 While the COVID 19 Pandemic continues to take toll on human lives across the globe forcing governments to fast-track the mission to bring back their stranded citizens home safely, over 30,000 Tamils still remain stranded in various countries kindling a 'bring back' campaign online.
On Sunday the social media had witnessed uproar by netizens especially from Tamil Nadu by starting a hashtag outrage #BringBackTamils on twitter against the both state and central governments.
The protesters said that 'the state of Kerala was in the forefront of creating a separate sector for the Malayalam speaking people in foreign countries and protecting their welfare. Why Can't TN (Tamil Nadu) Government create such to protect our People?
While Kerala had succeeded in bringing its people back to the State from foreign countries and received appreciation, the Tamil Nadu government had not done anything to the request of Tamils stranded in the Gulf and other countries', the protesters allege.
By claiming that many people from Tamil Nadu had died in Malaysia, Singapore, Qatar, Dubai, Australia, New Zealand, UK, U.S., Japan, Africa and other countries, they pointed out that the expatriates including students and labourers were suffering without food and medical assistance.
M. Ramani Sri, a protestor, tweeted to say: '(It is the) time for TN Government to #BringBackTamils from abroad. For the past 4 months, they have been trying to return to their homeland. We can quarantine them and then send them home. Many labourers and students are struggling in foreign countries due to financial/heath hardships'.
'The government enjoys their revenue but refuses to protect them. Indian foreign evacuation mission is dominated by upper caste, anti-people and anti-Tamil elements pushing Tamil working community into frustration and humiliation', writes Thirumurugan Gandhi, another protestor.
The online campaign was kicked off at a time when many Public Interest Litigations (PILs) submitted various concerned parties including Dravida Munnetra Kazhagam (DMK) piled up in the Madras High Court seeking a direction to the State government in this regard.
A.Raja Mohamed, a lawyer, who moved a PIL to HC, told Deccan Chronicle that the state government was able to bring back only 19558 people so far though 47514 had registered to return home. Many people who want to return home are now unable to register as the website is defunct. The state government does not want to allow flights from the other countries to land in the state as the virus continues to spread. Meanwhile, the neighbouring states like Kerala and Karnataka have managed to bring back their people stranded abroad', he said.
Meanwhile, the officials with the Ministry of External Affairs (MEA) have refuted the comparison with Kerala by saying that only 76485 Kerala repatriates have been brought back as part of Vande Bharat Mission (VBM) though 175785 requests were received.
The state government had asked to resume the repatriation flights under the VBM on June 2 by operating at least one flight to four international airports in Tamil Nadu including Chennai, Coimbatore, Thiruchinappalli and Madurai in a staggered manner so as to manage the capacity of testing and quarantining of the incoming passengers.
The state government had further requested that the number of flights to Chennai should be restricted to two and one to Coimbatore, Thiruchinappalli and Madurai per day so that they could execute the COVID protocol properly. The state has also received expatriates who arrived via chartered flights in addition to VBM aircrafts', the officials say.
...
Dailyhunt
Disclaimer: This story is auto-aggregated by a computer program and has not been created or edited by Dailyhunt. Publisher: Deccan Chronicle