National
Coronavirus News Live: Germany to require tests for all unvaccinated travellers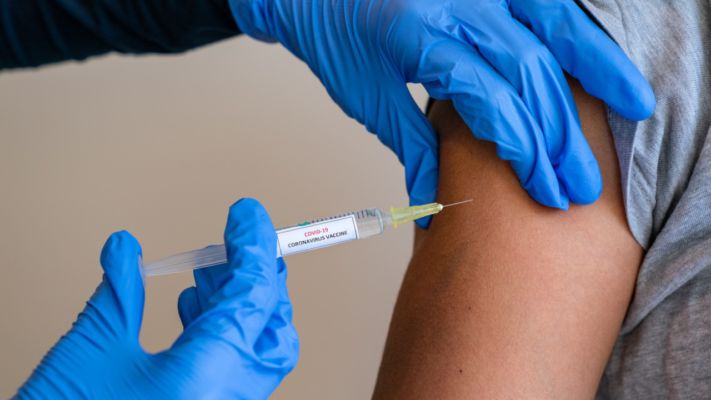 India reported 44,230 new Covid-19 cases in the past 24 hours, according to Health Ministry data. The Ministry data also showed that 45.60 crore vaccine doses have been administered so far. Stay tuned to DH for updates.
15:32

Covid: Karnataka orders districts to monitor situation & impose additional containment measures

With the state witnessing a spike inCovid-19 cases, the Karnataka government on Friday ordered the district administrations to strictly monitor the situation in their respective jurisdictions and to impose additional containment measures as deemed necessary.

It has also asked for strict surveillance measures to be implemented at the border posts as per the prevailing guidelines.

(PTI)

15:31

Germany to require tests for all unvaccinated travellers

Anyone entering Germany from abroad will have to take aCovid-19 test from Sunday unless they are fully vaccinated or have recovered from the disease, Health Minister Jens Spahn said Friday.

"All unvaccinated people entering Germany will have to be tested in future -- regardless of whether they come by plane, car or train," Spahn said in a statement.

The new rules, to be signed off by the cabinet on Friday, will apply to all travellers over 12 years old with the exception of cross-border commuters and those passing through in transit, according to a draft seen by AFP.

(AFP)

15:30

Over 3.8 lakh people without photo ID documents vaccinated through Co-WIN: Govt

As many as 3.83 lakh people without any photo ID documents have been vaccinated through Co-WIN till July 26, Minister of State for Health Bharati Pravin Pawar saidon Friday.

All beneficiaries who have received vaccines in India are registered on the Co-WIN portal, she said in a written reply to a question in Lok Sabha

"As on 26th July 2021, a total of 3.83 lakh persons without any photo ID documents have been vaccinated through Co-WIN," she said.

(PTI)

15:29

Covid-19 linked with long-term cognitive impairment, researchers say

Covid-19 is associated with persistent cognitive deficits, including the acceleration of Alzheimer's disease symptoms, researchers have found.

In addition to the respiratory and gastrointestinal symptoms that accompanyCovid-19, many people with the virus experience short- and long-term neuropsychiatric symptoms, including loss of smell and taste, and cognitive and attention deficits, known as "brain fog."

(PTI)

15:28

Israel launches Covid booster shot campaign for over 60s

Israel launched a campaign Friday to give the elderlyCovid-19 booster shots, at a time when the rest of the world is still struggling to complete the standard course.

Kicking off the campaign, Israel's President Isaac Herzog, 60, received a third dose of the Pfizer/BioNTechCovid-19 vaccine at a hospital in Ramat Gan, near Tel Aviv.

(AFP)

15:27

Moscow cancels glove-wearing requirement as Covid-19 situation improves

Moscow on Friday abolished a widely-flouted requirement for people to wear gloves in public places and shops as daily coronavirus cases in the Russian capital stayed below 4,000, down from over 7,000 earlier this month.

Moscow reported 3,481 new infections on Friday and 76 deaths, even as the number of daily nationwide cases, at 23,564, remained close to levels recorded at the start of the month with 794 nationwide deaths in the last 24 hours.

Moscow Mayor Sergei Sobyanin said the number of newly detectedCovid-19 cases in Moscow was, however, 2.2 times lower than during the peak of a wave of infections in the second half of June, which authorities blamed on the contagious Delta variant and the slow rate of vaccinations.

(Reuters)

15:26

HC seeks Ramdev's stand on plea against him by doctors' associations for remarks against allopathy

The Delhi High Court Friday sought Yoga guru Ramdev's stand on a lawsuit against him by several doctors' associations for allegedly spreading misinformation by his statements against allopathy amid theCovid-19 pandemic which purportedly amounts to public nuisance.

Justice Hari Shankar granted a week's time to Ramdev to file his response and said that he would not grant leave for institution of the proceedings in the absence of a reply.

(PTI)

15:25

Odisha reports 1,558 Covid-19 cases

Odisha's Covid-19 tally surges to 9,75,690 as 1,558 more people test positive for infection; 66 fresh fatalities push state's coronavirus death toll to 5,834

(PTI)

15:24

Australia sets 80% vaccine target to open borders

Australia will reopen its borders and end lockdowns when 80 percent of the population is fully vaccinated, Prime Minister Scott Morrison revealed Friday, sketching a long road out of "Fortress Australia" virus restrictions.

A year-and-a-half after Australia cocooned itself off from the rest of the pandemic-ravaged world, Morrison unveiled a series of targets he said could begin to be reached by the end of the year.

(AFP)

15:23

No. of Covid cases has been increasing in the last 3 days. RT-PCR tests have increased. State recorded 1,859 fresh cases compared to 1,756 cases. Unfortunately, many people are not wearing face masks. Vigilance in TN-Kerala border is increased: TN Health Minister, Ma Subramanian pic.twitter.com/5J6J9yz2IS

— ANI (@ANI) July 30, 2021

15:02

Mixing Russia's Sputnik V, AstraZeneca shots proves safe in small trial (RDIF)

15:02

Israel president gets third Covid vaccine dose

Isaac Herzog received a third dose of the Pfizer/BioNTechCovid-19 vaccine Friday, launching the Jewish state's campaign to give booster shots to people aged over 60. (AFP)

15:01

Odisha registers 1,558 new Covid-19 cases, 66 fatalities: State Health Bulletin

15:01

63 new cases, 3 more deaths in Delhi: State Health Bulletin

15:00

Risk of vaccine-resistant variants highest when most jabbed: Study (AFP)

14:59

Australia PM wants 80% of adults vaccinated before border opening (Reuters)

14:59

Japan expands virus emergency after record spikes amid Games (Reuters)

14:58

Japan's daily Covid-19 cases at record-high 10,743 on Friday (NHK)

14:06

The world&dhapos;s first study of a combination between the AstraZeneca vaccine and the first component of the Sputnik V vaccine (Sputnik Light) in Azerbaijan shows no serious adverse events or #COVID infection cases following the vaccination, says Russian Direct Investment Fund (RDIF)

— ANI (@ANI) July 30, 2021

13:14

CII to work with SII to expand vaccination in small towns, rural areas (PTI)

13:14

Thailand renews Covid-19 vaccination drive for monks at risk (Reuters)

12:43

COVID-19: Yuzvendra Chahal and K Gowtham test positive in Sri Lanka

Read @ANI Story | https://t.co/1wL0NKVvEF #YuzvendraChahal #KGowtham #Cricket pic.twitter.com/vqmUKzYA67

— ANI Digital (@ani_digital) July 30, 2021

12:33

Karnataka to put in place compulsory testing to stop spread of Covid: Bommai

12:32

South Korea announces vaccination plan for 18-49 year olds (Reuters)

12:32

Activists allege Myanmar leaders are weaponising Covid-19 (AP)

12:31

HC asks Centre to approve BMC's plan to re-vaccinate victims of fake inoculation camps (PTI)

11:48

Arunachal reports 335 new Covid-19 cases, 1 fresh fatality: State Health Bulletin

11:06

#IndiaFightsCorona:

푴풐풓풆 풕풉풂풏 51 풍풂풌풉 (51,83,180) 풗풂풄풄풊풏풆 풅풐풔풆풔 풂풅풎풊풏풊풔풕풆풓풆풅 풊풏 풕풉풆 풍풂풔풕 24 풉풐풖풓풔.

➡️Together we can win the battle against #COVID19.#We4Vaccine #LargestVaccinationDrive #Unite2FightCorona pic.twitter.com/Tfb1x6OBuX

— #IndiaFightsCorona (@COVIDNewsByMIB) July 30, 2021

11:03

3 new Covid-19 cases in Andamans, tally rises to 7,534: State Health Bulletin

10:14

Thane district's Covid-19 count up by 288, death toll by 11 (PTI)

10:12

CDC internal report calls Delta variant as contagious as chickenpox (NYT)

09:53

India reports 44,230 new Covid cases, 555 deaths: Health Ministry

The nationwide tally of infections reached 31.57 million.

The country reported 555 deaths overnight, taking the overall tally to 423,217 fatalities, data showed.

09:33

Rahul Gandhi urges people in Kerala to adhere to Covid guidelines (PTI)

09:33

Philippines to place Manila area in lockdown to curb Delta spread (Reuters)

08:45

#IndiaFightsCorona

➡️Nearly 47 lakh Vaccine doses administered today till 7 pm.

➡️30,83,757beneficiaries were vaccinated for 1st dose and 15,69,157beneficiaries received 2nd dose of vaccine.

Details: https://t.co/gJvPIYmUZy #We4Vaccine #Unite2FightCorona pic.twitter.com/fRUnaYhnfb

— #IndiaFightsCorona (@COVIDNewsByMIB) July 29, 2021

08:16

South Africa golfer Reto positive for Covid (AP)

08:16

Sydney Covid-19 cases ease amid tightening of lockdown rules (Reuters)

08:15

Biden administration proposes $100 vaccination incentive (NYT)

07:24

Olympics organisers report 27 new Games-related Covid cases, including 3 athetes (Reuters)

07:23

Australia's New South Wales reports 170 locally acquired Covid-19 cases (Reuters)

07:19

Flawed scientific papers fueling Covid-19 misinformation (AFP)

06:44

Japan proposes adding four regions to Covid-19 emergency

Japan's government on Friday proposed states of emergency through Aug. 31 in three prefectures near Olympic host city Tokyo and the western prefecture of Osaka, a cabinet minister said, as Covid-19 cases spike to records around the country.

Existing states of emergency for Tokyo and southern Okinawa island should be extended to Aug. 31, Economy Minister Yasutoshi Nishimura, who is spearheading Japan's pandemic response, told a panel of experts.

06:43

A tale of two cities: The Olympics 'bubble' and the Tokyo outside

The Tokyo Olympics is running a village for athletes and coaches where more than 80% are vaccinated against the coronavirus, testing is compulsory and movement is stringently curtailed.

None of that is true for the giant Japanese capital that surrounds the Olympic "bubble".

06:42

Sudden spike in Bengaluru's daily Covid cases worries civic authorities

Gradually returning to normalcy from the severe impact of the second wave, the Bruhat Bengaluru Mahanagara Palike was shocked to witness an alarming 34 per cent rise in the daily Covid cases on Thursday.

Further, the rise in cases in neighbouring states like Kerala has also left the civic body worried about the possible surge of a third wave.

06:39

Lok Sabha scheduled to hold discussion on Covid today

A discussion on the Covid-19 pandemic has been listed in the business schedule of Lok Sabha for Friday.

According to the revised order paper for Friday, N K Premchandran and Vinayak Raut will "raise a discussion on the situation arising out of Covid-19 pandemic in the country and various aspects related to it."
Read all the latest updates on COVID-19 here.
Dailyhunt
Disclaimer: This story is auto-aggregated by a computer program and has not been created or edited by Dailyhunt. Publisher: Deccan Herald