National
Coronavirus news live updates: Karnataka reports 6,997 new Covid-19 cases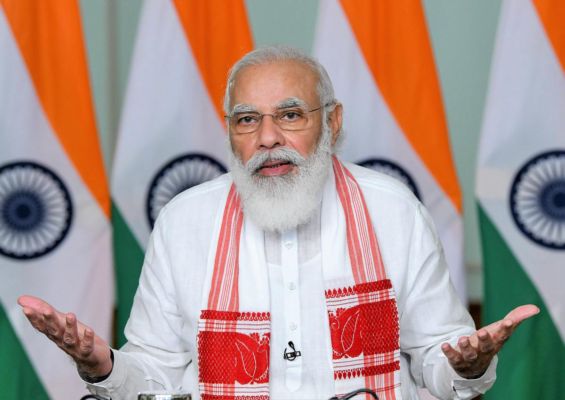 India's Covid-19 tally crosses the 56-lakh mark with a spike of 83,347 new cases & 1,085 deaths in the last 24 hours. According to the Ministry of Health and Family Welfare, the total case tally stands at 5,646,011 including 9,68,377 active cases, 45,87,614 cured/discharged/migrated & 90,020 deaths. The country has also conducted over 6.6 crore tests and approximately 9.5 lakh samples were tested yesterday. Stay tuned for more updates.
20:35

Karnataka reports 6,997 new Covid-19 cases

Karnataka reported 6,997 new Covid-19 cases, 5,460 discharges & 38 deaths today. The total number of cases in the state now stands at 5,40,847 including 94,652 active cases, 4,37,910 discharges & 8,266 deaths. 8033 new cases reported in Bengaluru Rural today: State Health Dept.

20:26

Gujarat's Covid-19 tally rises to 1,27,541 with addition of 1,372 cases; 15 deaths take toll to 3,370: State Health Department.

20:25

Mumbai's Covid-19 tally rises to 1,90,138 with addition of 2,360 new cases; 52 fresh deaths take toll to 8,601: BMC

20:24

PM reviews Covid-19 situation with CMs, representatives of 7 states with high case load

Along with the other five states, Punjab and Delhi have reported an increase in the number of cases being reported recently, they said, adding that Maharashtra, Punjab and Delhi are also reporting high mortality with more than two per cent case fatality rate (CFR).



20:08

Johnson & Johnson Covid-19 vaccine trial moves into late stage

The company, which is developing the vaccine on a not-for-profit basis through its subsidiary Janssen, said it anticipated the drug would be ready for emergency approval by early 2021 if proven safe and effective.



20:01

It is difficult to make wearing masks a habit, but we will not be able to get the desired results if we don't make it a part of our daily life, says PM Modi in a meeting with Chief Ministers of seven states.

19:54

Discussion with CMs on the COVID-19 situation. https://t.co/pKY8n2MeYN

— Narendra Modi (@narendramodi) September 23, 2020

19:47

States should assess effectiveness of 1 or 2-day lockdowns and consider if they hamper eco activities While fighting COVID-19, we have to also move ahead with full strength on economic front: PM Modi

Effective messaging is also necessary because most Covid-19 infections are without symptoms. In such a situation, rumours may rise. It might raise doubts in the minds of the people that testing is bad. Some people also make mistake of underestimating the severity of infection, said PM Modi during the meeting.

19:52

Chandigarh reports 180 new Covid-19 cases today, taking the total number of cases to 10,726 including 2,537 active cases, 137 deaths and 8,049 cured cases: State Health Department.

19:46

Maharashtra reports 21,029 new Covid-19 cases, 19,476 recovered cases & 479 deaths in the last 24 hours, taking total positive cases to 12,63,799 till date, including 2,73,477 active cases, 9,56,030 discharges & 33,886 deaths: State Health Department.

19:42

We need to increase our focus on effective testing, tracing, treatment, surveillance and clear messaging: PM Modi.

19:40

India launches programme to strengthen clinical trial research capacity of vaccines in neighbouring countries

Amid the Covid-19 pandemic, India has kick-started a "science diplomacy" initiative by launching a programme to strengthen the capacity of clinical trial research of vaccines in neighbouring countries, the Department of Biotechnology said on Wednesday.



19:39

Bangladesh pacer Abu Jayed tests positive for Covid-19

"Pace bowler Abu Jayed Chowdhury Rahi has reported positive for Covid-19. He will receive treatment in isolation for Covid-19 as per guidelines and will undergo further tests in due course," BCB physician Debashis Chowdhury said in a statement.



19:38

Congress MLA with Covid-19 infection critical: Hospital

Rao was admitted to the Manipal Hospital on September 1 with a diagnosis of severe Covid-19 infection, hospital director Dr Manish Rai said.

18:46

Congress creates ruckus in Uttarakhand Assembly, seeks debate on coronavirus

Earlier, soon after the Assembly offered tributes to former president Pranab Mukherjee and two ex-MLAs, Congress MLAs led by Kazi Nizamuddin and Pritam Singh rose from their seats and began demanding an immediate debate on coronavirus.



18:43

Andhra Pradesh reported 7,228 new Covid-19 cases, 8,291 recoveries and 45 deaths in the last 24 hours

Andhra Pradesh reported 7,228 new Covid-19 cases, 8,291 recoveries and 45 deaths in the last 24 hours, taking total positive cases in the state to 6,46,530 till date, including 5,70,667 recoveries, 70,357 active cases and 5,506 deaths: State Health Department.

18:43

Rajasthan reported 1,946 new Covid-19 cases, 1,553 recoveries and 15 deaths today, taking the total number of positive cases in the state to 1,20,739 till date, including 18,992 active cases, 98,986 discharged cases and 1,382 deaths: State Health Dept.

18:42

Prime Minister Narendra Modi chairs a high-level virtual meeting with Chief Ministers and Health Ministers of seven Covid-19 high burden States/UT to review coronavirus response and management.

These States/UT are Maharashtra, Andhra Pradesh, Karnataka, Uttar Pradesh, Tamil Nadu, Delhi, and Punjab.

18:16

Kerala reported 5,376 new Covid-19 cases, 2,591 recovered cases and 20 deaths today, taking the total number of active positive cases in the state till date to 42,786 and the death toll to 592: Pinarayi Vijayan, Chief Minister, Kerala.

18:14

Delhi Deputy CM Manish Sisodia admitted to Lok Nayak Jayaprakash Hospital in Delhi after he complained of fever & low oxygen levels: Office of Delhi Deputy CM.

17:29

Covid-19 pandemic slashes worldwide income from work by a tenth: ILO

The figure, which does not include income support provided by governments to compensate for workplace closures during the pandemic, is equal to 5.5% of global gross domestic product (GDP) for the first three quarters of 2019, it said.



17:07

Covid-19 positive woman ends life in Shimla hospital; magisterial probe ordered

Deputy Commissioner Amit Kashyap has ordered a magisterial inquiry by Additional District Magistrate (Law and Order) into the incident. A report in the matter will be submitted within 10 days, he said.



17:00

UK's new Covid-19 measures met with scepticism, confusion

The British government on Wednesday defended its new, stricter coronavirus measures against criticism that they did not got far enough, saying it was trying to balance supporting the economy while protecting health.



16:59

Punjab Government has capped Covid-19 tests rates for private labs. No private laboratory to charge more than Rs. 1600 for RT-PCR test for Covid-19, inclusive of taxes. For TrueNat Test, no private laboratory to charge more than Rs. 2000 and Rs 2400 fixed for Cbnaat test.

16:55

14 states, UTs have higher tests per million, lower positivity than national average: Centre

Fourteen states and Union Territories, including Gujarat, Odisha, Punjab, Uttarakhand, Assam, Haryana and Tripura, have demonstrated better Covid-19 response with higher tests per million and commensurate lower positivity rate than the national average, the Ministry highlighted.



16:21

Pakistan reopens schools for classes 6-8 after nearly six months due to coronavirus

Pakistan on Wednesday reopened schools for students in the sixth to 8th standards under the second phase of government's decision to reopen educational institutions which remained shut for nearly six months due to the Covid-19 pandemic that infected over 3 lakh people in the country.



16:13

Saudi Arabia bans flights to and from India due to coronavirus outbreak

In a circular issued on Tuesday, Saudi Arabia's General Authority of Civil Aviation (GACA) said it was "suspending travel to and from the following countries: (India, Brazil and Argentina) including any person who has been in any of the mentioned countries above in the last 14 days prior to their arrival to the Kingdom".



16:12

Covid-19 stops Kerala man from seeing newborn twins

A person in Kerala has beensuffering from Covid-19 over the last seven months after being infected by the virus twice. He had the infection while in Kerala and was also, previously, treated for similar symptoms while working abroad.



16:11

Another Kerala Minister contracts coronavirus

Kerala Agriculture Minister V S Sunil Kumar has tested positive for Covid-19, becoming the third member of the Pinarayi Vijayan cabinet to be infected by the deadly virus. His office said Kumar, who returned to Thiruvananthapuram two days ago, had complained about the breathing problem.



15:53

India's total tests for detection of Covid-19 has crossed 6.6 crore and tests per million have risen to 48,028 as on date with the national cumulative positivity rate being recorded at 8.52 per cent: Union Health Ministry.

15:48

China to allow foreigners with valid residence permits to enter from September 28

China's foreign ministry said on Wednesday foreigners with valid residence permits can enter the country without needing to re-apply for visas from Sept. 28. Foreigners whose residence permits expired after March 28 can apply for visas at Chinese embassies and consulates for entry, the ministry said in a statement on its website.



15:47

Covid-19: Daily recoveries exceed daily cases for 5th day

Daily Covid-19 recoveries have exceeded the new cases for the fifth consecutive day, the Union Health Ministry said Wednesday, as the total recoveries surged to 45,87,613 pushing the national recovery rate to 81.25 per cent.



15:36

Odisha reports 4,237 new Covid-19 cases, record 15 fresh fatalities

Odisha's Covid-19 tally rose to 1,92,548 on Wednesday as 4,237 more people tested positive for the infection, while record 15 fresh fatalities pushed the state's coronavirus death toll to 736, a health official said.



15:28

A woman (C) reacts as a health worker tries to collect her swab sample to test for the Covid-19 coronavirus at a slum area in Hyderabad. Credit: AFP

15:12

543 new Covid-19 cases, 439 discharges, and 8 deaths reported in Puducherry today, taking the total number of positive cases to 24,227 so far, including 4853 active cases, 18,893 recovered cases and 481 deaths till date: State Health Department.

15:06

Avigan maker to seek coronavirus treatment approval after trials

The maker of anti-influenza drug Avigan said Wednesday it will apply for the medication to be approved for treating coronavirus patients after trials showed it can shorten recovery time.



14:51

German consumer confidence ticks up despite Covid-19 fears

The mood among German consumers has improved slightly, boosted by a stable labour market despite an upswing in coronavirus cases, a closely watched survey said Wednesday.

The GfK institute's forward-looking survey of consumer confidence heading into October crept up slightly to -1.6, having dipped to -1.7 in September.

14:39

Bharat Biotech to test and distribute a single dose intranasal Covid-19 vaccine

Vaccine maker Bharat Biotech has acquired the rights for distribution of a single dose intranasal vaccine for Covid-19, presently being put to test.

On Wednesday, the Hyderabad-based Bharat Biotech International Limited announced a licensing agreement with Washington University School of Medicine in St. Louis for the novel chimp-adenovirus.

14:33

Thane Covid-19 tally rises to 1,61,659 with 1,406 new cases

The Covid-19 tally in Thane has gone up to 1,61,659 with the addition 1,406 new cases in the Maharashtra district, an official said on Wednesday.



14:32

Canada's Justin Trudeau to lay out plans as election risk, coronavirus loom

Prime Minister Justin Trudeau will lay out on Wednesday a new post-pandemic direction for Canada that will test his minority government's support in parliament in the coming weeks.



14:13

Odisha's Covid-19 tally rises to 1,92,548 with 4,237 new cases; record 15 fresh fatalities push death toll to 736

13:57

KEM Hospital starts trials of Oxford-AstraZeneca Covid-19 vaccine candidate in Mumbai

The civic-run King Edward Memorial (KEM) Hospital in Mumbai on Wednesday began phase II and III trials of the Oxford Covishield vaccine for Covid-19, an official said.



13:46

Coronavirus pandemic offers Tokyo Game Show a chance to reinvent

Once a premier industry event, Tokyo Game Show has been increasingly overshadowed by global competitors in recent years. But as the pandemic forces it online, some see a chance for reinvention.



13:38

Sikkim CM's wife test positive for Covid-19

Sikkim Chief Minister Prem Singh Tamang's wife Krishna Rai and some of her family members have tested positive for Covid-19.



13:28

UK's Boris Johnson urges 'spirit of togetherness' to combat coronavirus

British Prime Minister Boris Johnson appealed Tuesday for resolve and a 'spirit of togetherness' through the winter as he unveiled new restrictions on everyday life to suppress a dramatic spike in coronavirus cases.



13:16

Eleven coaches laid off by BCCI, say they were not informed: Report

Furloughs, job layoffs and pay cuts came along with the spread of the Covid-19 pandemic, and the Board of Control for Cricket (BCCI) in India seems to be no exception.



12:58

Bangalore Turf Club to begin winter season from Nov 1

Earlier this month, the BTC received the nod from the State government to conduct racing without spectators.Sporting activities with a ceiling of 100 spectators were allowed in the Unlock 4.0 instructions by the Ministry of Home Affairs.



12:51

Farmers give Mahindra (and maybe Modi) a sliver of hope

Indian conglomerate Mahindra Group said sales of farm equipment are much better than expected as the country's vast hinterland bounces back from lockdown, despite the coronavirus running rampant.



12:43

FDA to release stricter guidelines for emergency vaccine authorization

The Food and Drug Administration plans to soon issue stricter guidelines for the emergency authorization of any new coronavirus vaccine, adding a new layer of caution to the vetting process even as President Donald Trump continues to contradict his own scientific experts and promise that a vaccine will be available as early as next month.



12:32

Out of 15,804 beds in Delhi hospitals, 7,051 beds are occupied at present. However, we're facing problem as there's shortage of beds, especially in ICU in some private hospitals as people from outside Delhi prefer specific hospitals for treatment: Delhi Health Minister Satyendra Jain

12:22

Telangana recorded 2,296 fresh coronavirus cases, pushing the aggregate to 1.77 lakh, while the toll rose to 1,062 in the state with 10 fatalities.

The cumulative recovered cases stood at 1.46 lakh, while 29,873 were under treatment. The recovery rate in the state rose further to 82.52 per cent, while it was 81.23 per cent in the country, it said.



12:14

Devotees (Kanwariyas) carry metal pots filled with holy water after taking a dip in Ganga river at Padilla Mahadev temple, during the Manmas month, amid the coronavirus pandemic, in Prayagraj, Wednesday, Sept. 23, 2020. Credit: PTI Photo.

12:05

Most people infected with novel coronavirus develop symptoms, says study

Most people who are infected by the SARS-CoV-2 virus, that causes Covid-19, are not asymptomatic throughout the course of infection, a review of studies carried early in the pandemic suggests.



11:54

11:43

India's Recovery rate continues to rise, crosses 81 per cent, according to the Ministry of Health and Family Welfare

11:36

Covid-19 tally in India crosses 56-lakh mark with 83,347 new infections

India's Covid-19 caseload went past56 lakh with83,347 infections being reported in a day, while over 45 lakh people have recovered from the disease,according to the Union Health Ministry data updated on Wednesday.



11:17

Air India's flights to nowhere to take Indians on scenic sightseeing joyride: Report

Taking cue from Australian national carrier Qantas Airways, Air India is planning to start its own 'flights to nowhere' that will take off and land at the same airport, giving passengers a scenic view of major sights in India, officials familiar with the matter told Hindustan Times.

11:08

Maharashtra: Mumbai's Nair Hospital flooded following heavy rainfall in the city. It is a COVID-19 dedicated hospital.

As per Brihanmumbai Municipal Corporation (BMC), Mumbai city received 173 mm rainfall in the last 24 hours. pic.twitter.com/Y2YdYXls9n

— ANI (@ANI) September 23, 2020

10:56

Click here for live updates on the coronavirus vaccine: Trials for Russia's 'Sputnik-V' vaccine in India may start in next few weeks

10:44

Coronavirus sounds like a 'beautiful place' in Italy: US President Donald Trump

During an election rally speech in the battle ground State of Pennsylvania, US President Donald Trump urged his supporters not to call the virus behind the Covid-19 pandemic, coronavirus, saying the name sounds like a "beautiful place" in Italy.



10:38

22 new Covid-19 cases in Mizoram, tally rises to 1,713

At least 22 people including 16 BSF jawans have tested positive for Covid-19 in Mizoram, taking the state's virus caseload to 1,713, an official said on Wednesday.



10:19

Covid-19 positive woman dies by suicide in Shimla hospital

A 54-year-old woman who had tested positive for the coronavirus last week allegedly killed herself at a hospital in Shimla in Himachal Pradesh early Wednesday, police said.

The woman was admitted to Deen Dayal Upadhyay Hospital after she tested positive for the virus on September 18, Superintendent of Police Mohit Chawla

10:13

US crosses 2 lakh coronavirus deaths as spread quickens worldwide

The United States has passed 200,000 deaths from the coronavirus pandemic, as a record-breaking wave of new infections forces authorities in Europe to reimpose lockdown restrictions.



10:02

Fujifilm's Avigan shown to be effective in Japanese Phase 3 trial for Covid-19

Fujifilm Holdings Corp said on Wednesday its Avigan drug reduced viral loads and symptoms of Covid-19 patients, paving the way for regulatory approval in Japan after months of delays.



09:51

British fitness app data shows cycling on the rise during Covid-19 pandemic

Active travel is booming in Britain as millions of commuters, shoppers and schoolchildren get on their bikes to avoid confined spaces on public transport during the Covid-19 pandemic, data from the fitness tracker app Strava showed on Wednesday.



09:42

Saudi to gradually resume 'umrah' pilgrimage from October 4

Saudi Arabia will gradually resume the year-round 'umrah' pilgrimage for Muslims from October 4, the interior ministry said Tuesday, seven months after it was suspended because of the coronavirus pandemic.

09:31

According to the Indian Council of Medical Research, 6,62,79,462 samples were tested up to 22nd September for Covid-19.Of these, 9,53,683 samples were tested yesterday.

09:16

India reports 83,347 fresh coronavirus cases, 1,085 deaths in the last 24 hours.

India's Covid-19case tally crosses the 56-lakh mark with a spike of 83,347 new cases & 1,085 deaths in last 24 hours. The total case tally stands at 5,646,011 including 9,68,377 active cases, 45,87,614 cured/discharged/migrated & 90,020 deaths: Ministry of Health & Family Welfare

09:16

India's testing capacity has surged to more than 12 lakhdaily tests. Higher than 6.5 crore total tests have been conducted across the country. Higher testing leads to early identification of positive cases. As evidence revealed, eventually positivity rate will fall: Health Ministry

09:07

Donald Trump demands UN hold China to account for coronavirus pandemic

President Donald Trump assailed China as the coronavirus villain Tuesday in a strongly worded United Nations speech, extolling his own actions in the pandemic and demanding that the global organization hold accountable 'the nation which unleashed this plague onto the world.'

08:59

US health officials take the scare out of Halloween

Forget the princess outfit, the Batman suit, or the Donald Trump mask.

The coronavirus pandemic has put a damper on Halloween celebrations in the US this year with health officials encouraging Americans to avoid heading out for a candy-fuelled evening and to instead stay home and hold virtual parties.

08:49

People wearing protective face masks leave the Chhatrapati Shivaji Terminus railway station, amidst the coronavirus disease outbreak, in Mumbai, India. Credit: Reuters

08:41

Trump lashes China as UN warns against 'Cold War'

US President Donald Trump cast blame on China over the coronavirus pandemic in an address on Tuesday before the United Nations, whose chief warned against a new "Cold War" between the two powers.



08:33

Brazil allows some fans back into football stadiums

The decision would allow for crowds of around 25,000 in Rio's Maracana stadium and came after the Brazilian Football Confederation asked health officials to rule on their proposal to get fans back into grounds that have been closed since March when football shut down due to the spread of the Covid-19 pandemic.

08:24

Sanofi and GSK to provide 72 million vaccine doses to Canada

French pharmaceutical firm Sanofi and Britain's GSK have promised up to 72 million doses of their Covid-19 vaccine candidate to the Canadian government, which has already signed similar agreements with several American companies.

08:17

Wisconsin Governor Tony Evers on Tuesday declared a new public health emergency and extended a face mask mandate into November to fight acoronavirusflareup in his state, as the number of people who have died across the United States since the pandemic began passed 200,000.

In-person social gatherings have led to cases in Wisconsin skyrocketing among people aged 18 to 24, Evers said, as he pleaded with students who returned to colleges for the fall semester to stay out of bars and wear masks.

08:05

Coronavirus Worldometer | 15 countries with the highest number of cases, deaths due to the Covid-19 pandemic

This data from Worldometer lists the countries most affected by the coronavirus pandemic.

07:57

Contactless payments rise as Covid-19 changes shopping habits

The Covid-19 pandemic has impacted the consumer behavior and consumption patterns, even as the country has begun to unlock completely after months of lockdown.

07:46

Tune in to Dr Sharon S Rajkumar on the challenges of being a counsellor in unprecedented times like Covid-19 pandemic. Also, listen to what a swab collector and Covid-19-ambulance drivers have to say.

07:32

Coronavirus India update: State-wise total number of confirmed cases, deaths on September 23.



07:31

Covid-19 vaccine for children may not arrive before September 2021

The pandemic has many parents asking two burning questions. First, when can I get a vaccine? And second, when can my kids get it?

07:30

Bengaluru's Covid-19 outbreak has worsened in last five weeks

The last five weeks have seen the Covid-19 outbreak in Bengaluru worsen as the city grapples with a spurt in cases and an ongoing ventilator bed shortage which is leaving some in the lurch.



07:29

Kids' drawings are displayed on a panel inside a quarantine centre for the coronavirus disease patients amidst the spread of the disease at an indoor sports complex in New Delhi. Credit: Reuters Photo.

07:27

Good Morning and welcome to Deccan Herald's live coverage of the coronavirus outbreak.

For previous updates onthe Covid-19 pandemic, click here.
Dailyhunt
Disclaimer: This story is auto-aggregated by a computer program and has not been created or edited by Dailyhunt. Publisher: Deccan Herald