National
Coronavirus news live updates: West Bengal govt issues guidelines for Durga Puja; pandals to be kept open from all sides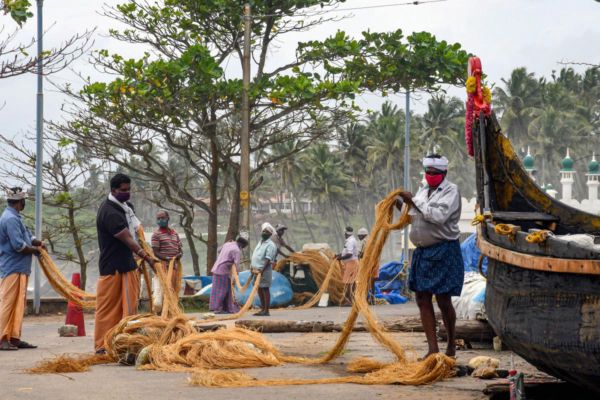 India's Covid-19 tally crossed the 60-lakh mark, while the death toll crossed 95,000. The country reported 82,170 new Covid-19 cases today with over 1,000 deaths. The health ministry said that 50,16,520 people have so far recovered from the coronavirus with the recovery rate improving to 82.58%. Stay tuned for more updates.
19:07

2,112 new Covid-19 cases, 1,805 discharged cases & 15 deaths reported in Rajasthan today. The total number of positive cases rises to 1,30,971 till date, including 20,043 active cases, 1,08,476 discharged cases and 1,456 deaths: State Health Department

19:02

Kerala reported 4,538 new Covid-19 cases, 3,347 recovered cases & 20 deaths today, taking the total number of positive cases in the state till date to 1,79,922, including 57,879 cases & 697 deaths.

The state government has decided to call an all-party meeting tomorrow to discuss the Covid-19 situation in the state. The meeting will be held via video conference, said Kerala CM Pinarayi Vijayan

The Chief Minister said that currently, the government is not considering a complete lockdown.

"Instead, steps will be taken to strictly follow the Covid-19 guidelines. All party meeting tomorrow will discuss in detail all issues regarding the increase in Covid-19 spread in the state," Vijayan added.

Credit: PTI Photo

18:16

West Bengal govt issues guidelines for Durga Puja; pandals should be kept open from all sides, no cultural programme to be held.

West Bengal govt issues guidelines for Durga Puja; pandals should be kept open from all sides, no cultural programme to be held. pic.twitter.com/quGUyThkDm

— ANI (@ANI) September 28, 2020

18:15

Goa DGP Mukesh Kumar Meena has tested positive for Covid-19 following which he was admitted to the hospital. His health condition is stable. He will continue taking treatment: Dr Shekhar Salkar, Manipal Hospital, Dona Paula, Goa

16:45

Congress workers stage a protest against health services in Madhya Pradesh during the ongoing coronavirus pandemic, outside CM House in Bhopal, Monday, Sept. 28, 2020. Credit: PTI Photo

16:44

Delhi High Court asks prisons if they have enough isolation wards

The high court sought from the prison authorities the details regarding the number of Covid-19 cases in the three jails in the national capital, the number of prisoners who are out on bail and need to surrender in the next month and the number of isolation wards in each of the three jails.

16:41

Coronavirus-delayed Olympic torch relay to start next March

The Olympic flame had already arrived in Japan from Greece and the relay was days from beginning earlier this year when organisers and Olympic officials took the historic decision to postpone the Games by 12 months.

A lantern bearing the Tokyo 2020Olympicflame is seen on display at theOlympicMuseum in Tokyo on September 1, 2020. Credit: AFP Photo

16:40

15:13

India's recovery rate improves to 82.58%

14:29

BJP leader says will hug Mamata if infected by coronavirus, police complaint filed

Newly-appointed BJP national secretary Anupam Hazra has said that he would hug Chief Minister Mamata Banerjee if he is infected by the coronavirus to make her feel the pain of the families of Covid-19 patients.

14:28

Indonesia reported 3,509 new coronavirus cases on Monday, taking the total number of confirmed infections to 2,78,722.

13:41

New Zealanders may be able to travel to some Australian states before Christmas, says Ardern

Travel between New Zealand and some states of Australia is possible before the end of the year, New Zealand's Prime Minister Jacinda Ardern said on Monday.

13:40

Goa DGP Mukesh Kumar Meena tests positive for coronavirus

Goa's Director General of Police Mukesh Kumar Meena on Monday tested positive for coronavirus infection, a senior health department official said.

13:39

Russian energy minister warns of Covid-19 risks for global oil

Russian Energy Minister Alexander Novak said on Monday that the global oil market has been stable for the past few months and the balance between supply and demand has been restored, while uncertainties, such as a rise in Covid-19 cases, remain.

13:38

Senior Congress MLA H K Patil tests positive for coronavirus

Senior Congress MLA in Karnataka H K Patil on Monday said he had tested positive for coronavirus.

12:30

UN failures on coronavirus underscore the need for reforms

The coronavirus that has claimed nearly 1 million lives has underscored the failure of the United Nations to bring countries together to defeat it, prompting renewed calls to reform the world body so that it can meet challenges far different — and more daunting — than those it faced at its birth.

12:20

Telangana recorded 1,378 new Covid-19 cases, pushing the tally to 1,87,211, while the death toll rose to 1,107 with seven more fatalities.

11:59

India's total recoveries have crossed the landmark milestone of 50 lakh today (50,16,520). 74,893 recoveries have been registered in the last 24 hours. India has witnessed a very high level of more than 90,000 recoveries every day in the recent past.

11:53

State-wise total number of confirmed cases, deaths on September 28

The total number of confirmed positive cases in India reaches 60,75,045; death toll stands at 95,600 as of September 28.

11:26

3,235 new Covid-19 cases, 3,378 recoveries and 16 deaths reported in Odisha till September 27. The total number of cases rise to 2,12,609 including 1,73,571 recoveries, 38,172 active cases and 813 deaths.

10:19

Pasta, wine and inflatable pools: How Amazon conquered Italy amid Covid-19

Ludovica Tomaciello had never shopped on Amazon before being trapped at her parents' house in March during Italy's coronavirus lockdown. Bored one afternoon scrolling TikTok, she spotted hair scrunchies that she then tracked down and ordered on Amazon.

09:33

Futures in peril: Takeaways from rise of child labour in coronavirus

The coronavirus pandemic has forced millions of the world's poorest children to halt their education and go to work to help support their families, as schools have closed and parents' incomes have fallen or vanished.

09:24

India reported 1,039 Covid-19 deaths in the last 24 hours.

09:20

India's case tally stands at 60,74,703 including 9,62,640 active cases, 5,01,6521 discharged and 95,542 deaths.

09:18

India sees 82,170 new Covid-19 cases; tally breaches 60-lakh mark

09:02

Supreme Court to hear a plea filed by UPSC aspirants today, seeking postponement of upcoming Civil Services exam. The petition seeks postponement of the Civil Services exam for 2 to 3 months, in the wake of flood/rainfall in parts of the country and Covid-19 pandemic.

08:29

How coronavirus has spread across the world

On January 11, the first coronavirus death was officially recorded in China. Eight months after the identification of the disease that appeared in Wuhan in December 2019, the world has recorded over one million deaths.

07:33

India's total recoveries cross 50 lakh mark. The last 10 lakh recoveries were added in just 11 days: Union Ministry of Health and Family Welfare.

07:24

Exile Tibetan Buddhist monks wear masks as protection against the coronavirus as they circumambulate the residence of Tibetan spiritual leader the Dalai Lama in Dharmsala. Credit: AP Photo

07:22

India's Covid-19 tally crosses 60-lakh mark, but national recovery rate climbs to 82.46%

India's Covid-19 caseload sprinted past 60 lakh on Sunday night, 12 days after it crossed the 50-lakh mark, while the total number of recoveries too surged to 50,02,959, according to data from states and union territories.

07:19

Delhi's Covid-19 fatality rate less than 1% in last 10 days: Satyendar Jain

Delhi Health Minister Satyendar Jain said on Sunday the Covid-19 fatality rate in the national capital was less than one per cent in the last 10 days and asserted that a massive increase in testing for detection of coronavirus infection has led to the rise in cases.

07:18

Intensify surveillance, contact tracing: UP CM Yogi Adityanath to officials

To keep the Covid-19 positivity rate below five per cent and the death rate below one per cent in Uttar Pradesh, Chief Minister Yogi Adityanath on Sunday directed officials to intensify surveillance and contact tracing.

07:17

Nearly one million who died of Covid-19 also illuminated treatment

The nearly 1 million people around the world who have lost their lives to Covid-19 have left us a gift: Through desperate efforts to save their lives, scientists now better understand how to treat and prevent the disease — and millions of others may survive.

07:16

Government Chief Whip tests positive for Covid-19

Odisha Assembly Speaker S N Patro and Parliamentary Affairs Minister B K Arukha on Sunday tested negative for Covid-19 while Government Chief Whip Pramila Mallick and another ruling BJD MLA tested positive for the infection, official sources said.
Dailyhunt
Disclaimer: This story is auto-aggregated by a computer program and has not been created or edited by Dailyhunt. Publisher: Deccan Herald