National
Coronavirus vaccine news updates: South Africa approves AstraZeneca vaccine for emergency use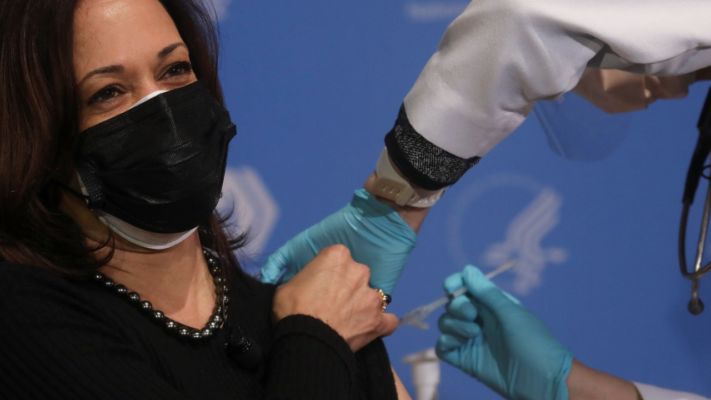 Bill gates said in an interview that poorer nations might see a 6-8 month lag in getting Covid-19 vaccines, as opposed to previous estimates. A 27-year old health worker in Odisha passed away after receiving a coronavirus vaccine on January 23. Officials have however, denied the death link to the vaccine. Pfizer said on Wednesday that they were working on a booster shot to offer protection against the newer strains of the coronavirus. Stay tuned for more updates.
17:41

South Africa approves AstraZeneca vaccine for emergency use

South Africa has approved AstraZeneca's Covid-19 vaccine for emergency use and is reviewing applications by rival manufacturers, Johnson & Johnson and Pfizer, the medicines regulator said on Wednesday.

"In terms of the AstraZeneca vaccine . this has been granted emergency use (approval) and there will be a press conference with the minister of health on this (later)," said Helen Rees, chairwoman of the South African Health Products board, during a media briefing.

16:38

EU asks AstraZeneca to publish vaccine contract as supply row deepens

The European Union is asking AstraZeneca to publish the contract it signed with the bloc on COVID-19 vaccine supplies, an EU official said on Wednesday, in an escalation of the row over delivery delays.

The company pulled out of a meeting with the European Union scheduled for Wednesday, the official said.

In an interview with newspapers on Tuesday, AstraZeneca CEO Pascal Soriot said the EU contract was based on a best-effort clause and did not commit the company to a specific timetable for deliveries.

16:07

Covaxin 'effectively neutralises' UK coronavirus variant: ICMR

Bharat Biotech's Covid-19 vaccine candidate, Covaxin, 'effectively neutralises' the UK variant of the coronavirus, shows a study by theIndian Council of Medical Research (ICMR).

15:23

Myanmar prioritises healthcare workers as it launches vaccination drive

Myanmar launched a Covid-19 vaccination programme on Wednesday, with healthcare staff and volunteer medical workers the first to receive shots of the AstraZeneca and Oxford University vaccine donated by neighbouring India.

The Southeast Asian country managed to contain the number of Covid-19 cases early in the pandemic, but is now fighting a second wave, recording more than 138,000 cases and 3,082 deaths.

Last week, Myanmar received 1.5 million doses of the vaccine manufactured by the Serum Institute of India, amid a diplomatic drive by New Delhi to supply neighbouring countries just as regional rival China has also pledged vaccine consignments.

14:46

Sri Lanka to procure 2 to 3 million doses of Covid vaccine from India: Official

Sri Lanka will purchase 2 to 3 million doses of Oxford-AstraZeneca vaccine from its Indian manufacturing company Serum Institute of India during the next two days, a top Sri Lankan official said here on Wednesday.

Lalith Weeratunga, the advisor to President Gotabaya Rajapaksa said that purchasing from India will follow Thursday's arrival of India's free vaccines to Sri Lanka. (PTI)

13:40

Bill Gates sees 6-8 month lag for poor countries to get Covid-19 shots

Poorer countries face a best-case scenario of a 6-8 month lag behind richer nations in getting access to Covid-19 vaccines to protect their populations against the pandemic disease, the philanthropist Bill Gates said on Wednesday.

In an interview with Reuters, Gates called the rollout of the first Covid-19 shots a "super hard allocation problem" that was putting pressure on global institutions, governments and drugmakers.

"Every politician is under pressure to go bid for their country to get further up in line," Gates said. (Reuters)

13:27

Wisconsin pharmacist to plead guilty to trying to spoil Moderna Covid-19 vaccine doses

A Wisconsin pharmacist has agreed to plead guilty to purposely trying to spoil hundreds of doses of Moderna's Covid-19 vaccine in a bid to render them ineffective, the USJustice Department said.

Steven Brandenburg, 46, is charged with two counts of attempting to tamper with consumer products and with reckless disregard for the risk that another person will be placed in danger of death or bodily injury, according to the statement by the Justice Department. (Reuters)

13:25

China injects over 22 million coronavirus vaccines, says health official

China has administered about 22.8 million doses of Covid-19 vaccines, a health official said on Wednesday, as the country steps up its campaign ahead of next month's Lunar New Year holidays and the accompanying flurry of travel.

The world's most populous nation has widened its targeted inoculation scheme since mid-December to include more priority groups facing higher risk of virus exposure, in a bid to prevent any outbreaks in winter and spring.

12:33

US to purchase additional 200 million coronavirus vaccine doses: Joe Biden

President Joe Biden has announced that the US will purchase an additional 200 million doses of the two coronavirus vaccines, an increase in the available supply by 50 per cent, which will fully vaccinate 300 million Americans by the end of this summer.

After reviewing the current vaccine supply and manufacturing plans, Biden on Tuesday announced that his administration will increase overall weekly vaccination distribution to states and tribal territories from 8.6 million doses to a minimum of 10 million doses.

12:29

87-year old person dies from Covid-19 as Puducherry sees 24 new cases

Twenty four fresh cases of coronavirus were reported on Wednesday in Puducherry, raising the total infection count to 38,934. An 87-year-old person hailing from Sooramangalam village in Puducherry region died of the infection, taking the toll to 646.

The new cases were identified after examination of 1,979 samples in the last 24 hours. While Puducherry saw 21 new cases, Mahe recorded three. (PTI)

11:24

India, China's Covid-19 vaccinations to stretch to late 2022: Study

Covid-19 vaccination programmes in India and China will stretch until late 2022 due to the sheer population size of the respective countries, and more than 85 poor countries will not have widespread access to vaccines before 2023, a study showed on Wednesday.

While the rapid development of vaccines has raised hopes for an end to the year-long pandemic, concerns over unequal distribution have also mounted due to production problems and large bilateral deals between wealthy countries and drug makers.

11:04

27-year-old man in Odisha dies after taking coronavirus vaccine; officials deny connection

A 27-year-old healthcare worker died in Odisha on Tuesday, three days after taking the Covid-19 vaccine, while the state health department said his death is not related to vaccination.

The man who was inoculated on January 23 died in Veer Surendra Sai Institute of Medical Sciences and Research (VIMSAR) at Burla in Sambalpur district, an official statement said.

11:03

India reports spike of 12,689 Covid-19 cases, 137 deaths

India's Covid-19 tally mounted to 1,06,89,527 with 12,689 new cases in a day, while 1,03,59,305 people have recuperated from the infection so far pushing the national recovery rate to 96.91 per cent on Wednesday, according to the Union Health Ministry's data.

With 137 more fatalities, the death toll reached 1,53,724, the data updated at 8 am showed. The Covid-19 case fatality rate stands at 1.44 per cent.

09:51

US Vice President Harris receives 2nd dose of coronavirus vaccine

09:16

Pfizer working on booster shot for protection against coronavirus variants

Pfizer Inc said on Tuesday that along with partner BioNTech Se it was developing a booster shot to protect against Covid-19 variants.

"We are already laying the groundwork to respond quickly if a variant of SARS-CoV-2 shows evidence of escaping immunity by our vaccine," Pfizer said in an email toReuters.

08:44

This country is leading the global race to vaccinate

About 30% of Israelis have received at least one dose of a coronavirus vaccine, a rate that outpaces any other country. The United States is far behind, with about 6% of residents having received a vaccine dose, and countries in the European Union are off to an even slower start.

The data on countries with a current vaccination campaign was compiled from government sources by Our World in Data. Many countries, particularly those in the developing world, where governments have struggled to procure vaccines, are not yet vaccinating residents at all.

07:56

Travel Update | 204 more suburban trains to begin running from Jan 29

Central Railway has decided increase the suburban services from the existing 1580 to 1685 services. Western Railway has decided to increase the existing 1201 suburban services to 1300 services.

Passengers as permitted by Ministry of Railways and Government of Maharashtra are ONLY allowed to travel by the suburban trains. Others are requested not to rush to the railway stations

Passengers are advised to adhere all norms, SOPs related to Covid-19 during the boarding, travel and at destination.

07:38

Mexico President Obrador still undergoing minor Covid-19 symptoms: Deputy Health Minister

Mexico's Deputy Health Minister Hugo Lopez-Gatell says Mexican President Andres Manuel Lopez Obrador was still experiencing minor symptoms of Covid-19.

Lopez Obrador had a headache and fever when he tested positive for the virus on Sunday, Lopez-Gatell said, has had no other symptoms and was "doing well." (Reuters)

07:36

Mexico may approve Russian Covid-19 vaccine within days, health official says

Mexico Deputy Health Minister Hugo Lopez-Gatell said on Tuesday that emergency use of Russia's Sputnik V Covid-19 vaccine should be authorized within days, after a favourable recommendation by a committee within Mexico's health regulator.

The exact arrival of the first shipments of Sputnik V to Mexico had not been confirmed, Lopez-Gatell said, though officials said earlier in the day that 200,000 doses could arrive next week. (Reuters)

07:22

Covid-19 vaccine concerns divide nations at Davos

Divisions were on display Tuesday at the Davos virtual summit as nations called for fair distribution of Covid-19 vaccines amid fears of hoarding by rich nations.

The annual gathering of business and government leaders at the World Economic Forum in the Swiss Alps has been pushed online due to the pandemic, but organisers used the opportunity to promote global cooperation in combatting the novel coronavirus.

07:21

Johnson & Johnson Covid-19 vaccine results 'next week': CFO

Johnson & Johnson expects to report results from the eagerly-anticipated clinical trial of its Covid-19 vaccine next week, the US pharmaceutical's chief financial officer told CNBC Tuesday.

The company would be expected to apply for an emergency approval for its single-dose shot at the same time, and would likely become the third authorized vaccine in the US soon after that.

"We plan to report out by early next week in terms of our results," said Joseph Wolk.

07:20

Unknown if vaccinated people can spread Covid-19: EMA

It is still not known whether people vaccinated against Covid-19 can still transmit the coronavirus, the head of the EU's medicine regulator told MEPs on Tuesday.

There are also concerns about whether vaccines developed last year will be effective against new mutations of the coronavirus strain now circulating the globe.

07:18

44.3 mn doses of Covid-19 vaccines distributed, 23.5 mn administered: US CDC

The USCenters for Disease Control and Prevention said it had administered 23,540,994 doses of Covid-19 vaccines in the country as of Tuesday morning and distributed 44,394,075 doses.

The tally of vaccine doses are for both Moderna and Pfizer/BioNTech, vaccines as of 6:00 a.m. ET on Tuesday, the agency said.

07:16

Covid-19 vaccination: Over 20 lakh beneficiaries inoculated

Over 20 lakh healthcare workers across the country have received Covid-19 vaccine jabs till Tuesday evening, as per provisional reports, the Union health ministry said on Tuesday.

The ministry said that on the eleventh day of the nationwide immunisation drive, 5,615 beneficiaries were vaccinated till 7 pm in five states -- Tamil Nadu (4926), Karnataka (429), Rajasthan (216), Telangana (35) and Andhra Pradesh (9) -- through 194 sessions.
Dailyhunt
Disclaimer: This story is auto-aggregated by a computer program and has not been created or edited by Dailyhunt. Publisher: Deccan Herald