National
Modi treats Japanese PM, wife with Gujarati food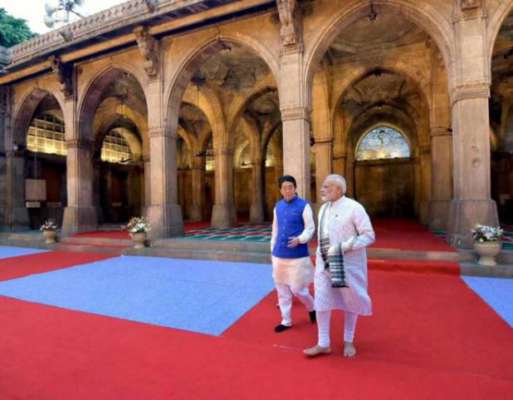 After an eventful day of joining the roadshow, visiting Mahatma Gandhi's Sabarmati Ashram and 16th century Sidi Saiyad Mosque, the Japanese Prime Minister Shinzo Abe, his wife Aki Abe and their delegation on Wednesday were treated to a pure vegetarian delight for dinner by their host Prime Minister Narendra Modi.

Prime Minister Modi, who hails from Gujarat, is a strict vegetarian and is said to have personally intervened to choose the dinner menu for his esteemed guests.

His choice of venue end at Agashiye (Terrace) of city's boutique heritage hotel - House of Mangaldas Giridhardas, a textile czar from Ahmedabad in yesteryears.

Built in 1924, the Japanese were hosted at House of MG, as it is popularly known. The hotel is well-known for its Gujarati thali cooked in traditional manner.

The Gujarati thali consists of no less than a dozen varieties of servings, beginning from Sarbat, Salad, pickles, chutney, four-five types of vegetables, three types of snacks or farsans, sweet (not desserts!), roti, rice-khichadi, desserts and accompaniments as curd, raita and papad. And yes. It was on the serving list.

"Other than Gujarati thali, on the menu was Bajri rotli, traditional Gujarati mix vegetable - Undhiyu, baked chana flour cake - handvo," Abhay Mangaldas, the current owner of this property restored to its old-world glory into a heritage hotel told Deccan Herald.

To keep the taste buds of visiting dignitaries in mind, House of MG also had kept a couple of Japanese dishes - Sushi and Tempura - as a backup.

However, looking at the servings of Gujarati fare, it seemed doubtful that anybody would have the appetite left for home food.
Dailyhunt