National
News Live: Mamata denies political violence in Bengal, terms it 'BJP gimmick'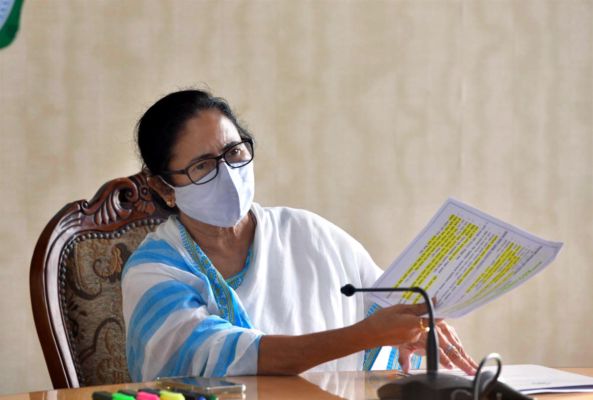 Deccan Herald's latest updates of news in India and across the world.
17:24

Rafael Nadal pulls out of Wimbledon, Tokyo Olympics

Rafael Nadal on Wednesday said that he is pulling out of Wimbledon and Tokyo Olympics.

16:48

There is no political violence in West Bengal. We condemn violence. Political violence is a BJP gimmick. They should have gone to UP where the dead bodies are floating: West Bengal CM

(ANI)

16:06

Not in favour of banning Twitter but norms are norms, says Ravi Shankar Prasad

A day after the central government withdrew Twitter's 'intermediary platform' status due to non-compliance with new IT rules, union minister Ravi Shankar Prasad said the government is not in favour of banning any platform but one must "follow the law".

15:56

SII plans to start clinical trials of the Novavax shot for children in July: Sources

(ANI)

15:40

India 'priest' of world peace, equipped to respond to aggression: Rajnath Singh

Defence Minister Rajnath Singh on Thursday said India is the "priest" of world peace, but asserted it has the wherewithal to give a befitting reply to acts of aggression.

14:58

UK, US strike deal over Airbus-Boeing dispute

Britain on Thursday said it had agreed a truce with the United States over a 17-year long tariffs dispute involving European planemaker Airbus and US rival Boeing.

It comes in the wake of a similar deal between the European Union and US announced Tuesday.

The dispute, the longest-running in the history of the World Trade Organization, has seen damaging retaliatory tariffs levied on products on both sides of the Atlantic owing to disagreements over support for large civilian aircraft, the UK government explained in a statement Thursday.

But both sides have finally agreed "to suspend retaliatory tariffs for five years", it added. (AFP)

14:33

Kerala High Court dismisses a petition of Kerala Pradesh Congress Committee (KPCC) secretary, KP Noushad Ali challenging the Lakshadweep administration's reforms including Lakshadweep Development Authority Regulation 2021 (LDAR) and the Prevention of Anti-Social Activities Act.

— ANI (@ANI) June 17, 2021

14:31

SC closes case against Italian marines for killing 2 fishermen; Rs 10 crore compensation to heirs (PTI)

14:31

Jagdeep Dhankhar to meet Amit Shah later today (ANI)

14:30

We gave them (Twitter) 3 months' time. Others have followed, they haven't. Rule 7 of (IT) guidelines says if you don't comply then under Sec 79 you may lose intermediary status & may become liable to other laws incl penal laws of the country: Union Electronics & IT Min RS Prasad pic.twitter.com/riRM5FGsgu

— ANI (@ANI) June 17, 2021

14:28

NIA arrests former Mumbai police officer Pradeep Sharma (PTI)

13:50

Denmark's Eriksen to get heart starter implant after collapse on pitch

Denmark's Christian Eriksen will get a heart starter device implanted after his collapse during Denmark's Euro 2020 opener on Saturday, the team's national team doctor said in a statement on Thursday.

"After Christian has been through different heart examinations it has been decided that he should have an ICD (heart starter)," doctor Morten Boesen said.

He added that such a device is necessary after a cardiac attack due to rhythm disturbances. (Reuters)

13:50

5 member Tamil National Alliance delegation led by LoP in Sri Lankan Parliament, R Sampanthan called on High Commissioner at India House today. Discussions on devolution & development in Sri Lanka including in Northern & Eastern Provinces held: High Commission of India in Colombo pic.twitter.com/0M9mXn4HFv

— ANI (@ANI) June 17, 2021

13:49

Veteran Karnataka cricketer B Vijayakrishna dies (PTI)

13:49

We had discussions with Arun Singh. Congress is doing political conspiracy, Siddaramaiah wants to be CM. But he doesn't know there's 'Kattappa' behind him. Arun Singh said our CM is Yediyurappa. What AH Vishwanath said, he said in his personal capacity: Karnataka Min B Sriramulu pic.twitter.com/z7faHMF2Jt

— ANI (@ANI) June 17, 2021

13:48

Until we administer the first dose of vaccine, tourism will not be reopened here: Goa CM

13:46

Chinese crewed spacecraft Shenzhou-12 docks with space station module Tianhe (Reuters)

13:44

Ryanair, UK airports sue UK government over Covid travel rules (AFP)

13:15

Farmers should understand that there is no harm in three farm laws: Haryana CM

13:14

"It rained all night. No auto or bus available so had to travel on my scooty despite soaring fuel prices. It has also shut down now, will perhaps have to walk all the way to office," says a local, making his way through waterlogged roads in Kolkata's Golf Green area#WestBengal pic.twitter.com/DOmneuhRrY

— ANI (@ANI) June 17, 2021

12:51

Apple Daily says Hong Kong press freedom 'hanging by a thread' after raid (AFP)

12:51

Jagdeep Dhankhar leaves from Rashtrapati Bhawan after meeting the President (ANI)

12:50

Delhi riots: Court orders immediate release of 3 student activists from jail (PTI)

12:50

Delhi Court defers till June 19th, the hearing on the issue of taking cognisance on chargesheet filed in connection with the case relating to violence at Red Fort on Republic Day.

— ANI (@ANI) June 17, 2021

12:48

SC refuses to stay its order directing Haryana govt, Faridabad civic body to remove encroachments in Aravali forest near Khori village (PTI)

12:48

Public opinion about Govt & party is negative. It's not good. Mr Yediyurappa's age, health; he's not in spirit to run govt as CM. Under his guidance, accommodate someone else in that place. Family intervention in admn becoming worst, I spoke to Arun Singh: BJP MLC AH Vishwanath pic.twitter.com/LIC6QWvTKZ

— ANI (@ANI) June 17, 2021

12:25

HC asks trial court to decide with promptitude issue of release of Devangana, Natasha, Asif

The Delhi High Court on Thursday asked a trial court to decide with "promptitude" and "expedition" the issue of release from jail of Jamia student Asif Iqbal Tanha and JNU students Devangana Kalita and Natasha Narwal, who were granted bail on June 15 in the north east Delhi riots case.

A bench of Justices Siddharth Mridul and A J Bhambhani asked the counsel for the accused and the Delhi Police to jointly mention the matter before the trial court at 12 PM.

The high court said it will again take up the matter at 3:30 PM. (PTI)

12:24

Ghaziabad assault case: FIR against Samajwadi Party functionary for circulating 'communal' video (PTI)

11:45

Internet outages hit Virgin Australia, Australian lenders (Reuters)

11:44

Airtel deploys additional 30 MHz spectrum in J&K, Ladakh to boost network capacity (PTI)

11:37

CBSE told the Supreme Court that the Class XII results will be decided on the basis of performance in Class 10, 11, 12

CBSE told the Supreme Court that the Class XII results will be decided on the basis of performance in Class 10 (30% weightage), Class 11 (30% weightage) & Class 12 (40% weightage).

— ANI (@ANI) June 17, 2021

He further submitted to Court that each school has to form a result committee to consider the marks of students obtained in the three examinations which would be vetted by the moderation committee of the CBSE.

— ANI (@ANI) June 17, 2021

AG KK Venugopal says that the declaration of results will be done by July 31, 2021.

— ANI (@ANI) June 17, 2021

11:36

HC begins hearing on pleas of Asif Iqbal Tanha, Devangana Kalita, Natasha Narwal for release from jail (PTI)

11:36

Kerala HC dismisses PIL challenging Lakshadweep administration's reform measures (PTI)

11:35

Ericsson wins 5G core network contracts from Vodafone in UK, Germany (Reuters)

11:14

China's liaison office in Hong Kong backs 'just action' on Apple Daily (Reuters)

11:14

Natasha Narwal, Devangna Kalita and Jamia student Asif Iqbal Tanha move Delhi HC for their immediate release from jail (ANI)

11:13

A friend in Maha Vikas Aghadi, state Congress chief Nana Patole said that they'll contest polls alone. They'll be a part of govt but contest alone. You can contest. Then the two remaining parties will think about what would they do together in future: Shiv Sena MP Sanjay Raut pic.twitter.com/Rq5KeczvS8

— ANI (@ANI) June 17, 2021

11:12

Security of TMC leader Mukul Roy has been withdrawn by Ministry of Home Affairs (MHA), order has been issued (ANI)

11:11

Chinese mourn passing of heroic pig that survived 2008 quake

A pig that became an unlikely national icon in China after surviving 36 days under rubble from a powerful 2008 earthquake has died at the age of 14, sparking an outpouring of emotion on Thursday.

"Zhu Jianqiang", or "Strong Pig", shot to fame after being discovered alive after the 7.9-magnitude earthquake in southwestern Sichuan province on May 12, 2008. (AFP)

10:44

India extends $100 million Line of Credit to Sri Lanka for solar energy projects (PTI)

10:43

IKEA enters Bengaluru with eCommerce and mobile shopping app

Swedish home furnishing retailer IKEA announced on Thursday the launch of its eCommerce services and mobile shopping app in Bengaluru.

There will be over 8,000 home furnishing products and solutions to choose from, it said in a statement.

The company opened its second IKEA India store in Navi Mumbai in December 2020.

IKEA already has online presence in Hyderabad, Mumbai, Pune, Ahmedabad, Surat, and Vadodara. (PTI)

10:11

NIA conducts raid at the residence of Shiv Sena leader and former 'encounter specialist' of Mumbai Police, Pradeep Sharma

Mumbai: NIA conducts raid at the residence of Shiv Sena leader and former 'encounter specialist' of Mumbai Police, Pradeep Sharma. Details awaited.#Maharashtra pic.twitter.com/s6dO1WMh6T

— ANI (@ANI) June 17, 2021

09:31

Ivory Coast ex-leader Gbagbo heads home after war crimes acquittal

Former president Laurent Gbagbo returns to Ivory Coast on Thursday for the first time in nearly a decade, after he was cleared of crimes against humanity and his once-bitter rival welcomed him back in the name of reconciliation.

Gbagbo left the country in humiliation in 2011, after his refusal to accept defeat in an election sparked a conflict that ended in his arrest and dispatch to The Hague.

The 76-year-old's homecoming will be a key test of stability in Ivory Coast, the world's biggest cocoa producer and the wealthiest country in francophone West Africa. (AFP)

09:29

Cloudy weather, light rain likely in Delhi (IMD)

09:20

MK Stalin to meet Narendra Modi later today (ANI)

08:49

7 dead, several missing due to flash floods in Nepal

Nepal: Flash floods wreak havoc in Sindhupalchok, leaving at least 7 dead and several missing.

Melamchi town submerged in a thick layer of mud & water. As per officials, about 200 houses in the town have been partially or completely damaged. (16.06.2021) pic.twitter.com/0kLM0pfWge

— ANI (@ANI) June 17, 2021

08:48

England's Maguire declares himself fit for Scotland game

England centre back Harry Maguire said he is fit and available to face Scotland in Friday's Group D match at the European Championship after missing the opener due to an ankle ligament injury.

Maguire has been out for more than a month after picking up the injury in Manchester United's 3-1 Premier League win at Aston Villa on May 9. (Reuters)

08:47

A senior-level team of Delhi Police's Special Cell had gone to Bengaluru, Karnataka on May 31 to interrogate Twitter India MD Manish Maheshwari regarding 'Congress toolkit case': Sources

— ANI (@ANI) June 17, 2021

08:45

West Bengal Governor Jagdeep Dhankhar to meet President Ram Nath Kovind at Rashtrapati Bhawan today (ANI)

08:43

Myanmar footballer to seek asylum in Japan

A goalkeeper from Myanmar's national team who raised an anti-coup salute during a match outside Tokyo has refused to fly home and will seek asylum in Japan, his lawyer told AFP Thursday.

Myanmar has been in turmoil since a February coup ousted Aung San Suu Kyi's elected government, sparking huge protests and renewed clashes between the military and ethnic rebel armies in border regions.

08:41

Japan aims to introduce vaccine passports by late July: Government spokesperson

08:39

Paytm ropes in bankers for IPO, may file papers next month, according to reports (Reuters)

08:00

Chinese rocket carrying first crew to new space station blasts off
Read all the latest updates on COVID-19 here.
Dailyhunt
Disclaimer: This story is auto-aggregated by a computer program and has not been created or edited by Dailyhunt. Publisher: Deccan Herald