National
News Live: Mumbai court grants bail to Raj Kundra in the pornography case on a surety of Rs 50,000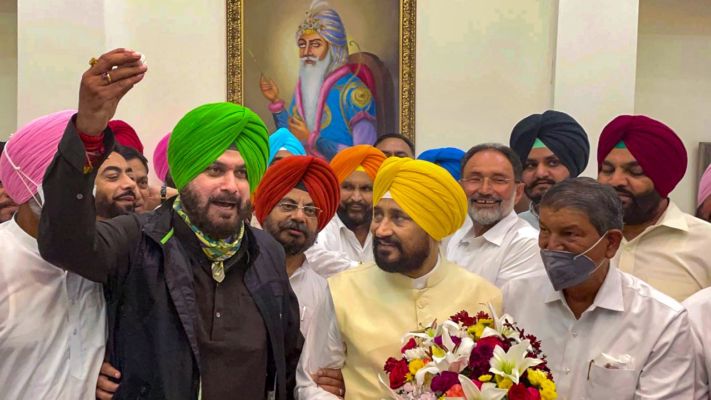 Track Deccan Herald's latest updates of news from India and across the world here!
17:10

A formal cabinet meeting is scheduled for 8 pm today: Punjab Deputy CM Sukhjinder Singh Randhawa

17:09

Delhi HC stays proceedings in trial court against cricketer-turned-politician Gautam Gambhir, his foundation and others in case related to alleged illegal stocking and distribution of Covid-19 drugs

17:05

Rahul Gandhi has created history by making first Dalit Sikh CM in Punjab: Sidhu

Rahul Gandhi has created history (by making first Dalit Sikh CM in Punjab). A wonderful person has assumed the office today. He has started working on matters of public interest. All issues including electricity bill waiver will be resolved:State Congress chief Navjot Singh Sidhu

17:05

Indian cricket team to play four Tests, 14 T20 Internationals and three ODIs at home between November 2021 to June 2022

15:08

Yogeshwar Sangwan (IFS: 1994), presently Joint Secretary in the Ministry, has been appointed as the next Ambassador of India to Paraguay: Ministry of External Affairs (MEA) pic.twitter.com/bAh3lHP3hT

— ANI (@ANI) September 20, 2021

14:43

Channi being offered sweets by Congress leaders after his swearing in (PTI)

14:16

1 dengue cases in Delhi this year; 53 in last 1 week

Over 50 fresh cases of dengue have been reported in the national capital in the last one week, taking the total count this year to more than 210, according to a civic report released on Monday.

In this month alone, 87 cases have been recorded till September 18, which is about 41 per cent of the cumulative cases.

The number of dengue cases for January 1-September 18 period is also the highest this year since 2019 when the count had stood at 217 in that same duration. (PTI)

14:13

Gujarat CM calls on VP Naidu

Newly-appointed Gujarat Chief Minister Bhupendra Patel on Monday called on Vice President M Venkaiah Naidu here.

It was a pleasure meeting with the Hon&dhapos;ble Vice President of India Shri @MVenkaiahNaidu ji in New Delhi. pic.twitter.com/yVoDVdwCuN

— Bhupendra Patel (@Bhupendrapbjp) September 20, 2021

14:06

New Punjab CM Channi urges Centre to repeal farm laws

Newly sworn-in Punjab Chief Minister Charanjit Singh Channi on Monday urged the Centre to repeal the farm laws and said his party stands firmly behind farmers agitating against the "black" farm laws.



14:01

Dalits should be wary of Cong's election stunt: Mayawati on appointment of Channi as Punjab CM

14:00
13:30

Russia's Investigative Committee says 5 people died in a shooting at a university in Perm (AP)

13:26

Party is 'supreme', says Channi

13:24

2015 sacrilege issue to be resolved: Channi

13:24

Channi appealed to government employees to 'end strike'

13:22

Congress made 'common man' CM, says Channi; calls Rahul 'revolutionary'

13:17

Water bill for farmers to be waived: Channi

Nobody's water supply will be cut off, the CM added.

We will waive water and electricity bills of farmers: Punjab CM Charanjit Singh Channi pic.twitter.com/YVXTMH5MbC

— ANI (@ANI) September 20, 2021

13:15

I represent the poor people: Channi

Calling himself a 'common man', Channi said he represnts the poor. The new PunjabCM thanked Rahul Gandhi.

He also praised Amarinder Singh, saying the latter has done 'good work'.

13:15

'I am with farmers', says Channi

12:49

Four injured in university shooting in Russia, says university press service (Reuters)

12:29

Javed Akhtar defamation case: Kangana Ranaut appears before Mumbai court (PTI)

12:28

UN, US, UK condemn Houthis' execution of 9 Yemenis (AP)

12:09

Congress is worried: Mayawati on new Punjab CM

12:06

Congratulations to Shri Charanjit Singh Channi Ji on being sworn-in as Punjab&dhapos;s Chief Minister. Will continue to work with the Punjab government for the betterment of the people of Punjab.

— Narendra Modi (@narendramodi) September 20, 2021

12:03

This is a huge insult to the entire Dalit community if Charanjit Singh Channi has been made the CM, only to hold the seat for Navjot Singh Sidhu, the chosen Gandhi family loyalist.

This completely undermines the Dalit empowerment narrative being peddled by the Congress. Shame. https://t.co/8zkPmiq9cq

— Amit Malviya (@amitmalviya) September 20, 2021

12:00

# Congress leader Rahul Gandhi and Punjab Congress president Navjot Singh Sidhu congratulate Charanjit Singh Channi on becoming the new Punjab CM#Chandigarh pic.twitter.com/QSl0QY9jI8

— ANI (@ANI) September 20, 2021

11:39

Ashok Gehlot advices Amarinder Singh to stay in Congress

11:34

HC to hold virtual hearing in Tarun Tejpal case on Oct 27 (PTI)

11:33

"I call upon all AIIMS to coordinate with each other so that we can provide the best healthcare to the public," says Union Health Minister Mansukh Mansaviya in a review meeting in Delhi with all AIIMS hospitals across the country.

— ANI (@ANI) September 20, 2021

11:29

Rahul Gandhi in attendance at Channi's oath taking ceremony

11:25

OP Soni takes oath as Punjab Deputy CM

11:24

Sukhjinder Randhawa takes oath as Deputy CM

11:20

Channi takes oath as Punjab CM

Congress MLA Charanjit Singh Channi takes oath as Punjab CM at Raj Bhawan pic.twitter.com/W68LmKIl70

— ANI (@ANI) September 20, 2021

11:19

6 injured in wall collapse in UP's Muzaffarnagar (PTI)

11:14

Thank top leadership for appointing me CM: Channi

11:13

Hope Channi can keep borders safe: Amarinder

11:06

On the swearing-in day of Sh @Charnjit_channi as Chief Minister, Mr Rawats&dhapos;s statement that &dhapos;elections will be fought under Sidhu&dhapos;, is baffling. It&dhapos;s likely to undermine CM&dhapos;s authority but also negate the very &dhapos;raison d&dhapos;être&dhapos; of his selection for this position.

— Sunil Jakhar (@sunilkjakhar) September 20, 2021

11:02

Channi will meet Captain Amarinder Singh in the afternoon: Congress MLA Kuldeep Singh Vaid

11:01

Leaders arrive for Channi's swearing in

11:00

Aditi Ashok ends 73rd in Portland (PTI)

10:45

42064 citizen between ages 18 and 44 have received both doses of the Covid vaccine in Maharashtra

10:43

"On the swearing-in day of Charanjit Channi as CM, Mr Rawats's statement that 'elections will be fought under Sidhu',is baffling. It's likely to undermine CM's authority but also negate the very 'raison d'être' of his selection for this position": Cong

10:43

Chandigarh | Charanjit Channi is going to meet Harish Rawat right now, he will then proceed to Raj Bhawan for the oath-taking ceremony. He will meet Captain Amarinder Singh in the afternoon

09:44

Gold hits over 1-month low as stronger dollar dents appeal

Gold prices hit a more than five-week low on Monday as the dollar firmed with markets closely watching a USFederal Reserve meeting for clues on when the bank will start tapering its crisis-era stimulus measures.

09:33

PE major Advent snaps up Eureka Forbes for Rs 4,400 crore

After a long wait, the Shapoorji Pallonji Group has closed the sale process of its consumer durables business under the Eureka Forbes label by picking the American private equity fund Advent International's Rs 4,400-crore offer for a 72 per cent stake.

09:15

Channi to take oath as Punjab CM at 11 am

09:12

Rahul to attend new Punjab CM Channi's oath taking ceremony

09:07

The Quen's Gambit wins Best Limited Series at TV's Emmy Awards (Reuters)

09:07

RuPaul creates history for most wins by person of colour at Emmys (PTI)

09:05

The Crown wins Emmy award for best drama series (Reuters)

09:05

Van Dijk needs to be rotated, says Milner (Reuters)

08:51

Somaiya disembarks from train, doesn't head to Kolhapur

BJP leader Kirit Somaiya on Monday disembarked from a train at Karad and did not head for Kolhapur, at the request of police and administration.



08:31

Tropical storm Rose forms West of Africa (NYT)

08:10

Congress plays Dalit card in Punjab with eye on UP, Uttarakhand

After the surprise announcement of the name of Charanjit Singh Channi, a Dalit leader, for the Chief Minister's post in Punjab, the Congress looks at the larger aim of Uttrakhand and Uttar Pradesh which are also going to polls early next year.



07:59

Search and rescue operation to look out for three boys who were drowned in Versova beach, being undertaken in the wee hours of@DeccanHerald #Mumbai #GaneshVisarjan pic.twitter.com/dhnHMPTiLw

— Mrityunjay Bose (@MBTheGuide) September 20, 2021

07:38

FDI key to India's aspiration to be a $5 trillion economy: Deloitte CEO

06:51

No one becomes great by dressing scantily: UP Assembly Speaker

Uttar Pradesh Assembly Speaker Hriday Narayan Dixit Sunday said if one could become great just by dressing scantily, then Bollywood actor "Rakhi Sawant would have become greater than Mahatma Gandhi", drawing flak from social media users.

06:50

Bannerghatta loses young giraffe in freak accident

The Bannerghatta Biological Park (BBP) on Sunday lost a young male giraffe in a freak accident after its neck got stuck inside the kraal. Three-and-a-half-year-old 'Yadunandhan' died of asphyxiation, officials said.
Read all the latest updates on COVID-19 here.
Dailyhunt
Disclaimer: This story is auto-aggregated by a computer program and has not been created or edited by Dailyhunt. Publisher: Deccan Herald