National
PM Narendra Modi speaks to chief ministers of four states on Covid-19 situation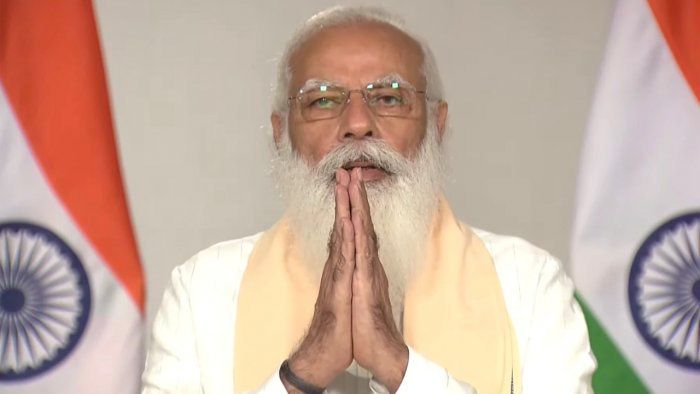 Anand Mishra,
As India India clocked plus 4 lakh new Covid cases for the fourth day and the pandemic creates havoc in the rural hinterland, Prime Minister Narendra Modi on Sunday spoke to the Chief Ministers of four more states — Punjab, Karnataka, Bihar and Uttarakhand — on the counter Corona strategy in their states.
Modi's latest round of talks with CMs (CMs of 15 states and LGs of two UTs in last four days) took place on a day Centre released an amount of R. 8,923.8 crore to 25 states for providing grants to the Rural Local Bodies (RLBs), which may be utilised, among other things, for various prevention and mitigation measures needed to combat the Covid-19 pandemic. Thus, it will augment resources to the three tiers of Panchayats for fighting the contagion, the government said.
Karnataka, which is reporting the second-highest number of cases daily after Maharashtra, is among 10 states that account for 71.75 per cent of the 4,03,738 new Covid-19 cases registered in a day.
States like UP and Bihar have witnessed an upsurge in Covid cases in villages. Bihar in particular, which was not affected so much by the first wave of Covid-19, has recorded a sharp rise in death cases this time. By Sunday, the total number of people who died due to the disease in the state rose to 3,139 and 13,466 fresh cases were reported taking the overall tally 5.67 lakh. The active caseload was 1.15 lakh. Bihar is in lockdown till May 15.
Delhi extends Covid-19 lockdown till May 17; metro services to be shut
According to health ministry data, Maharashtra, Karnataka, Kerala, Tamil Nadu, Uttar Pradesh, Rajasthan, Andhra Pradesh, Gujarat, Tamil Nadu, Chhattisgarh, West Bengal, Haryana, Bihar and Madhya Pradesh cumulatively account for 82.94 per cent of India's total active cases.
Amid the rising Covid graph, states like Kerala and Tamil Nadu have opted for a total lockdown while Chhattisgarh came out with new guidelines limiting the attendance to only 10 persons at weddings and funerals and prohibiting religious, social, political, social and other programmes. Delhi and UP on Sunday extended lockdown till May 17 and DMRC suspended metro services till then.
While West Bengal CM Mamata Banerjee wrote to Modi, asking for a waiver of all forms of taxes and customs duty on equipment and drugs being used to fight the pandemic, Punjab Chief Minister Amarinder Singh to whom the Prime Minister spoke on Sunday, requested the Prime Minister to increase the state's oxygen quota and ensure urgent supplies of Covid-19 vaccines.
According to a statement by the state government, Singh told the Prime Minister the state was unable to initiate phase-III of vaccination for the 18-44 age group, but it will now begin in government hospitals from Monday following the delivery of one lakh doses. The CM also flagged that the vaccine was in short supply for the 45-plus age group. Tirath Singh Rawat, Chief Minister of Uttarakhand, where the daily positivity is 7,000 to 9,000, apprised the PM of the "present situation".
Dailyhunt
Disclaimer: This story is auto-aggregated by a computer program and has not been created or edited by Dailyhunt. Publisher: Deccan Herald