Home
Demi Moore's Erotic Podcast Overcomes The Limits Of Porn In Exploring Female Sexuality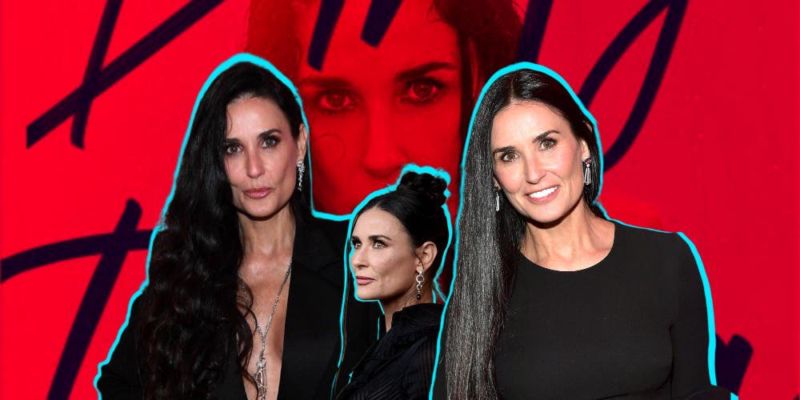 While pondering the issues in her own marriage, filmmaker Shane Feste started to question traditional pornography and how 'unsexy' she found it.
'The erotic has often been misnamed by men and used against women. It has been made into the confused, the trivial, the psychotic, the plasticized sensation. For this reason, we have often turned away from the exploration and consideration of the erotic as a source of power and information, confusing it with its opposite, the pornographic. But pornography is a direct denial of the power of the erotic, for it represents the suppression of true feeling. Pornography emphasizes sensation without feeling.'
Audre Lorde, Uses of the Erotic: The Erotic as Power
Audre Lorde's observations come to mind when one listens to the new podcast, Dirty Diana that features veteran actor Demi Moore.
The podcast, penned and directed by filmmaker Shana Fest of Country Sweetheart and Run Sweetheart Run fame, and co-produced by Moore, aims to bring a 'fresh perspective of sex through an all-female lens,' or in this case, microphone.
Written from a deeply personal perspective, Dirty Diana tells the story of Feste's fraying marriage and eventual reconciliation with her husband. The protagonist, played by Moore, is a corporate financial executive, caught in a web of secret cravings as she juggles her career, a sexless marriage and a surreptitious life as the host of a website that allows women to express their sexual fantasies. The narrative follows Diana as she battles anxiety and sexism at work and tries to seek help through therapy. Female pleasure takes centre stage in this story which attempts to remove taboos around female sexuality and brings another perspective to the narrative about objectifying women.
Podcast As Platform
While pondering the issues in her own marriage, Feste also started to question traditional pornography and how 'unsexy' she found it. This set her thinking about making a serious emotional drama, with some great actors, and turning the material 'into something really erotic.' Speaking to Indiewire, the director confessed that as a lot of the story was too close for comfort. She found it 'frightening' to share it and be judged; only to realize 'that's exactly the reason that I need to write something like this and need to put it out there.' The medium of audio made it easier to push what was personal and 'ease' the audience into it. While recording the first season of the podcast using Zoom, the cast soon realized that the distance actually allowed more freedom to record in the privacy of their homes. Without the peering eyes of crew members, 'It let them take more risks in their performance.'
Demi Moore, known for her roles in films like Ghost, Indecent Proposal, Striptease and Disclosure, also sees the audio cast as having a personal impact on her, as the recordings brought realizations about her own hang-ups surrounding sexuality.
Giving Legitimacy To Audio Erotica
Coined by journalist Ben Hammersley, the term 'podcasting' came about with the integration of RSS (real simple syndicate) and the iPod, in 2004. In an article for The Guardian, Hammersley commented on the boom in internet radio, and suggested podcasting as a possible name for the emerging platform.
Since its humble beginnings, the genre has evolved, covering nearly all forms of content and style—from the hugely popular comedy and true crime thrillers (Serial) to narrative stories and news. With this evolution, podcasts are now being seen as the 'Netflix of radio.'
Given the sheer physical advantage of an audio cast to be inconspicuously personal, it allows listeners nearly unobtrusive access to carnal content in a way that radio simply could not. Hence, should one desire, one can now listen to raunchy, saucy soft-porn on their morning subway commute that can be streamed on demand. However, casts like that of Dirty Diana, accord a further level of legitimacy to sexual content.
The new series has been created by QCODE, the Los Angeles-based production studio known for its emphasis on scripted, narrative stories like the Chloë Grace Moretz drama, Gaslight. With its reputed director and all-star cast—featuring, alongside Demi Moore, Claes Bang, Betsy Brandt, Mackenzie Davis, Carmen Ejogo, Max Greenfield, Dayo Okeniyi, Penelope Ann Miller, John Tenney, Rhys Wakefield, and Dolly Wells, with additional cameos from Gwendoline Christie, Chris Diamontopolus, Lena Dunham, Melanie Griffith, Ava Grey, Andrea Riseborough, Rosa Salazar, Lili Taylor, and Lesley Ann Warren—Dirty Diana marks the entry of the big guns into the audio erotica space. This also perhaps signifies the shift of content in this genre from soft porn to erotic art.
I am so honored to be on today's episode of Dirty Diana on @ApplePodcasts with my incredible friend @justdemi. She and Shana Feste have teamed up to bring us this brilliant diversion from the Covid crazies and I for one could not be more grateful. https://t.co/RwbRqAYIwH pic.twitter.com/fUc2NBjwTm

— Lena Dunham (@lenadunham) July 20, 2020
Speaking to Variety, Demi Moore hoped that the takeaway for fans from this series would be 'to be more exploratory and open in regard to their sex life — and veer away from their comfort zones.'
Demi Moore's new narrative podcast reflects her own journey toward sexual empowerment https://t.co/tKvhU2kDp2

— VANITY FAIR (@VanityFair) July 30, 2020
Narrative Of Modern Womanhood
Hence, while Dirty Diana is certainly sexy and sensual, it is also a narrative of modern womanhood that looks beyond the sexual self. Diana is a deeply layered character, who, like any other contemporary woman, takes on different personas to get through a normal day in her life. Feste sees her as 'just as complicated as every single woman out there.'
Fiona Sturges, writing for the Financial Times , asserts that while it is too early to say if Dirty Diana could help in 'creating a space for writing that explores female sexuality that relies on imagination rather than sweaty visuals,' it is a show that 'clearly aspires to build empathy with its characters, and to tell a story about female experience, rather than just coast until the mucky bits.'
If Dirty Diana succeeds in its endeavor, it could contribute to taking the 'light' out of the oft-quoted famous words: 'The difference between pornography and erotica is lighting.' For in podcasts, there is no lights or camera, just the action of sound.
Prime Time News Coverage Turns Into Spoofs Of Top Gun And CSI
Dwayne Johnson Vets Black Panther's Michael B Jordan After Ryan Reynolds Declines Black Adam
Robert Pattinson's Batman 2021 Is Neither About Bruce Wayne Nor Gotham
Brie Larson Steals Limelight From Tom Holland In Future Avengers Saga — And Top-Billing
Christian Bale Is Playing Bruce Wayne Gone Bad In Thor: Love And Thunder
A Jinx To Netflix's Dream Franchise: Russos Rewrite The Gray Man With Chris Evans And Ryan Gosling
From Mickey Rourke's Provocations To Robert De Niro's Snubs — Inside Hollywood's Longest-Running Cold War
Join Telegram Join WhatsApp
Dailyhunt
Disclaimer: This story is auto-aggregated by a computer program and has not been created or edited by Dailyhunt. Publisher: DKoding