Home
Global Gloom: Why the current Economic Crisis can last a full generation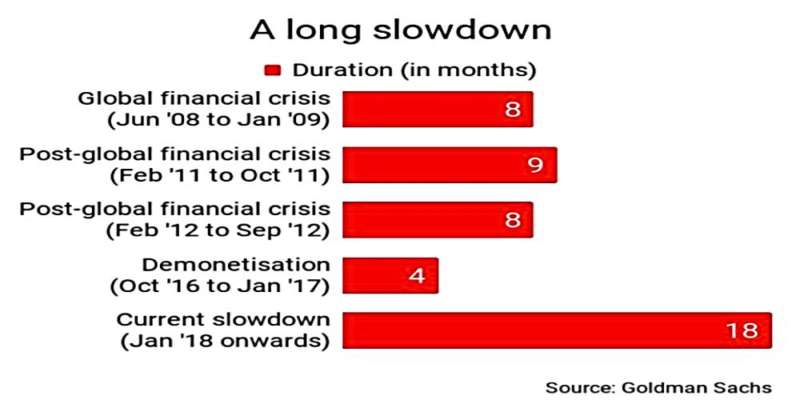 The World Trade Organization just rang an alarm bell: Global trade tensions spurred by geopolitical reasons are harming the world economics, leading us into a prolonged financial crisis.
---
---
Recently, the International Monetary Fund (IMF)'s new Managing Director Kristalina Georgieva gave the latest warning call of the ongoing economic crisis of 2019 with an impending global recession in 2020. Georgieva said that 90 percent of the world was in the grip of the slowdown. The new IMF chief confirmed the complex situation of the global economy in the World Economic Outlook for 2019 and 2020.
The global economy remains fragile since the 2008 recession and today 90 percent of the world is in the grip of the slowdown .
Similarly, the World Trade Organization lowered its global trade growth expectations for the third straight year. Furthermore, a flagship UN trade and development report (UNCTAD) observed 2019 to witness the weakest growth in a decade which could lead to a recession in 2020. Likewise, the projections from the World Bank and OECD have been bleak about the impending crisis.
---
.@KGeorgieva: The global economy is in a synchronized slowdown meaning growth this year will fall to its lowest rate since the beginning of the decade.

2019 ==> Slower growth in nearly 90% of the worldhttps://t.co/sk65AddX62 #IMFMeetings #GlobalEconomy pic.twitter.com/ZGC0hotYcA

— IMFLive (@IMFLive) October 8, 2019
---
The world economy has hardly recovered from the 2008 crash and remains 'fragile' ever since. Furthermore, 'global stimulus packages' are ending and inflation is rising. However, trade disputes have exaggerated and amplified economic stress. Interest rates globally are going up. Moreover, new political trends like curbing immigration and export sanctions are further slowing growth.
---
---
Current State of the Global Economic Crisis
Trade growth globally is at near-stagnation. The UN report opined that the current volatility across the globe has rising debt levels looming large. Moreover, there's increased volatility in markets. Multilateral trade systems have suffered multiple setbacks and there's also a mounting uncertainty in global geopolitical relations.
---
The global economy is now in a synchronized slowdown, says Managing Director @KGeorgieva in her speech ahead of the October 15-20, 2019 Annual #IMFMeetings. https://t.co/z2BXAa54yB pic.twitter.com/7Fk5L0t835

— IMF (@IMFNews) October 8, 2019
---
Georgieva who took over from Christine Lagarde said that the globe was in a 'synchronized slowdown'. While global growth stood at 3% in 2018, its weakened 0.7% (worst contraction since 1.7% in 2009) in 2019. The number is expected to fall further in 2020. The current deceleration will take global growth to its lowest since 2010.
---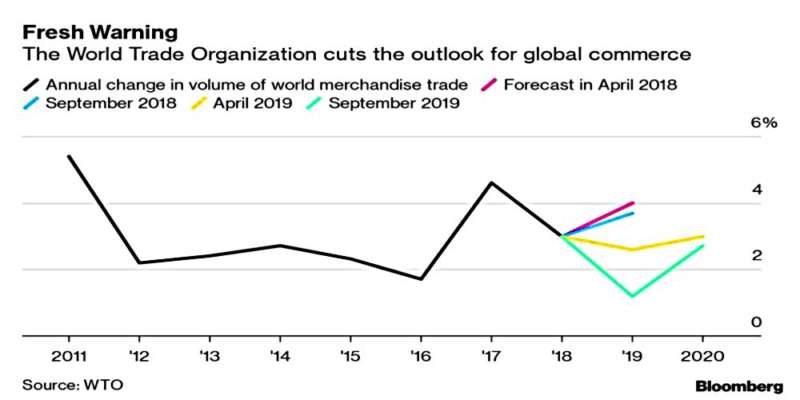 The current deceleration will take global growth to its lowest since 2010. | Newsline | DKODING | Image Credits: Bloomberg
---
Global Trade Tensions and Geopolitical Differences
Economic activity is weakening in the larger, more advanced global economies like the US, Russia, Japan and advanced strongholds of EU like Germany and the UK. In the developing global powers like India and Brazil, the effects are more profound.
---
In her speech ahead of the Annual #IMFMeetings, @KGeorgieva shows in a chart how everyone loses in a trade war. https://t.co/L3hseNktFb #IMFMeetings. pic.twitter.com/7nJYhmnlM2

— IMF (@IMFNews) October 8, 2019
---
China, which has emerged as the strongest growing global player is also experiencing a decrease. However, there are a few emerging markets and developing economies in 19 sub-Saharan African countries and 21 others globally which will keep experiencing GDP growth of more than 5 percent.
---
#BREAKING

"Global Foreign Direct Investment #FDI slides for a third consecutive year" &dhndash; @UN Report

Just released, @UNCTAD's World Investment Report 2019 #UNCTADWIR.

Read more > https://t.co/JcgYIwv3cB pic.twitter.com/gFpg7IBTFG

— UNCTAD (@UNCTAD) June 12, 2019
---
What's causing real harm to the World Economy are the ongoing trade disputes between superpowers like the US and China, Brexit related challenges, and US-initiated sanctions on countries like Iran and North Korea. Furthermore, regional disputes like India and Pakistan, Turkey-Syria, Iran-Saudi Arabia, among others that are worsening the effects.
---
---
The 2020 Predictions: Gloom Factors
The reports of an impending global depression have been ongoing since 2018. JPMorgan had warned a global financial crisis in 2020 triggered by 'automated trading systems'. As per a Forbes report, the 2020 crisis and the incoming decade would be the worst in world economic growth. The spark will be a 'contagion from a global credit crisis'. Moody's Analytics' chief economist Mark Zandi had stated 2020 as a 'real inflection point'.
---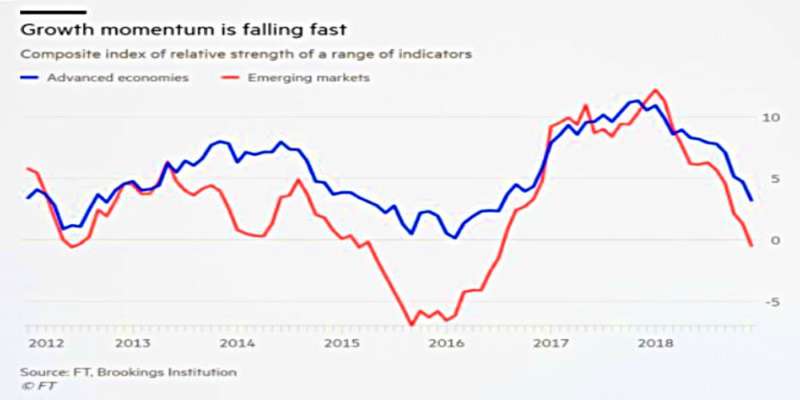 'Synchronized weakening' of economic growth in advanced as well as developing nations. | Newsline | DKODING | Image Credits: Brookings Institution
---
The UN had warned that the 'synchronized weakening' of economic growth in advanced as well as developing nations means that the recession 2020 is 'clear and present danger'. Global agencies are calling for a coordinated worldwide response to fix the cracks. The signs are here and countries need to come together. We need to find a lasting solution that reverses the global economic crisis.
What can help rejuvenate global growth?
Protectionist measures such as used by US President Donald Trump inadvertently impact global slump. If such a round of sanctions and retaliatory sanctions continue, the stagnation trend could worsen drastically. Annual Trade and Development report advised central banks and Finance Ministers of nations to end their 'obsession' with stock prices, quarterly earnings and investor confidence. The focus needs to be shifted to job creation, wage growth and thus amplifying public investment.
---
Market-friendly solutions to global challenges have failed to push economies on the right track. Our new Trade & Development Report 2019 proposes a switch from the banking conglomerate playbook to a public sector driven approach. Read the #TradeDevReport> https://t.co/1tGfY2vxLh pic.twitter.com/OSrYjlcExb

— UNCTAD (@UNCTAD) October 4, 2019
---
Moreover, the UN report shows pessimism about the action plan of Central Banks like the US Federal Reserve, the European Central Bank, and Reserve Bank of India which recently slashed interest rates in a bid to catalyze economic activity. 'Easy monetary policy' and 'asset price rises' are unlikely to stimulate demand. Likewise, corporate tax cuts fail to bring productive investment. Unconventional measures like 'negative interest rates' and 'quantitative easing' are go-to policies of global economists to check such an economic crisis. But historically these measures have a poor record at spurring growth since 2008.
---
---
Long-running Unattended Threats
As per the UN report, nations need to look beyond short-term threats and interests. Together, they also need to mend gaping loopholes left unattended after the 2008 recession. There are four core challenges that are interdependent: diminishing economic share of labor, erosion of public expenditure, weakening market sentiment, and the unchecked growth of carbon footprint globally.
The UN report observes a series of 'macrostructural challenges that predate the global financial crisis.'
Unfortunately, while this might not be the first major round of warning. it might be the last. The last time when global bodies have scope to mediate a repair between nations in disputes. At this rate, mediators like the WTO's appellate body will be paralyzed into inaction in less than 3 months.
---
The global economy has slowed to its lowest pace in three years. It is on track to stabilize, but its momentum is fragile and subject to substantial risks.

ℹ️ https://t.co/Iv0LoMXsmE pic.twitter.com/s6FShpyNbi

— World Bank (@WorldBank) August 20, 2019
---
If such a situation arises, an unbinding landscape of global trade conflicts could push the world economy out of consensus. This will take us towards the 'law of the jungle', as opined by the EU trade commissioner Phil Hogan. Consequently, the world will see powerful international fractures. Thus, this will lead to 'broken supply chains', 'trade exclusion' and the breakdown of global economic interdependence.
---
---
US - EU Trade War; Impact on the two economies
Dailyhunt
Disclaimer: This story is auto-aggregated by a computer program and has not been created or edited by Dailyhunt. Publisher: DKoding