Live Now
In bold move, women students from AMU break lock on gate to join male protestors in strike against CAB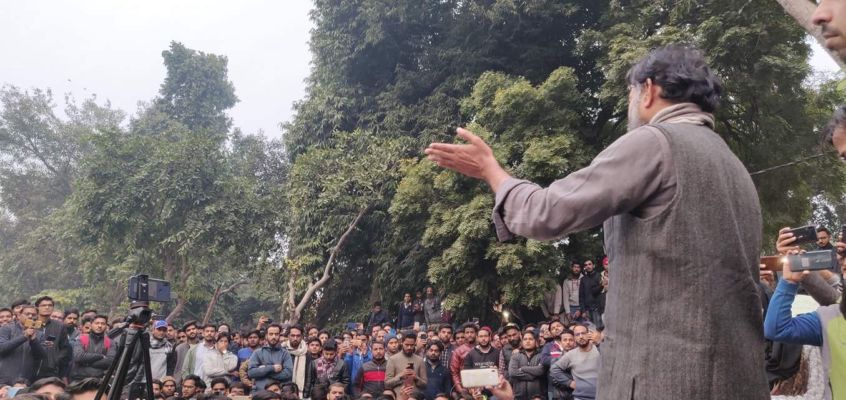 The women students at Aligarh Muslim University broke the locks of their gates on Thursday evening to join their male counterparts in the main campus. The women students had been strictlyprohibited from participating in any kind of protests and the police had also barricaded their campus. However, on Thursday, hundreds pushed against the gate and broke it.
In what can only be seen as a historic movement of dissent, this is what the women did. "We were stopped by the warden and the provost but we refused to listen. When will we raise our voices? While we are in the detention centre?" a student told us. The students also complained that when they were trying to push the gate open, there were several guards to tried to forcibly stop about 40-50 of them. The students said they were also furious because only one of those guards was a woman, all the others who were pushing them were male.
AMU women running out of the hostel gates
However, the determined students managed to break the locks and walked to the main campus. "We went, listened to the speeches and also gave our own speeches. We spoke about the need for us to reclaim our space as well. Then at 7, we figured it was better to leave and so we left and went back to our hostels," a protester said. When they returned, they were asked to write their names and their parents' names and phone numbers. "We asked them if they would take action against us and call our parents but then they said that they actually did support us and were glad that we have raised our voices. So we are hoping they won't take action," she added.
The AMU students are continuing their strike into the fourth day at the University's main gate , the Bab-e-Syed. Yesterday, Dr Kafeel Khan addressed the students and said that the motive behind CAB is to create a fear psychosis in one community and pseudo-euphoria in another community. "All of this is to divert the attention of people from the real issues plaguing the nation which the government has been unable to solve," he added.
In a statement, the students said they extended their support to the the protestors in Tripura and Assam for resisting this bill and condemn the communication blockade and deployment of army in the states. "We also condemn the advisory brought out by Ministry of Information and Broadcasting dated 11 December 2019 wherein all private satellite TV channels have been directed not to telecast any content which 'promotes anti-national attitudes'. We believe that this is a direct attack on the idea of journalism, and serves to dismantle what has been envisaged as the fourth pillar of democracy."
The students have also heard from their sources that there is a chance they will be forcibly asked to disperse but they have decided to hold their ground and have also planned a march to the collectorate. "Whatever happens, we are not calling off this strike," they said. The students also have a fundraising page to seek help to fund their protest for printing pamphlets, buying mics etc.
Dailyhunt
Disclaimer: This story is auto-aggregated by a computer program and has not been created or edited by Dailyhunt. Publisher: edexlive