People
Meet Rahul Kondi, who will typewrite a personalised poem for you if you're passing by B'lore's Church Street
If you've ever taken a stroll down Bengaluru's Chruch Street, then you're probably familiar with the name Blossom Book House. Even if you're uber picky about the pages being crisp and will only step into posh Crossword and Landmark stores, the smell of the used books at this famous bookstore wafts through the air, beckoning you to at least take a peek inside. So the next time you visit this store on aSaturday(and I know I've tempted you now),chances are that you may spot a young guy wearing Harry Potter-type glasses, sitting on the stairs with a typewriter on his lap. If you do, don't hesitate to walk right up to him and start a conversation. And in return, he'll write a poem or a note, just for you.
Isn't that amazing? This typewriter guy isRahulKondi, a UI designer, who moonlights as a poet. He has been writing poems for strangers and making Bengalureans smile since Christmas of 2017. "I sit in public spaces with my typewriter and interact with random people who pass by. The typewriter attracts most of the attention and it's a great conversation starter," saysRahul, adding, "Some of them ask me about the machine, while some curiously stare at it from a distance and I wave at them." The entire exercise is very satisfying forRahul, who also jokes that this happiness helps him "sleep like a baby."
Listen in: A poem written by Rahul
Rahul's love for typewriters began when he met a group of youngsters, who were raising funds for a government school by creating art,outside a bookstore in the city. One of the members had a typewriter. "That was the first time I used a typewriter in my life. I got obsessed with the machine and went on to buy one. Most of the people today either haven't seen one at all or last saw one a decade ago. So obviously, they're curious to know about mine," explains the 24-year-old.
Hey there wizard:Rahuland his group member Richa also have an initiative called #poemsforstrangers, where they slip poems into random books. Richa also writes Harry Potter-themed poems that she slips into Harry Potter books around the city
This incident was what promptedRahul, who has been writing poems since class IX, to start his own 'crazy exercise.' Duringthe process,Rahulalso made a lot of friends. In fact, he tells us that most of his friends these days are the people he's met through this exercise. Some of them loved the idea so much that they have also joined this young poet in busking. While on Saturdays the group's meeting place is Blossom, on Sundays, they travel to random spots or cafés in the city or attend events. Some of the regulars in this group are typewriter enthusiast Cipun Mishra, poet Richa Priyanka, writer Amith SK and illustrators Srinidhi Gurunath and Aishwarya CJ.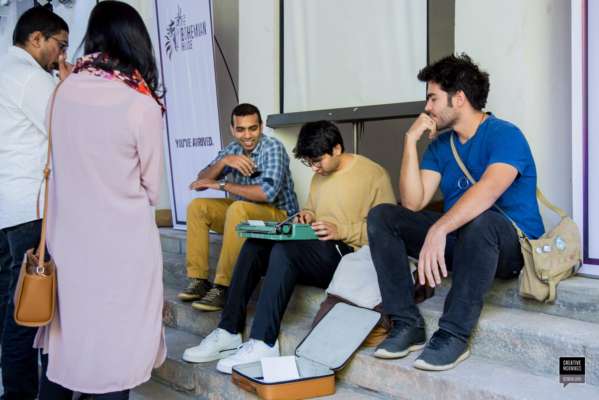 Writer's block? Oh yes! : EvenRahulhas faced this issue many times. But during that time, he presents an existing poem to the stranger. He makes sure that no one leaves empty-handed
Over the past seven months,Rahulhas met over 300 people. Even though every meeting and every conversation is special,Rahultells us about writing for a mute person once. "We communicated through an intermediate here. But this was a different experience for usaltogether," he says. Also, this prompted him to start another exercise at Creative Mornings Bengaluru's lecture series. Here, he will remain quiet throughout the conversations and based on what the other person tells him, he'll write a personalised poem for them.
Dailyhunt
Disclaimer: This story is auto-aggregated by a computer program and has not been created or edited by Dailyhunt. Publisher: edexlive