Football Premier League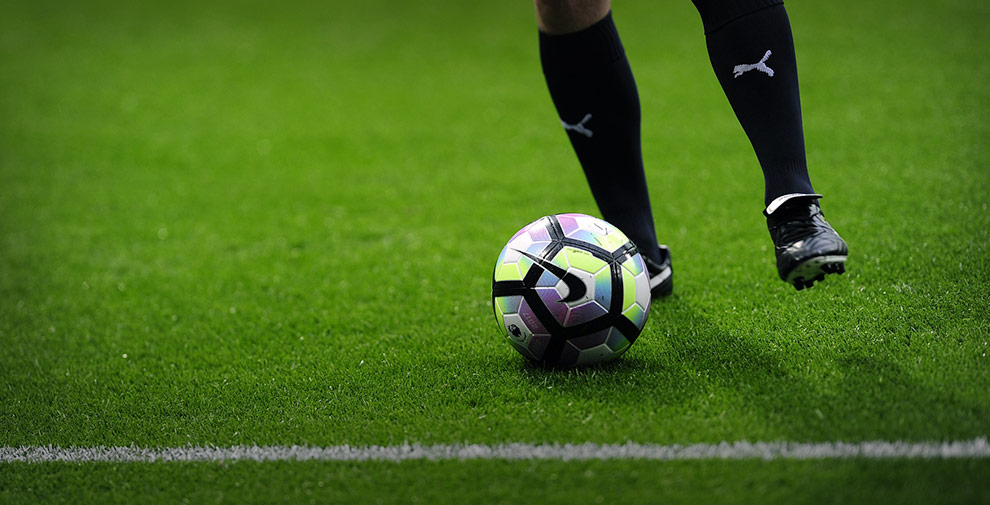 Football Premier League
Latest

London, November 18: Mesut Ozil and Alexis Sanchez proved amid the uncertainty over their futures that they remain Arsenal's star performers with match-winning displays in Saturday's 2-0 victory over rivals Tottenham. The build-up to the derby clash had focused largely on the supposed power shift in north London as Mauricio Pochettino has turned Spurs into Premier League...

Latest

London, Nov 18: Premier League high-flyers Manchester City have reportedly contacted Atletico Madrid for discussing a move for Antonie Griezmann. Earlier, this week it was reported that Barcelona had agreed to a deal in principle to sign the Atletico Madrid forward but despite that, the Frenchman continues to be linked with a host of European giants. Catalan paper Sport claim that...

Latest

London, November 18: Antonio Conte was sporting some facial furniture at Friday's pre-match news conference, causing a stir among the reporters in attendance. It became one of the key talking points and Conte, usually sporting a clean-shaven look, explained his motivation for making his razor redundant. The Chelsea boss, it transpires, is a dutiful husband, with his attempt to...

Latest

London, November 18: Zlatan Ibrahimovic will have to settle for a spot off the bench to begin his return from injury, Manchester United manager Jose Mourinho said. Ibrahimovic, 36, is set to make his comeback from a serious knee injury when Mourinho's men host Newcastle United in the Premier League Saturday. The Swede may have to battle with Romelu Lukaku for a starting spot, but...

Latest

Bengaluru, November 18: Wales manager Chris Coleman has resigned and is reportedly set to assume charge at Championship side Sunderland. Coleman, who became Wales manager in 2012, led his country to the semifinals of Euro Cup 2016, their first major tournament since 1958. However, he was unable to guide them to next year's World Cup in Russia as they missed out on qualification from Europe's Group D last...

Latest

Terrassa (Barcelona), November 18: When Atletico and Real head into Saturday's (November 18) Madrid Derby, it could well shape the futures of their respective managers Diego Simeone and Zinedine Zidane. The blockbuster 'El Derbi', though only 11 matches in the La Liga is completed, might also be considered as a do-or-die battle for both managers and teams already fighting to catch...

Latest

London, Nov 17: Jose Mourinho insists he has 'immense respect' for Rafael Benitez and does not feel any extra incentive to beat him when Manchester United host Newcastle United on Saturday (November 18). The Premier League match at Old Trafford will be the pair's first meeting in the English top flight since August 2007, when Mourinho was in charge of Chelsea and Benitez was at...

Latest

Madrid, Nov 17: Zinedine Zidane refused to rule out a stunning move to bring Neymar to Real Madrid as he spoke ahead of this weekend's La Liga derby with Atletico Madrid. The Brazil star became the world's most expensive player when he swapped Madrid's Clasico rivals Barcelona for Paris Saint-Germain in August. However, reports have linked the 25-year-old with a...

Latest

London, November 17: Arsene Wenger must reinstate Alexandre Lacazette to the Arsenal starting line-up for the north London derby, according to David Seaman. Record signing Lacazette has been left out of the starting XI for Arsenal's big Premier League clashes against Manchester City and Liverpool this season, matches the Gunners lost. Arsenal scored just one goal in both of those...

Latest

Milan, November 17: Milan Skriniar has pledged his future to Inter despite being linked with a move to LaLiga giants Barcelona. Skriniar only made the switch to San Siro in July but he has already proved a big success as Luciano Spalletti's side have kept pace with Napoli and Juventus in the title race in Serie A. Inter are only two points behind leaders Napoli after 12 unbeaten games,...
Loading...