Home
Bought a PlayStation 4 Pro in India? You have been scammed
The PlayStation 4 Pro may have launched officially in India earlier this year, it still costs anywhere between ₹42,000 to ₹45,000. The console is up for purchase on several e-commerce sites - Flipkart, Amazon India, and eBay India - with all of them promising a genuine Indian retail unit. That's a staggering ₹20,000 premium over the US retail price of $399 (₹25,000 approximately), and still substantially more than the local grey market price of ₹30,000 for the console.
It may seem absurd, but gamers are willing to shell out up to ₹20,000 extra for the Indian retail unit of the PS4 Pro only because Sony India doesn't offer warranty cover for consoles that have been imported or otherwise purchased from the grey market. Given the track record of console hardware failures, most prospective buyers are inclined to pay more for the official Indian retail unit solely for the local warranty, which is a solid guarantee against ending up with an expensive brick, or a plinth in this case.
But here's the kicker. These purportedly genuine Indian retail units being sold on e-commerce websites such as Flipkart, Amazon India, and eBay India under the promise of an official Sony warranty cover are nothing but elaborate scams. We had purchased one such unit from Flipkart for the purpose of this investigation. Our suspicions were confirmed when we discovered that the unscrupulous seller had made a rather poor attempt at forging the distinctly yellow Sony India warranty card, replete with plenty of spelling mistakes and a mismatched serial number to boot.
However, what was more shocking is how difficult it was to get Sony India to acknowledge that the PS4 Pro unit we had received wasn't a genuine Indian retail unit and whether the company would provide warranty support for the same. After five days of getting automated replies, with no official confirmation or denial of warranty coverage, we begrudgingly had to pull out the media card. Needless to say, we received a reply within hours confirming that Sony India will not be covering the PS4 Pro under warranty.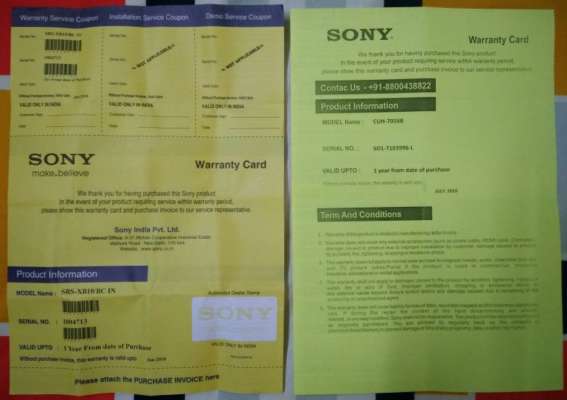 Let's take a moment to fully understand what has happened here. Unscrupulous e-tailers on popular e-commerce websites smuggle significantly cheaper PS4 Pro consoles and sell it in India as genuine Indian PS4 Pro retail units, while falsely claiming these units come with local Sony India-backed warranty. Because these e-tailers buy PS4 Pro units for the much cheaper US retail price of $399 (₹25,000 approximately) and sell them through Indian e-commerce websites for prices as high as ₹45,000, they end up making profits in excess of ₹20,000.
When these PS4 Pro consoles eventually fail within warranty, unsuspecting consumers are in for a rude shock when Sony India invariably refuses to service or replace non-Indian units, thereby leaving gamers with expensive bricks worth ₹45,000. This leaves us with a lot of burning questions, so let's address them one by one.
• Help, I bought my PS4 Pro online from a seller promising official Sony India warranty! How do I know whether I received a genuine Indian retail unit covered under warranty?
We had problems verifying the authenticity and warranty coverage for our PS4 Pro unit ourselves, so we contacted the official representatives for Sony PlayStation India and sought clarity on the matter. This is what the company reps said:
1. Customers can contact our toll-free number 1800-103- 7799 (Timings: 9:00am to 7:30pm, Open 7 days a week) to ascertain whether the seller in question is an authorized partner.
2. Customers should provide the model number, chassis number to enable the customer care
executive to verify whether the product is genuine or not; if the product is not in the Sony
India database, it can be verified at origin - this exercise would take time as the details
would have to be ascertained from concerned group companies.
3. Our company can issue a certificate if the product is found to be a counterfeit after verifying
the same from competent technical experts - this certificate can be referred to and may be
relied upon by the customer in initiating legal proceedings before appropriate authorities.
• But I'm just an innocent victim! Will Sony India cover warranty repairs and replacements for unsuspecting consumers like me stuck with faulty PS4 Pro consoles bought from scammers under the impression that they were covered under local warranty?
Short answer: no.
Long answer: we will let Sony India take over.
It is our understanding that we have a contractual obligation to those consumers who have purchased the product - which carry a Sony India warranty card which is invariably supplied in the product carton box when sold through our authorized partners.
You would be aware that gaming consoles are subject to the compliances mandated under the provisions of Compulsory Registration Order 2012, issued by the Ministry of Electronics and Information Technology, Government of India, which provides for pre-testing of the product at a Bureau of Indian Standards (BIS) accredited laboratory, passing of the conformity test and thereafter the product is registered with prescribed marking requirements on the product.
All PS consoles imported by Sony India are BIS compliant products. If there are any third party selling Sony game consoles and the same are not BIS compliant, we are unable to support those customers who have purchased through other unauthorized sources as these would be non-compliant products.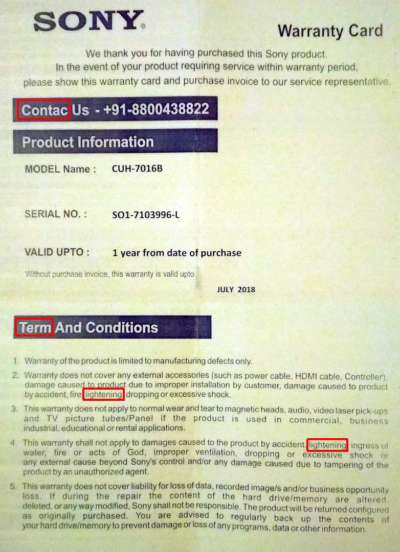 • That's unfair, I want revenge! Does Sony India plan to take legal action against these scammers?
Once again, you should hear this right from the horse's mouth:
The legal process expects the concerned victim of counterfeiting to initiate the requisite legal
action by bringing it to the notice of the relevant legal authorities such as the police. Sony India
will provide evidence in case of a counterfeit product.
• Fortunately, I haven't bought a PS4 Pro yet, so it would be great to avoid getting scammed. Is there any way to ensure this BEFORE I put down ₹45,000 on the console?
Yes, there indeed is a better way to go about buying a PS4 Pro. For starters, you can head to your nearest Sony Center (click here to locate one near you), where you can be guaranteed to find a genuine console replete with local Indian warranty. Here's what Sony India has to say about this:
The surest way in our view to ensure that the product is genuine is to purchase through our authorized partner which would be supported with standard warranty conditions. All products imported and distributed through our authorized partners are invariably supported with a standard warranty.
• But I called virtually every Sony Center in the city and absolutely none of them have a PS4 Pro in stock. What's up with that?!
Well, we personally have been calling up random Sony Centers across the country for a lot longer than the last three months to no avail. They all invariably give the same canned response: "There are no stocks due to GST preparations". While we don't want to sound like tinfoil hat wearing nuts, you know something's up when every single Sony Centre across the nation tells the same canned lie. One wonders if all Sony Centres across the country have been told to repeat the same non-excuse to those calling in to ask about PS4 Pro availability.
In fact, the Sony rep also directed us to this now defunct webpage listing all authorised online retailers. When the page did work earlier, we went through the entire list of authorised online Sony dealers and found that (surprise, surprise) absolutely none of them had a single PS4 Pro unit in stock. We have been monitoring the same authorised online retailers for the past three months now, and not one listed e-tailer has had a single unit in stock for the entire duration.
• Wait just a minute. Did Sony even launch the PS4 Pro in India then?
That's what we suspected too, so we asked Sony India two things: (1) Was the PS4 Pro officially launched in India? (2) If yes, has Sony India sold any PS4 Pro units in the country through the official channel? This is the answer we were given:
PS4 Pro was launched in February 2017 in India and distributed to our authorised partners.
Sony India, however, didn't directly answer the second question - that is, has it actually sold any PS4 Pro units through the Indian retail channel? However, the same Sony India representative did mention to this author, over a subsequent telephonic conversation, that Sony India had received an initial batch of PS4 Pro units, which were immediately sold out. It is understood that Sony India hasn't received any further shipments of the console.
We can personally confirm the latter statement because we have been trying to procure a PS4 Pro unit ourselves for more than three months now (out of a total five months since its Indian launch). And we haven't been able to find a single unit on sale at either the Sony Centers, authorised retailer outlets, or authorised online retailers.
Upon further prodding, the Sony India rep painted a rather grim picture about PS4 Pro availability:
Presently stocks are unavailable. We do foresee product supplies in future; however, the timing cannot be confirmed at the moment.
• Screw this noise. I want a PS4 Pro at any cost! Is there any way to buy one then?
You absolutely cannot buy a PS4 Pro in India through the official route as of this writing, so you can kiss local warranty goodbye. However, there are two unofficial ways to procure the console.
(1) Ask someone returning from the United States of America to haul one back. This way, you won't have to pay any duty and the console will cost you a mere ₹25,000. You can pay extra for a white international warranty card, but we wouldn't recommend doing that. While the Sony India service rep we spoke with on the official toll-free line confirmed that the white international warranty card would be honoured in India, this claim was at odds with what the official spokesperson said. Sony India flatly denied the same through an official email sent to us:
We have checked our service protocol and do not find any arrangement mandating international warranty obligations in India.
(2) There are honest (relatively speaking, of course) grey market retailers all around town who sell imported/smuggled PS4 Pro consoles for much cheaper (between ₹30,000 to ₹35,000). I say honest because, unlike regular scammers, these sellers at least acknowledge the fact of the matter; that is, they're selling unofficial PS4 Pro units devoid of official warranty cover from Sony India. These grey market retailers, however, promise to repair units that develop any faults within a year. I'd take that with a grain of salt, but it sure beats paying the scammers ₹45,000 for what's essentially the same deal without even a promise of warranty repairs.
• So how risky is it to purchase a PS4 Pro without warranty?
While the last generation of consoles weren't quite reliable, with the odds of getting a working Xbox 360 being worse than a coin toss (54 percent failure rate) and the PS3 itself recording malfunctioning units in double digit percentages, console manufacturers have learned from the mistakes of the past and strengthened QA checks for current gen consoles. There were approximately 10,000 recorded PS4 failures at the million-console sale mark, giving us a failure rate of a measly one percent. We haven't heard anything since then, and that's generally a good sign.
The PS4 Pro, however, is a different beast altogether.
There are plenty of user accounts on Reddit and other video game forums speculating that some batches of the console may have shipped with faulty GPUs that cause them to crash when subjected to 4K games while connected to 4K TVs. Mind you, this critical problem shouldn't be confused with the widely reported HDCP/TV connectivity issues and blank screen problems. Many believe that there are plenty of faulty PS4 Pro units lying undetected due to the low penetration of 4K TVs. The idea being that most gamers haven't even discovered that they own faulty PS4 Pros because those consoles are hooked to regular Full HD TV sets.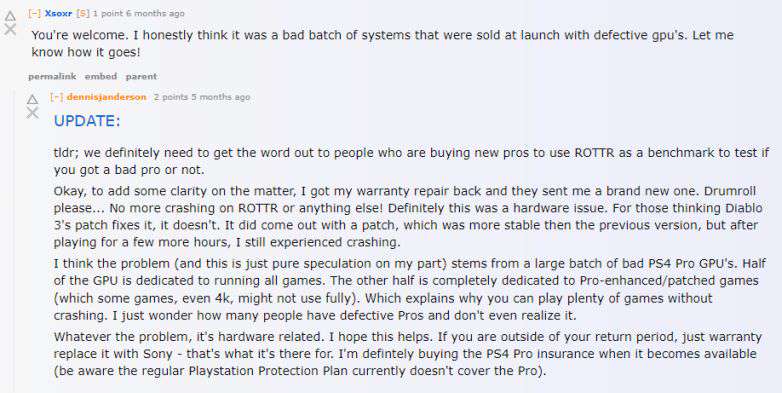 Since replacement is the only perceivable solution to this problem, without warranty you're bound to end up with a potentially expensive wager. Having said that, you can negotiate with the seller to refund or replace the console outright if it crashes out of the box while playing a 4K game when connected to a 4K TV. We, however, have chosen to play it safe and will wait for the official PS4 Pro supplies to be restocked. We must note that no one, including Sony India, has any idea as to when fresh stocks will arrive in the country. This is especially true since the PS4 Pro has been marred by global shortages for a while now.
However, if you put on your tinfoil hats for just a moment, the word on the street is that the production delays might be courtesy of Sony trying to fix the aforementioned GPU issue that causes certain batches of PS4 Pros to crash while playing 4K games on 4K TVs. This might sound like a conspiracy theory, but the fact remains that there are plenty of user accounts on online forums replicating the 4K crash problem on their consoles. We therefore recommend our readers to be cautiously conservative and wait for Sony India to restock PS4 Pro units.
Have enough instances of these issues popped up on online forums to warrant a reconsideration? Most certainly. But has this supposed manufacturing defect been reported by the press? Not until now. At the end of the day, we would advise our readers to be circumspect about unsubstantiated forum reports. We must also remember that even the most isolated of problems tend to get amplified due to the very nature of the Internet. However, these user reports are still worth considering before you spring for a PS4 Pro sans warranty cover.
Bought a PlayStation 4 Pro in India? You have been scammed was last modified: August 5th, 2017 by Nachiket Mhatre
Dailyhunt
Disclaimer: This story is auto-aggregated by a computer program and has not been created or edited by Dailyhunt. Publisher: Gear