Home
iFFALCON Smart TVs: Changing the Game With Premium Quality at Pricing That's Better Than the Rest
The very first bulky CRT colour TVs originally cost to the tune of $1000, which is expensive even by today's standards. A good 65 years since then, quantum leaps in technology and wonders of mass manufacturing now allow the average TV buyer a much better TV viewing experience, especially when you adjust for inflation. But, even today, taking a 55-inch 4K HDR TV home can leave a serious dent in your wallet and/or bank account.
However, most buyers are unaware of the fact that the price premium associated with purchasing a name brand TV comes from factors that have absolutely no bearing on the actual quality of the TV. A huge chunk of a TV manufacturer's budget is diverted towards marketing, with an almost eye-wateringly equal amount of money being spent on dealer commissions and other expensive complexities associated with selling TVs through brick-and-mortar shops.
Breaking the Status Quo: Premium Quality, Competitive Pricing
As a smart internet savvy buyer, the antidote to this peculiar problem would involve TV brands that capitalise on the online sales model. But, like they say, there are no free lunches. While such TVs are indeed cheaper, there's a definite gap in quality between the expensive name-brand televisions and those sold online. This tragically binary choice between mediocre online and overpriced name-brand televisions, however, will soon be a thing of the past.
That's because on May 07, 2018, Flipkart and iFFALCON are going to rewrite the rules of the Indian consumer television space by kickstarting the sale of three state-of-the-art smart TVs across budget, mid-range, and premium categories. The iFFALCON range of smart TVs deliver the one-two punch of quality/features that are better than the rest and pricing that gives more bang for the buck than anything available in the market. Let's take a look at exactly what makes the iFFALCON TVs better than the rest.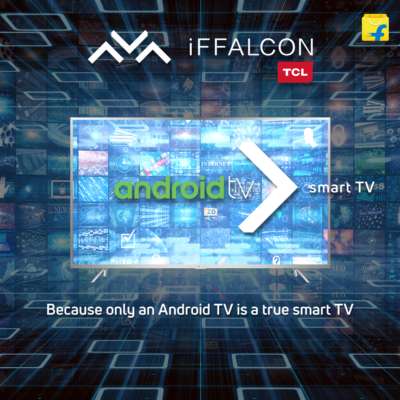 True Smart TV Experience
The very concept of a smart TV is a misnomer unless you pay through your nose for a name-brand TV set. Although most modestly priced TVs claim to be smart TVs, these aren't Google certified Android TVs and lack support for casting and access to pretty much all relevant video streaming apps on the Google Play Store. The 55-inch iFFALCON TV, however, is a Google Certified Android TV, which means it runs the latest version of Android TV and has access to the Google Play Store and a full suite of Google services.
The built-in Chromecast functionality allows you to unlock the full potential of your Android smartphone by conveniently casting videos straight to the TV. Apart from full access to the ubiquitous YouTube app specifically optimised for Android TV, iFFALCON's TVs also come equipped with popular VOD apps such as Netflix, in addition to the wide selection of Android TV-optimised apps on the Google Play Store. The entire smart TV experience is taken to the next level with a powerful 64-bit quad-core processor paired to 2.5GB RAM and 16GB of storage for a smart TV experience that's better than the rest.
Class-Leading Picture Quality
As a subsidiary of TCL, which is well regarded for it's state-of-the-art LCD panels, iFFALCON embodies the same DNA as its parent brand. This includes A+ grade LED-backlit LCD panels in the high-end 55-inch K2A as well as the budget 32-inch and mid-range 40-inch F2 variants. iFFALCON TVs are set apart from the rest by the ground-breaking True Color technology that leverages advanced true white LED backlighting to deliver much wider colour gamut than competing TVs. Combine this with the HDR capability of the 55-inch K2A models, and you have the sort of colour accuracy that is unrivalled at any price point.
The 4K HDR brilliance of the K2A variant is further enhanced with Micro Dimming functionality that intelligently analyses the picture to adjust brightness and contrast across hundreds of separate zones for true picture accuracy and stunning contrast. Whether you go for the flagship 55-inch K2A model or the 32-inch and 40-inch F2 variants, you are assured of the sort of stunning image that leaves the competition green with envy. The iFFALCON TVS truly embody picture quality that is better than the rest.
Designed for India
While the average TV buyer in the West has come to terms with the fact that modern flatscreen TVs simply cannot deliver good sound quality, the Indian consumer is a lot more discerning and uncompromising. That's why the iFFALCON televisions incorporate full-bodies speakers for a richer, more authentic sound. Cue the Stereo Surround Box speakers that, as the name suggests, embody high-quality drivers in large, solid enclosures for an uncompromising sound quality. These are further paired with premium Dolby Digital + DTS decoding and surround sound emulation standards to deliver an aural performance that's better than the rest.
All iFFALCON TVs are also toughened for Indian conditions, with comprehensive protection against voltage fluctuations and poor power conditions. This means, you don't need to spend more on a voltage stabiliser. What's more, iFFALCON TVs are also protected against lightning strikes, moisture ingress, and designed with efficient electronics that consume much less power than the competing TVs. Pair that with premium aesthetics that incorporate metal frames for looks as well as better heat dissipation, minimal bezels, as well as thin profiles and you have TVs that have premium looks to match their premium performance.
The iFFALCON TVs carry over the pedigree and attention to quality of TCL into a new breed of Smart TVs that offer superlative performance, phenomenal picture quality, and premium features at never before seen prices. Head over to Flipkart on May 07, 2018 to witness a range of smart TVs that are better than the rest. Priced at a surprisingly modest ₹45,999, the 55-inch iFFALCON K2A is the flagship 4K HDR LED TV, which is followed by the 40-inch Full HD iFFALCON F2 LED TV priced at ₹19,999, and finally the incredible value of the 32-inch iFFALCON F2 LED TV at just ₹13,499.
Dailyhunt
Disclaimer: This story is auto-aggregated by a computer program and has not been created or edited by Dailyhunt. Publisher: Gear