Political News
Kammanistu Remark : Communist Hurts!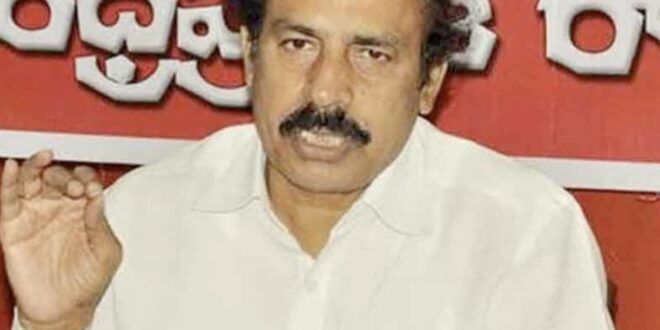 CPI state secretary Ramakrishna has fumed on YSRCP leaders for their casteist remarks. Ramakrishna said he was dubbed as 'Kammanist' instead of 'Communist' and said such remarks are in bad taste. He shot back at YCP netas whether people from Kamma community should not question the government and its misdeeds? He further said, 'Stop blackmailing people and leaders from the Kamma community.'
He fumed YCP leaders for calling him 'Ramakrishna Chowdary.Kammanistu'. Not knowing the facts, YCP leaders have made casteist remarks against Ramakrishna.
Meanwhile, Ramakrishna breathed fire on Jagan's administration for allotting the highest number of posts to one particular community - Reddy community.
'3 Reddy leaders from YCP are controlling the 13 districts of the state. They are the incharges for the districts. All the top posts for the affiliated associations of the party are also allotted to Reddy community leaders. The Executive Council body members, various posts and Vice Chancellors of several universities have been allotted to Reddy community. 9 out of 12 posts in the Search Committee were allotted to Reddy leaders. Vijay Sai Reddy, Sajjala Ramakrishna Reddy, YV Subba Reddy are running the show in the party and government. Does YCP have no worthy leaders from other communities? Leaders of all other castes have been made dummies. Predominant, feudal system is run by YSRCP,' fumed Ramakrishna.
Ramakrishna alleged that several derogatory posts in media and social media are being circulated by YCP's associated teams. He said these acts won't yield any results. He asked YSRCP leaders to mend their ways and asked to work for the people instead.
OTT Streaming Dates on Amazon Prime, Netflix & Others
Dailyhunt
Disclaimer: This story is auto-aggregated by a computer program and has not been created or edited by Dailyhunt. Publisher: Gulte English